The Kyocera Group has established a Basic Policy on Purchasing to ensure that transactions with our business associates are carried out fairly and transparently. We work together as a team with associates to implement fair business practices.
Policy and Systems Related to Purchasing Activities
The Management Rationale of the Kyocera Group is: "To provide opportunities for the material and intellectual growth of all our employees, and through our joint efforts, contribute to the advancement of society and humankind." We aim to realize this rationale by committing ourselves to the implementation of fair business activities in our supply chains. The Kyocera Group believes that the mutual prosperity of the entire supply chain can be ensured only realized if all companies in the chain, including development, production, sales and service enterprises, work together to meet the demands of society. To this end, the Kyocera Group actively communicates with business partners and focuses on building partnerships based on mutual trust.
Basic Policy on Purchasing
At the Kyocera Group, we are determined to contribute to value creation and business development through our Basic Policy on Purchasing, diligently conduct work, and coexist with business partners, thereby attempting to be better people and maintain the trust of society. We established the Basic Policy on Purchasing with this idea as the basis of our purchasing activities. Under this policy, we conduct various surveys on corporate overviews and CSR to evaluate and select our business partners fairly.
Basic Policy on Purchasing
Whether the fundamental thinking of the Kyocera Group is understood.
Whether the thinking of the business operator and the management rationale of the prospective supplier are acceptable to Kyocera.
Whether the company aims to improve management ability, technological strength and manufacturing ability; and whether business management is appropriate and stable in terms of scale and finances.
(e.g., VA*1 / VE*2 proposal strength)
Whether the company excels in such areas as quality, price, delivery time, service response, etc.
(e.g., ISO 9000 series or equivalent quality management systems; lead-time reduction activities)
Whether the company is seriously involved in global environmental conservation activities.
(e.g., ISO 14001 certification)
Value Analysis
Value Engineering
CSR Deployment in the Supply Chain
Kyocera Supply Chain CSR Survey
The Kyocera Group promotes CSR activities together with our business partners in order to fulfill our social responsibilities in terms of human rights, labor rights and environmental conservation.
Kyocera established the Kyocera Supply Chain CSR Procurement Guideline to appropriately handle CSR issues that should be addressed by the entire supply chain, including formulation of BCP regarding conflict minerals and swift business restoration and continuation in disaster situations. We survey the CSR activity efforts of our business partners based on this Guideline. We conduct annual surveys that also include our overseas business partners. These surveys relate to items as human rights, labor rights, environmental conservation, health and safety, fair trade, ethics, quality, safety, BCP, and information security. For business partners whose efforts in some areas are found to be insufficient, we request improvements, confirm that such improvements have been implemented and request that they work more proactively on CSR activities.
We will continue communication with business partners through information sessions and other means.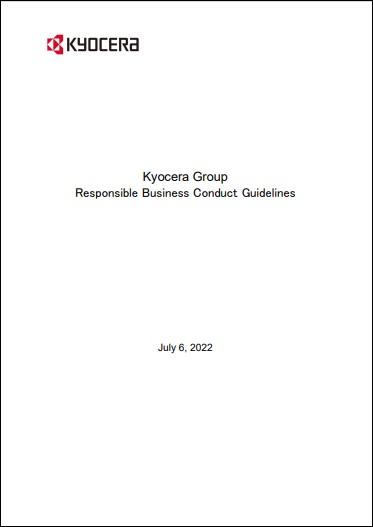 Designation of Key Suppliers
The Kyocera Group designates suppliers that account for approximately 80% of the Group's purchasing transactions as "key suppliers", and asks them respond to a Kyocera Supply Chain CSR Survey. Suppliers participating in the survey include those attending supplier conventions, those providing essential materials for Kyocera products, and those involved in significant transactions.
Holding of Supplier Seminars and Social Gatherings
The Kyocera Group regularly holds supplier seminars and social gatherings with business associates in order to better allow them to understand the management policy and business policy of the Group and request their further cooperation with our activities. The FY2020 event was held in February and was attended by 296 people from 238 companies. We also gave recognition to business partners who have displayed particular excellence in terms of quality, price and delivery times in transactions over the course of the year.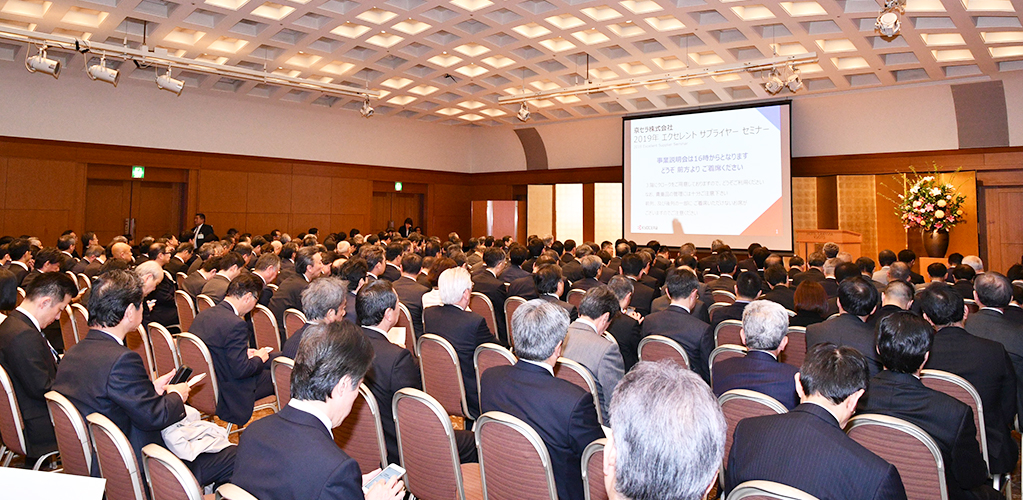 CSR Evaluation Process
Our survey requirements listed in the Kyocera Supply Chain CSR Procurement Guideline and determines each supplier's compliance. Kyocera will carry out the same CSR survey again in FY2022.
Companies Surveyed
The survey covers key suppliers, which is defined as suppliers who accounted for approximately the top 80% of the Group's purchasing transactions in the previous fiscal year.
Survey Results
Evaluation is performed based on company regulations and is divided into six levels.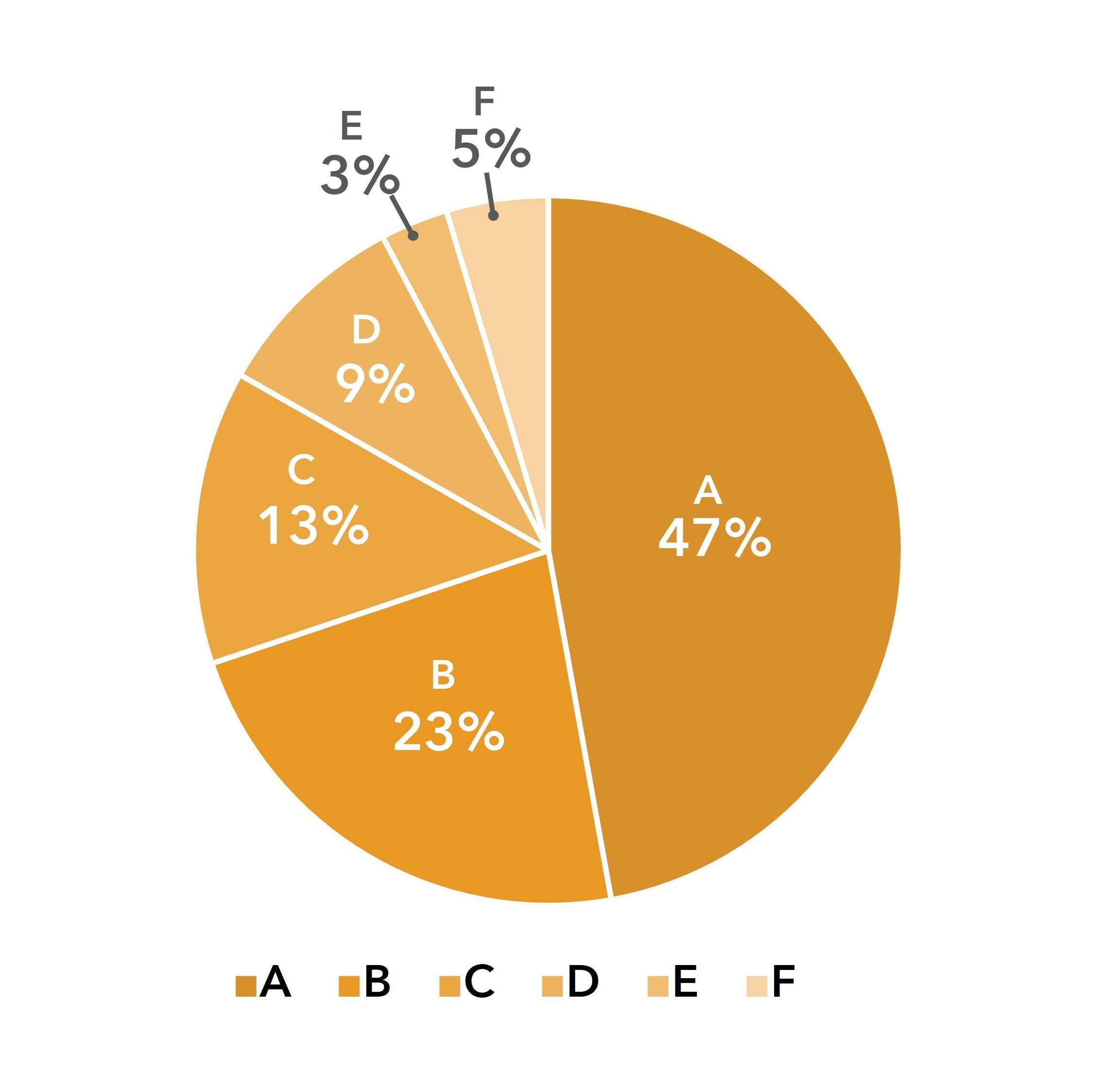 For both of the bellow key items which identified by Kyocera, the number of suppliers was found to be zero.
Percentage of suppliers designated as high risk in terms of human and labor rights through CSR surveys
Percentage of suppliers designated as high risk in terms of ethics through CSR surveys
We have requested that all business partners who received an E or F rating implement corrective measures, and these requests have been recognized by all business partners.
In future, we will promote awareness-raising activities to encourage these companies to further their understanding of Kyocera's CSR procurement.
Type of
supplier
Total number of suppliers
Number of key suppliers
Number of key suppliers assessed
in the last 3 years
Percentage of suppliers assessed
in the last 3 years
Target (FY2021)
(Percentage of total business partners)
Result
Critical supplier for direct delivery
6,700
380
380
80% (transaction amount)
5.7% (number of companies)
Target: 80% (transaction amount)
6% (number of companies)
414 companies
Classification of sustainability high-risk suppliers
We request suppliers who are judged to be lacking in efforts in such areas as human rights and labor, the environment, safety and health, fair trade and ethics, quality and safety, business continuity plans (BCP), and information security to improve their sustainability.
Type of supplier
Total number of suppliers
Number of suppliers
classified as high risk
Percentage of total suppliers
classified as high-risk
Critical supplier for direct delivery
6,700
100
1.5%
Request for cooperation in ongoing risk reduction
Kyocera put out a request to all suppliers to implement improvements with the ultimate goal of eliminating risk. All suppliers responded that they were able to make improvements. The same survey, with the same goal, will be carried out again in FY2022. The list of suppliers participating in the survey is reviewed every year and efforts are made to ensure equal application of judgment criteria.
Suppliers with improved evaluations
Measure
Percentage
Percentage suppliers with high sustainability risk (as defined in "Risk Exposure") that have corrective action plans:
100%
Percentage suppliers with corrective action plans that have improved
their ESG performance within 12 months of the plan's launch:
25% (ongoing dialogue)
CSR Evaluation from the ESG Perspective
Key ESG Indicators for Kyocera Group
In recent years, a large number of companies have taken an ESG (Environmental, Social, Governance) approach when evaluating CSR activities. Kyocera compiles all survey responses provided in keeping with this approach. If survey responses indicate that a supplier is not implementing improvements effectively, representatives from Kyocera can visit the supplier to discuss solutions as part of a continuing dialogue.
Our company's key ESG priorities include:
(1) Labor, (2) Health and Safety, (3) Environment, (4) Ethics, and (5) Conflict Minerals
In particular, transactions are suspended if there is a serious violation in relation to the following two items.
| | Description of ESG objective |
| --- | --- |
| Key ESG Objective 1 | |
| Key ESG Objective 2 | |
Ensuring Supply Chain Transparency and Reporting 
The information disclosed as part of this item will be used to survey and evaluate supply chains in a sincere and fair manner. Results from this collaborative process between Kyocera and its supply chain partners will be reported accurately and in full. KPI*1 targets for the following three items will be used to quantify and report the results of these efforts. Annual survey results will be used to track year-on-year changes as part of efforts to ensure improvements and the implementation of effective solutions where necessary.
Supply chain
indicator
Target and
target year
Result
KPI1
Conformant rate of smelters*2 in conflict minerals survey
Target: 80%
Target year: FY2021
78.7%
KPI2
Ratio of high risk suppliers to human rights & labor in CSR surveys
Target: 0%
Target year: FY2021
0%
KPI3
Ratio of high risk suppliers to the ethical in CSR surveys
Target: 0%
Target year: FY2021
0%
Key Performance Indicator
Refineries or smelters validated to be conflict-free by a third party
Supply-Chain BCP Survey
The Kyocera Group establishes the policy that swift restoration and restart of business should be attempted even in the event of severance of product and service supply as a result of a natural disaster. In this respect, we ask business partners to conduct a survey on their effort for business continuity planning and to further promote BCP activities.
We explain the importance of BCP to new business partners supplying us with essential raw materials and components, and request they strengther BCP measures. When the previous year's survey revealed some business partners' insufficient BCP efforts, we checked the status of improvements.
Kyocera will continue to promote the advancement of BCP activities both with the Kyocera Group and among our business partners.
Initiatives for Responsible Procurement of Minerals
In July 2010, the Dodd Frank Wall Street Reform and Consumer Protection Act was passed by the US Congress due to concerns that mineral resources mined in the Democratic Republic of the Congo and neighboring countries have become a source of funds for armed insurgents responsible for human rights violations. It identifies tantalum, tin, gold and tungsten from designated countries, and their derivatives (irrespective of where the derivatives are produced) as "conflict minerals" and requires disclosure of information such as their use in products.
In addition, companies that import materials into the EU are now subject to EU regulations relating to conflict minerals that were published in 2017 and came into force in January 2021(Regulation (EU) 2017/821 of the European Parliament and of the Council of 17 May 2017), and Kyocera Group has taken appropriate measures.
In addition to those laws, we are also required to engage in the responsible procurement of minerals, based on the OECD Due Diligence Guidance for Responsible Supply Chains of Minerals from Conflict-Affected and High-Risk Areas (hereafter referred to as "OECD Guidance") issued to all companies.
Based on that guidance, the Kyocera Group has established our Responsible Mineral Procurement Policy, adding cobalt to the list of minerals. We survey supply chains to see if there is any risk of involvement in conflicts or human rights violations, and engage in risk assessment and corrective action to reduce any such risks and ensure transparency in our supply chains.
Kyocera Group's Conflict Minerals Policy
The Kyocera Group's will not purchase conflict minerals that serve as a source of funding to armed groups, or any other materials or products made using metals that pose a risk to human rights.
Organizational System to Ensure Responsible Mineral Procurement
To ensure responsible procurement of minerals, the Kyocera Group has formulated the Kyocera Group Conflict Minerals Regulations. We use an established system to carry out surveys and perform due diligence based on the current situation and survey results. The nature of these activities and information acquired is then communicated to top management through the CSR Committee. The Committee also provides education and training to Kyocera Group companies about rules and policies related to conflict minerals, thereby ensuring that the entire Group responds to the issue of conflict minerals appropriately. The Kyocera Group is working to build a structure to promptly identify risks related to responsible mineral procurement, including ensuring better communication with stakeholders and procurement-related divisions, and ensuring rapid responses to complaints or reports about conflict minerals gathered through Kyocera's internal reporting system.
Efforts in accordance with OECD due diligence guidance
Recently, changes have been made to the auditing standards for the RMAP*1 process established by the RMI*2. These changes resulted in more detailed assessment requirements relating to potential human rights violations and other risks, as stipulated in the OECD Due Diligence Guidance Annex II. Kyocera is working to further enhance the effectiveness of its due diligence activities by ensuring prompt confirmation that smelters are maintaining compliance when implementing audits for renewal. The OECD Due Diligence Guidance also stipulates conflict-affected and high-risk areas (CAHRAs) as areas with a particularly high risk of conflict or human rights violations. To better prepare for any risks related to human rights violations, Kyocera is also enhancing its information-gathering capabilities from customers related to human rights regulations stipulated by NGOs, various countries, and the EU. Kyocera is also working to enhance surveying and monitoring of minerals that have a higher risk of human rights violations, such as cobalt, from both a legal and sustainability perspective. The results of these efforts will be quantified, compiled, and managed by establishing the following KPI:
Responsible Minerals Assurance Process
Responsible Mineral Initiative
| | FY2019 | FY2020 | FY2021 |
| --- | --- | --- | --- |
| Percentage of materials that have been evaluated regarding conflict-affected and high-risk areas (CAHRAs) and certified as risk-free. (no smelters have been identified as presenting risk): | 70.4% | 81.3% | 78.7% |
Kyocera promotes coordination and cooperation with trade organizations as part of our cooperation system with external parties related to conflict minerals in our effort to ensure responsible mineral procurement. We are active as one of the significant members of the Responsible Minerals Trade Working Group set up in the Japan Electronics and Information Technology Industries Association (JEITA) to confirm with related regulations, including Article 1502 of the US Dodd-Frank Wall Street Reform and Consumer Protection Act. We extend our cooperation with the Responsible Minerals Trade Working Group in the understanding of and response to problems revealed by surveys and the implementation of survey briefing sessions.
Actions for Business Partners and Survey Results
Kyocera conducted survey to our business partners using the Conflict Minerals Reporting Template (CMRT) prepared by the Conflict-Free Sourcing Initiative (CFSI), an international organization dealing with conflict mineral issues. In FY2019, the Due Diligence based on Annex II of the OECD Guidance was conducted. As a result, we sent a Risky Smelter Report to business partners who had some problems that needed addressing in order to raise their attention.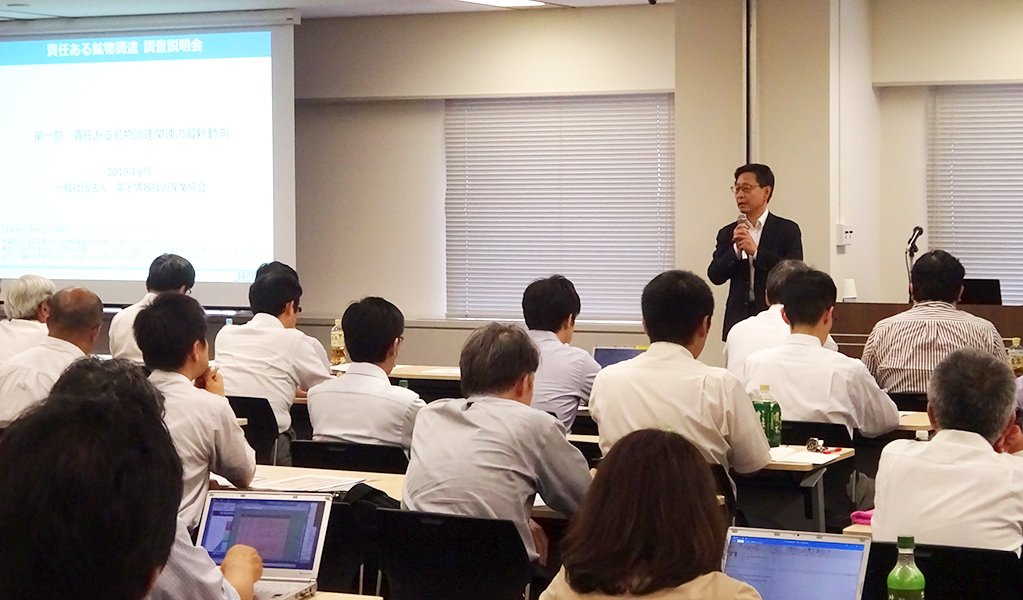 We checked refineries and smelters listed in CMRTs provided by business partners with the list disclosed at CFSI The following results were found:
Gold
Tantalum
Tin
Tungsten
Total
Number of refineries/smelters
150
37
55
44
286
Number of refineries/smelters
validated as CFS
103
36
45
41
225
Number of refineries/smelters
considered as non-CFS (including those with certification pending)
47
1
10
3
61
Also, we held consultation meetings with business partners to answer their questions. In China, Kyocera held a training session for in-house personnel in charge of conflict mineral research to reinforce internal systems. Further, we started research on the procurement of additional minerals subject to increasing demand from customers.
In particular, the Democratic Republic of the Congo is the world's leading source of cobalt, accounting for more than 60% of global production. Large-scale mines with foreign investment exist alongside locally-run micro-mining operations and small-scale mines. While they play an important socio-economic role, human rights violations such as child labor have become an issue. In light of this situation, there has been a growing movement to investigate cobalt supply chains and eliminate the use of cobalt from problematic sources. As a result, Kyocera Group has used the Cobalt Reporting Template (CRT) established by the RMI to conduct surveys of its cobalt smelters since 2019.
Kyocera Group Cobalt Survey Results (FY2021)
| Item | Number |
| --- | --- |
| Suppliers surveyed | 25 |
| RMI-compliant smelters | 2 |
| Smelters not compliant with RMI | 7 |
| Undetermined data | 7 |
RMAP standards relating to cobalt are still under development, and there is a lack of awareness and information in the supply chain. Kyocera Group will continue to conduct surveys and seek understanding and cooperation through awareness-raising activities throughout supply chain.
Kyocera Group's Future Measures
The Kyocera Group recognizes the importance of identifying and carefully examining smelters. To this end, we intend to carry out a widespread survey using the Responsible Mineral Assurance Process (RMAP) from the Responsible Business Alliance (RBA*) as a reference.
We intend to continually establish a strong supply chain relationship through various measures, including the signing of a letter of engagement with suppliers that includes a pledge to contact Kyocera immediately if a connection to conflict minerals have been discovered. As a member of JEITA's smelter support team, Kyocera also conducts outreach activity to encourage smelters to directly obtain certification.
Responsible Business Alliance