Kyocera Group Management Roots
The Kyocera Group Management Rationale
"To provide opportunities for the material and intellectual growth of all our employees, and through our joint efforts, contribute to the advancement of society and humankind."
The Kyocera Group's management approach springs from the Management Rationale propounded by our founder, Kazuo Inamori. It was the ultimate ideal for the Kyocera Group when the company was founded. We keep the essence of this statement in mind as a foundational principle in discerning the needs of our customers and society. Further, we continue to test ourselves, staying eager to overcome difficulties, and bold in taking on challenges that can lead to new products and services. These tireless efforts have enabled the growth and development of the Kyocera Group, and motivated our employees to contribute to the advancement of society.
The "Kyocera Philosophy" Shared by All Employees
The "Kyocera Philosophy" is shared among all employees as a guideline for achieving our Management Rationale. The "Kyocera Philosophy" consists of four elements.· The rules and promises that codify the company's value system;
· The mindset necessary to achieve business goals;
· The fundamental character of the enterprise; and the key element that serves as the foundation for these three:
· Doing what is right as a human being
These management concepts and life philosophies are based on actual experiences and "rules of thumb" from our founder, Kazuo Inamori. Our goal to aim for growth and development while always being fair and impartial reflects universal ethical, moral, and social norms embodied in the principle to "What do we consider to be the right choice as a human being?" Our palm-sized "Kyocera Philosophy Pocketbook," which originated in Japan, has now been translated into at least 10 different languages and distributed to employees worldwide, helping to share our philosophy and foster a sense of unity among the Group.
We do not strive merely to understand its content like a theory; rather, we try to practice the philosophy routinely in our daily work. These tireless efforts will nurture the spirit of making better decisions, which in turn will lead to improving the Kyocera Group's character as a company. The fact that our global organization shares this philosophy gives us confidence that we can move forward with a persistent will toward a brighter future full of hopes and dreams.
Two Systems to Achieve Our Rationale
The Kyocera Group has adopted a unique system called "Amoeba Management" to achieve its Management Rationale. The Amoeba system divides the company into small groups called "Amoebas" that operate with their own P&L accounting systems directly linked to their respective markets. Amoebas, which are run independently, naturally foster the development of leaders with managerial awareness. Further, all Amoeba members take initiative in their daily work to improve the profitability of the Amoeba to which they belong. This facilitates Management by All, free exchange of ideas, and a broader sphere of influence for each employee. The profitability of an Amoeba is calculated as the added value it creates per hour. Results are disclosed to Amoeba members transparently, so you can actually see in real-time how your work is reflected in management. Amoebas that deliver good performance, however, do not get disproportionately higher financial rewards. This is because the added value created contributes to the entire Kyocera Group. At the core of Amoeba Management is the idea to "Work Hard for the Sake of Our Colleagues," a basic tenet of the Kyocera Philosophy. Even a poorly performing Amoeba can become a great help to other Amoebas in the next phase of business. We must share gratitude and sincerity while working hard to bring out the best in each other. This ties into the "material and intellectual growth of all our employees" referenced in our Management Rationale. The source of our strength lies in Management by All and the keen motivation employees feel under Amoeba Management. Closely paired with Amoeba Management are the "Kyocera Management and Accounting Principles." Accounting is integral to the management of a company as it plays a key role akin to a compass. The Kyocera Group values fair and transparent, above-board management. Unbound by preconceived notions, Dr. Inamori's Seven Accounting Principles, based on "What do we consider to be the right choice as a human being?" let us accurately assess the true performance of our Amoebas and decide the best direction in which to proceed. These two practical business management methods support the Kyocera Group's solid financial foundation and allow us to uphold our Management Rational.

Philosophy of Coexistence Combines with Our Management Rationale
Since its founding, the Kyocera Group has continued to grow and develop by constantly taking on new challenges with innovative technologies in emerging fields. This process, as stated in our Management Rationale, is not just about pursuing the Group's own development. With contributing to humankind and society as our starting point, this process is based on "Living Together" that is, the spirit of coexistence. Since the 1970s, Kyocera Corporation has made clear its philosophy that business should be based on a "Coexistence with Nature," "Coexistence with Society," and "Coexistence with the World." "Coexistence with Nature" means a company must uphold ethical standards that balance its business with coexistence and the cycle of life, rather than pursuing purely economic interests that disturb the cycle of the natural environment. "Coexistence with Society" is the idea that long-term prosperity depends on providing satisfaction not only to employees, customers, shareholders, and business associates, but also to society as a whole. "Coexistence with the World" means that as a company globalizes into new markets and communities, it must develop a deeper understanding of the local culture and history, and contribute to the development of the region. These three ideas of coexistence are linked to many of Kyocera's Sustainable Development Goals (SDGs) and can be found in various forms in the business activities of the Kyocera Group.


Our Founding in 1959
- With trusty companions
In 1959, Kazuo Inamori and seven other colleagues established Kyoto Ceramic Co., Ltd. (now Kyocera Corporation). At the time they did not have sufficient capital, or even adequate equipment and facilities, but Inamori was supported by colleagues who shared all the ups and downs, and formed a close bond like members of one big family. Inamori decided during this period that partnership would form the foundation of his company management, based on steadfast relationships and trust. That was the starting point for the Kyocera Group, and it remains our cornerstone.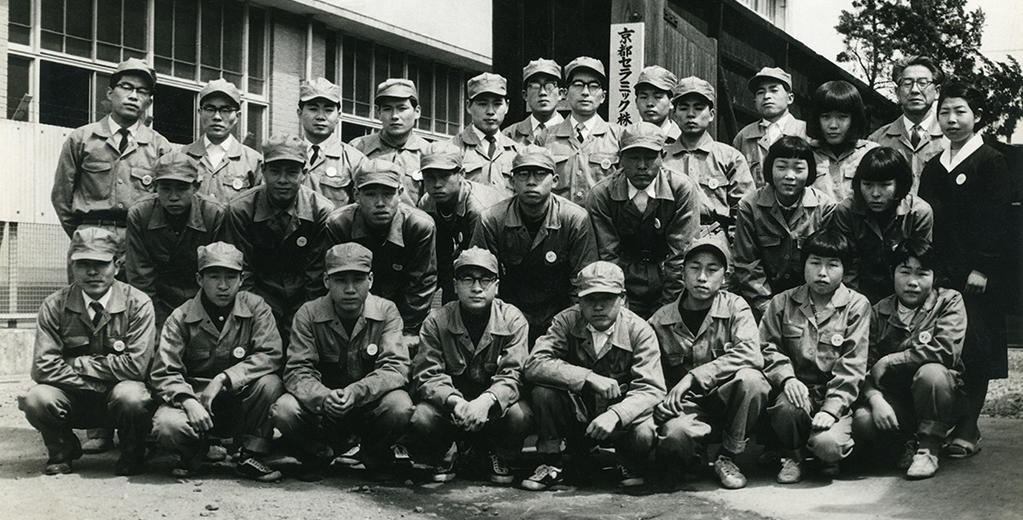 The Inamori Library
- Spreading Kazuo Inamori's Management Philosophy far and wide
The Inamori Library moved to its present location on the south side of the head office in 2013. It documents events and actions from Inamori's early years to the present day, and conveys his Management Philosophy. The library was initially launched with the aim of handing his ideals on to successive generations of Kyocera Group employees, but is now open to the public at large. It attracts more than 20,000 visitors a year from all over the world, ranging from students to business owners.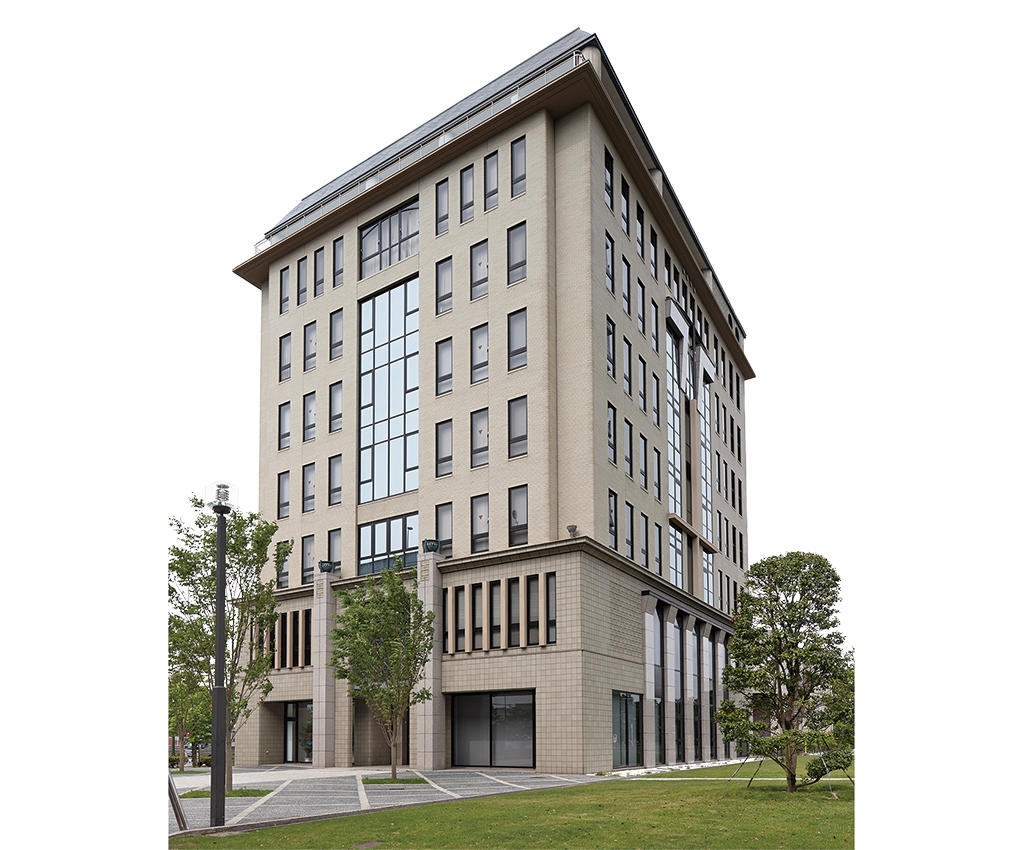 Message
Keeping Our Legacy of Ideals Alive, and Ensuring that the Kyocera Group Continues to Be a Vigorous Enterprise Where Employees and the Company Can Grow and Develop
The Kyocera Group's strength and growth come from having employees and organizations that set high goals and are constantly improving themselves. The base for this is the Kyocera Philosophy, which has become the spiritual support of the Kyocera Group. In a corporate climate of constantly striving for improvement, with a code of conduct that is underpinned by shared criteria and ethics based on its fundamental principles, Kyocera Group employees self-motivate and act autonomously, constantly challenging themselves to provide even better products and services. We will continue to pass down to future generations the Kyocera Group DNA of creating a workplace where each employee can work with enthusiasm and feel a sense of purpose and fulfillment, and of continuing to be creative and engage aggressively in challenges that lead to advances for society at large.