Fostering a New Corporate Culture
The Kyocera Group continues to invest aggressively in company-wide digitization and digital transformation (DX). Our goals include enhancing competitiveness and serving new needs arising from a declining population, diversifying workstyles and related social trends. Increased digitization will drive the horizontal expansion of our group-wide business and IT strategies, bringing deeper employee awareness and enhancing our corporate culture.
Leveraging DX to Achieve CX and BX
The Company's DX strategy does not represent an end goal, but rather a means to achieving sustainable growth through deeper employee awareness and an enhanced corporate culture. Our DX objectives include stimulating a broader corporate transformation (CX) and business transformation (BX).

DX to Energize Productivity and Corporate Culture
DX initiatives, employed with IoT-led data collection and AI analysis, can bring further productivity improvement through better information sharing in a multi-cloud environment. By addressing the unique issues facing Kyocera Corporation, our DX initiatives will foster data-oriented management processes, improving employee knowledge and revitalizing our culture toward "total optimization" of our management foundation.
Issues
Management measures
DX measures

Stronger management foundation

Shift from process optimization to total optimization

Transition to business-segment system

●Faster decisions with local authority

●Increased staff mobility between departments

DX-based information sharing

●DX Project staff have operations expertise

●Data sharing improves information, mobility

Revitalized corporate culture

Freer, more fluid environment; better employee engagement

Changes to HR system and work environment

●Introduce multiple career tracks/360-degree evaluation

●Introduce open seating in offices

IT/data utilization

●Eliminate senior-junior hierarchy obstacles; adopt "reverse mentor" program led by newer employees

●Establish tacit understanding explicit through better information
Fostering Junior Employees with Broader Perspective
DX to BX transition requires junior leaders with Company-wide perspective. Over the next 10 years, we plan to develop the foundations for long-term growth through a Company-wide strategy of human resource development and training that reduces any sense of internal boundaries.
Current DX Status
Formed in April 2020, Kyocera Corporation's Digital Business Promotion Group is developing a cross-functional platform for information sharing by employees from diverse groups. By removing barriers between departments, this initiative will become a hub for IT and human resource development. Sharing systems that individual departments formerly had to develop independently can bring quicker solutions and a better return on investment, while developing IT personnel with a Company-wide perspective. Looking ahead, the Digital Business Promotion Group will continue to break down barriers between departments to become a hub of information and human resources serving the entire company.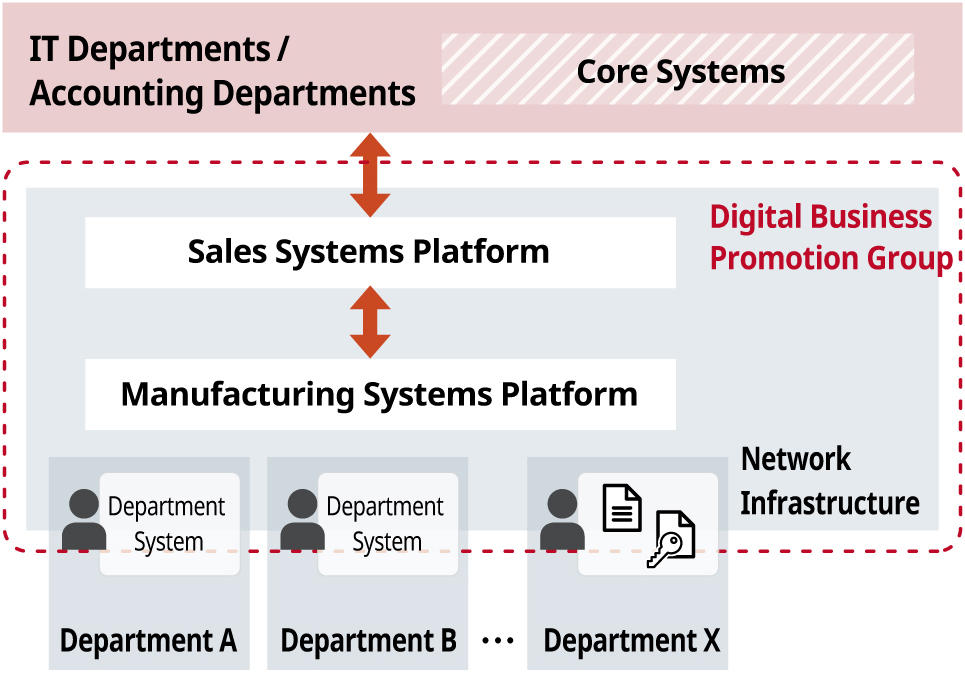 Kyocera Corporation's DX Initiative in Detail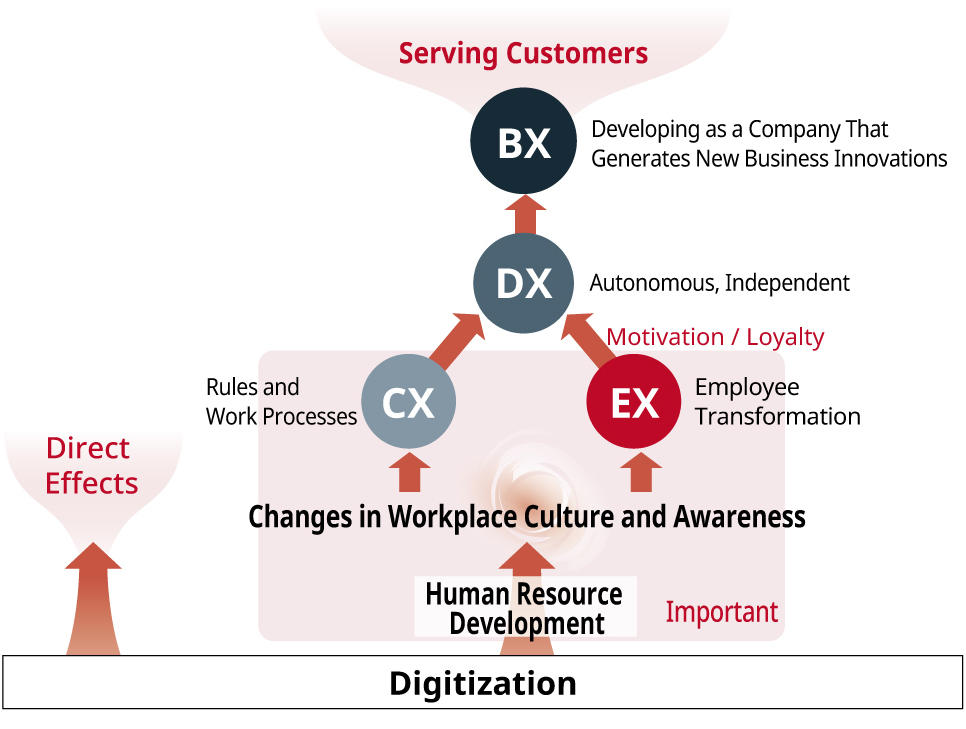 Shift from "selling products" to "selling experiences"
A shared cloud foundation is currently under development to help R&D teams commercialize new business services more quickly. One example of this is the creation of a platform with authentication and billing functions to help bridge the gap between IT and other areas of the business.
Optimizing sales processes
We are currently building a Company-wide platform for information sharing and visualization, transitioning away from a sales approach focused on individual product lines and toward sales process pipelines. We expect this to serve as a catalyst for business expansion through increased cross-selling and joint proposals.
Data collection/Analysis platform
We have developed an informatics environment that allows us to format and analyze data collected from each department. Using an in-house training program for AI and data analysis engineers, we have created a new strategy to improve manufacturing quality and productivity.
Initiatives to double manufacturing productivity
We plan to massively boost productivity through deeper application of AI-driven data and robotics. Current efforts include improving "visualization" by integrating production process data into our digital platform, utilizing AI for defect and failure prediction, and enhancing manufacturing automation and autonomy through robotic assembly. A new line with smart factory functionality began operating in April 2021.
Network and security
We have optimized our network environment in response to the rapid adoption of cloud computing in business. Development of an IoT network for factories is also under way. A new department has been established to prevent cyberattacks and manage security through a protection and monitoring system that identifies suspicious activity.
Improving office efficiency : A bottom-up approach to IT skills development
To streamline general affairs and administrative functions, we promote information sharing over our cloud environment using a code-free interface with no programming required. This facilitates a bottom-up approach to human resource development while supporting Company-wide rules and guidelines.