Environmental Safety Policy / Targets and Promotion System
Since the foundation of the company, based on the corporate motto "Respect the Divine and Love People," the Kyocera Group has focused all corporate activities on three pillars of coexistence (Living Together): Coexisting with Our Community, Coexisting with Global Society, and Coexisting with Nature. The entire Kyocera Group is committed to environmental management and aims for sustainable corporate development while striving to combine the goals of ecology and economy.
The Kyocera Group handles many chemical substances during production processes, such as raw materials and chemical agents for fine ceramics. Regarding treatment of wastewater from factories, our policy is to purify discharged water to a state cleaner than the water system into which it is to be released. It is Kyocera Group policy to render any industrial waste as harmless as possible by using the latest technology.
Based on this philosophy, The Kyocera Group established its "Kyocera Environmental Charter" in 1991. In 2015, following the adoption of the Sustainable Development Goals (SDGs) and the Paris Agreement on climate change mitigation, we formulated the "Kyocera Group Environmental Safety Policy" aiming to further reduce environmental impact and contribute to the realization of a sustainable society.
Kyocera Group Environmental Safety Policy
To promote environmental safety based on the Kyocera management philosophy, we developed the "Kyocera Group Environmental Safety Policy, which covers product development, procurement, manufacturing, distribution, sales, customer maintenance, resource recovery and reuse, to disposal. The policy, which aims to integrate environmental safety and health policies. In line with this policy, we promote more active and continuous environmental protection activities by setting goals and objectives to reduce our environmental impact, and regularly disclose such information in line with international information disclosure standards such as TCFD recommendations. Also it covers business expansion activities such as M&A, and due diligence is used to identify potential environmental risks and reflect them in post-acquisition improvement plans.
Kyocera Group Environmental Safety Policy
Compliance with laws and other regulations
Kyocera will comply with laws, agreements, and internal standards regarding the environment and work safety.
Provide products that contribute to the global environment
Kyocera will increase research and development of products that make a positive contribution to the enhancement of the global environment and minimize environmental impact at all stages of the product life cycle; and the Company will strive to spread the use of such products.
Contribute to a sustainable society
Kyocera will promote greenhouse gas emission control in the entire value chain to contribute to the realization of a carbon-free society.
Kyocera will contribute to the realization of a society with sustainable recycling of resources by purchasing resources with low environmental impact, reducing the volume of new resource consumption, and minimizing waste.
Kyocera will strive to prevent environmental pollution by properly managing chemical substances in all processes.
Kyocera will advance conservation of biodiversity by minimizing negative impacts on the natural environment, as well as by protecting and nurturing the natural environment.
Ensure employee health and safety and prevent accidents and disasters
Kyocera aims to build a corporate culture that creates an accident-free and disaster-free workplace environment where everyone can work safely and with peace of mind.
Kyocera will conduct risk assessments and reduce occupational health and safety risks by eliminating sources of danger in order to prevent workplace accidents and disasters.
Kyocera strives to build a work environment where employees feel healthy, enjoy job satisfaction and can reach their maximum potential by promoting mental and physical health.
Conduct stakeholder communication
Kyocera will support Corporate Social Responsibility (CSR) activities and communicate with various stakeholders.
Operation of an environmental and safety management system
In the course of business activities, through operation of the management system, the Kyocera Group will proactively promote comprehensive measures for environmental protection and work safety, based on the management rationale, and continuously improve environmental and safety performance.
April 1, 2020
Kyocera Corporation
Hideo Tanimoto, President
Long-term Environmental Targets
In 2016, the Paris Agreement came into effect, and nations and companies are working to reduce greenhouse gas emissions. The Kyocera Group also considers climate change measures to be an important issue. In 2018, we set a long-term environmental target (2°C level: 30% reduction in GHG emissions in FY2031 compared to FY2014) and received SBT certification in 2019. Subsequently, we updated the target in 2021 to 1.5°C level (46% reduction in FY2031 compared to FY2020, equivalent to 56% reduction in FY2031 compared to FY2014) and received SBT certification in May 2022.
Kyocera Group Long-term Environmental Targets
Scope* 1, 2 GHG emissions: Reduce 46% by FY2031 compared to FY2020 levels
Scope* 1, 2, 3 GHG emissions: Reduce 46% by FY2031 compared to FY2020 levels
Renewable energy adoption: Increase 20x by FY2031 from FY2014 levels
Carbon neutral by FY2051
Scope 1: Direct emission associated with fuel consumption and production processes
Scope 2: Indirect emission associated with consumption of power or heat purchased from outside
Scope 3: Indirect emission other than Scope 1 or 2 (Including procurement of raw materials, transport, use and disposal of products, as well as employee commuting and business trips)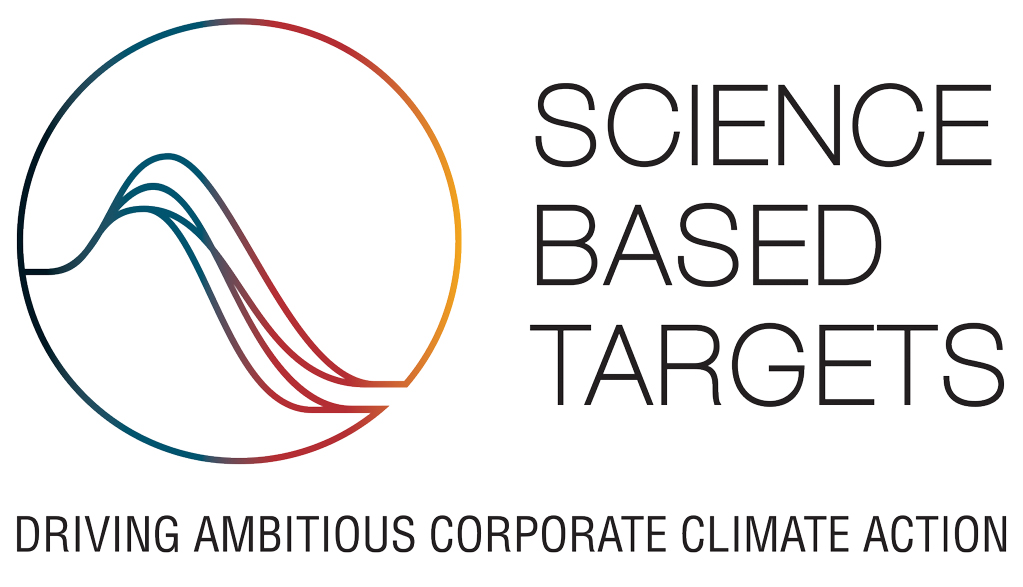 Environmental Management Promotion System
The Kyocera Group actively promotes environmental initiatives based on our management rationale. In order to continuously improve our environmental performance, we have established a system to promote environmental management, which is led by our president and promotes environmental policies.
The Kyocera Group EHS Manual Basic Edition and the Kyocera Group EHS Standards were established in October 2020 in an initiative to spread awareness of environmental safety management rules and standards throughout the Kyocera Group and promote continuous improvement. This initiative is taking place throughout the Kyocera Group and is facilitating the strengthening of our global environmental safety management system.
The principal Kyocera Group sites in Japan, and some of our overseas sites, have acquired integrated ISO14001 certification.
【Integrated Certification】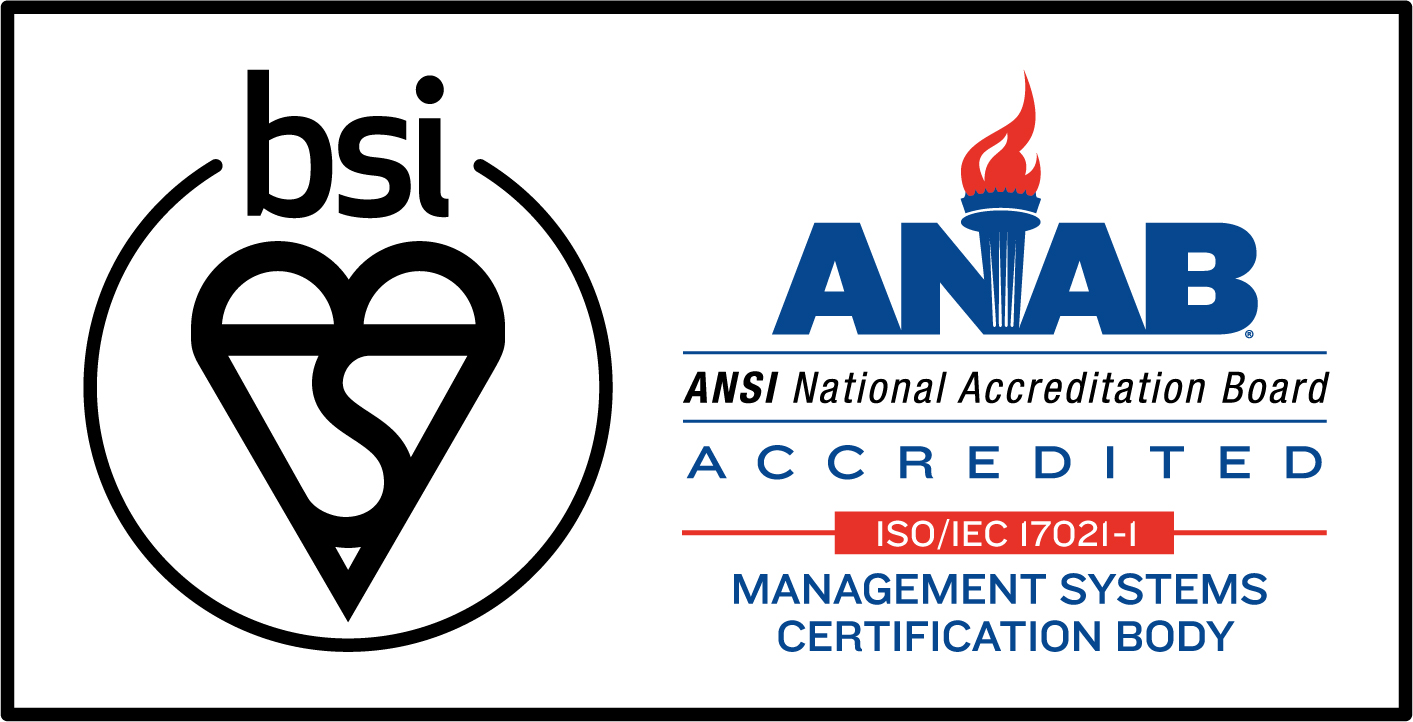 【Individual Certification】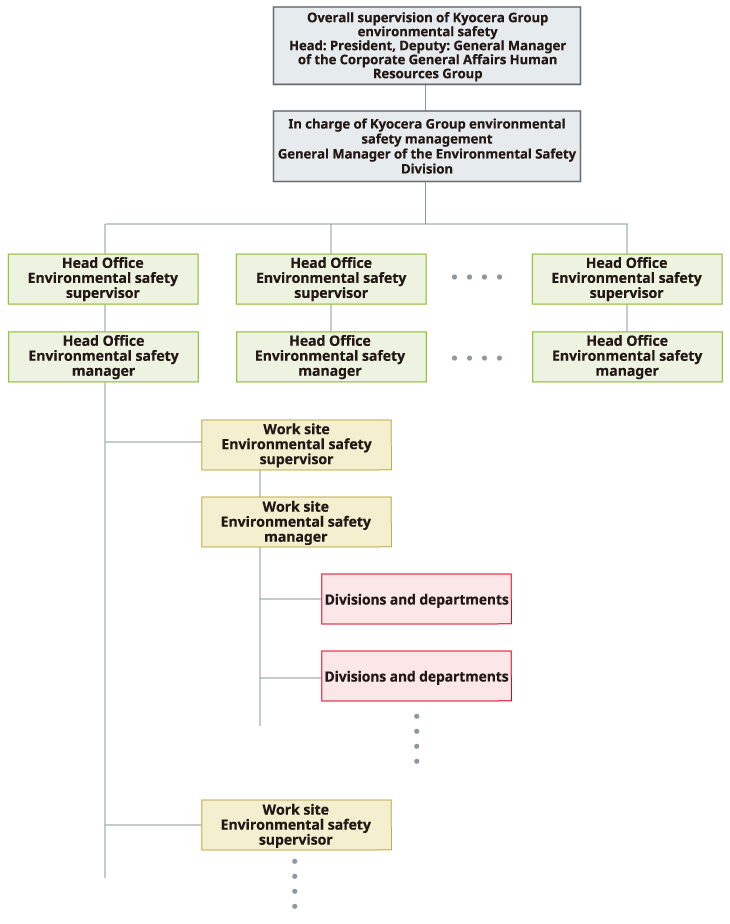 Environmental Education
The Kyocera Group provides systematic environmental education to help all employees understand the significance of environmental protection activities and their roles in them.
Specifically, environment education is divided into general/awareness education and special education and is provided to employees systematically depending on their rank and occupation so as to improve environmental awareness.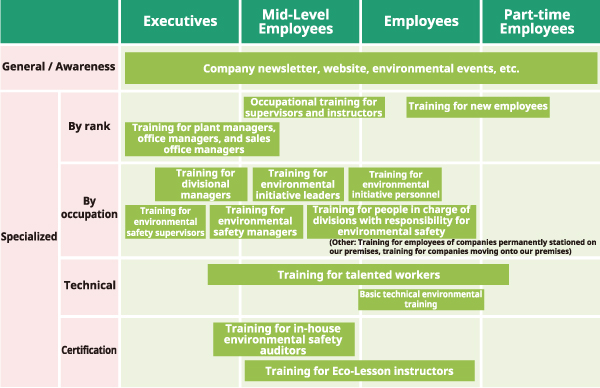 Efforts to Improve Employees' Environmental Awareness
Kyocera Group designates June as "Kyocera Group Environmental Month" to focus on environmental protection activities, including energy and resource conservation, to raise employee environmental awareness and enhance environmental protection activities. Specifically, we conducts various activities such as cleanups and forest conservation in cooperation with environmental NGO groups and local partnerships, educational activities using digital educational materials, and green curtains.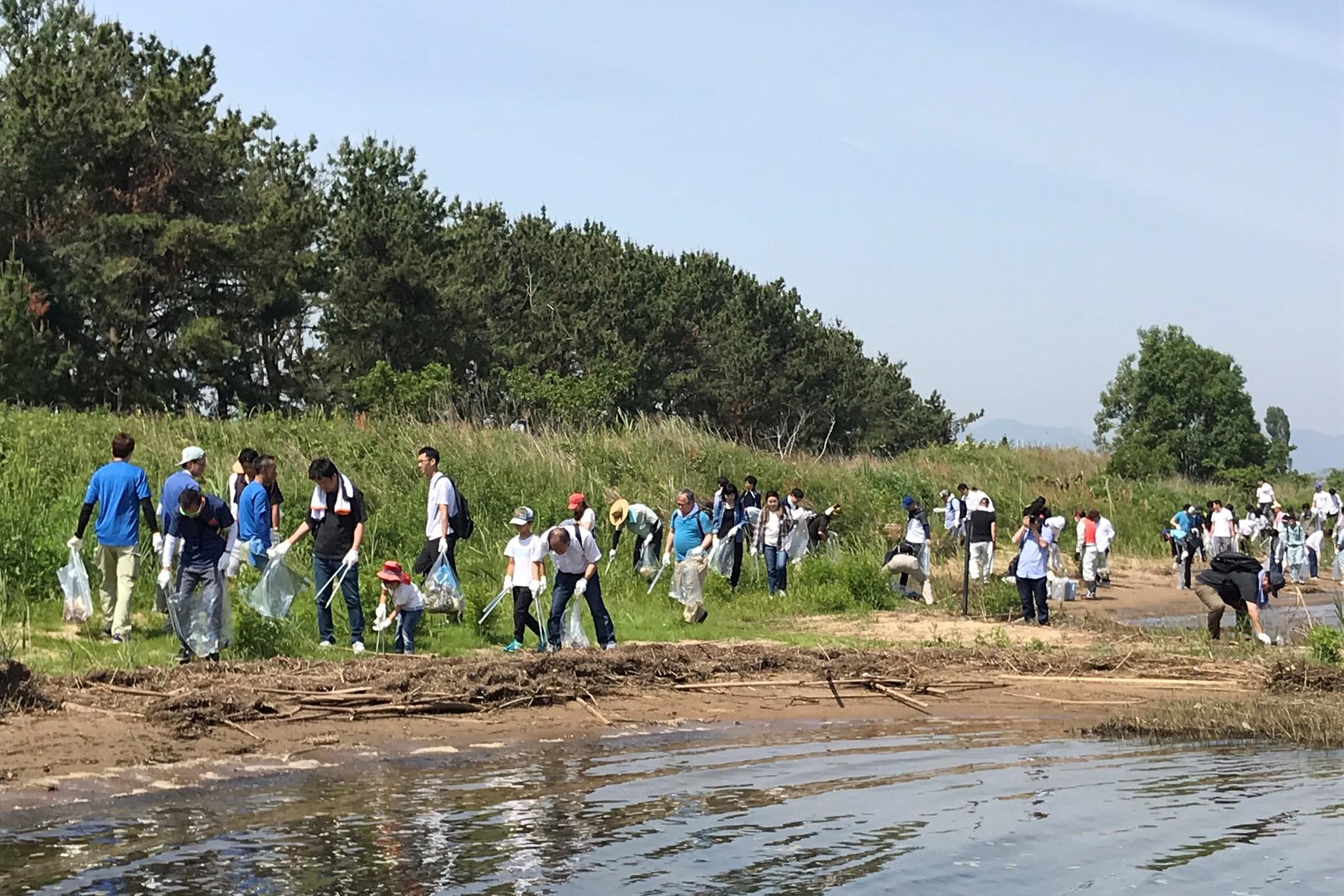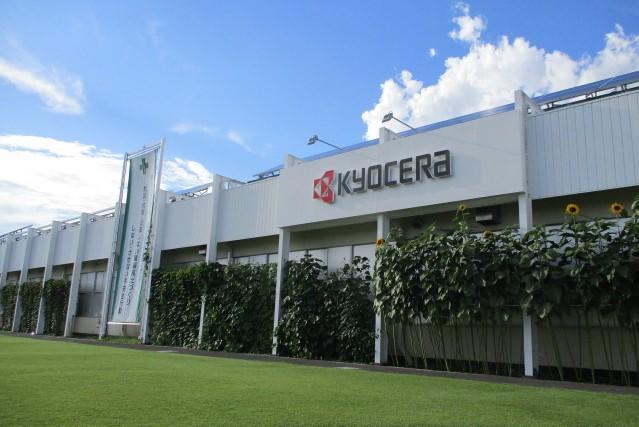 Environmental Audit
The Kyocera Group conducts periodic internal audits to make sure the Environmental Management System is being run properly based on the requirements of ISO14001.
The results and corrective actions are reflected in the review and in the improvement of the Environment Management System.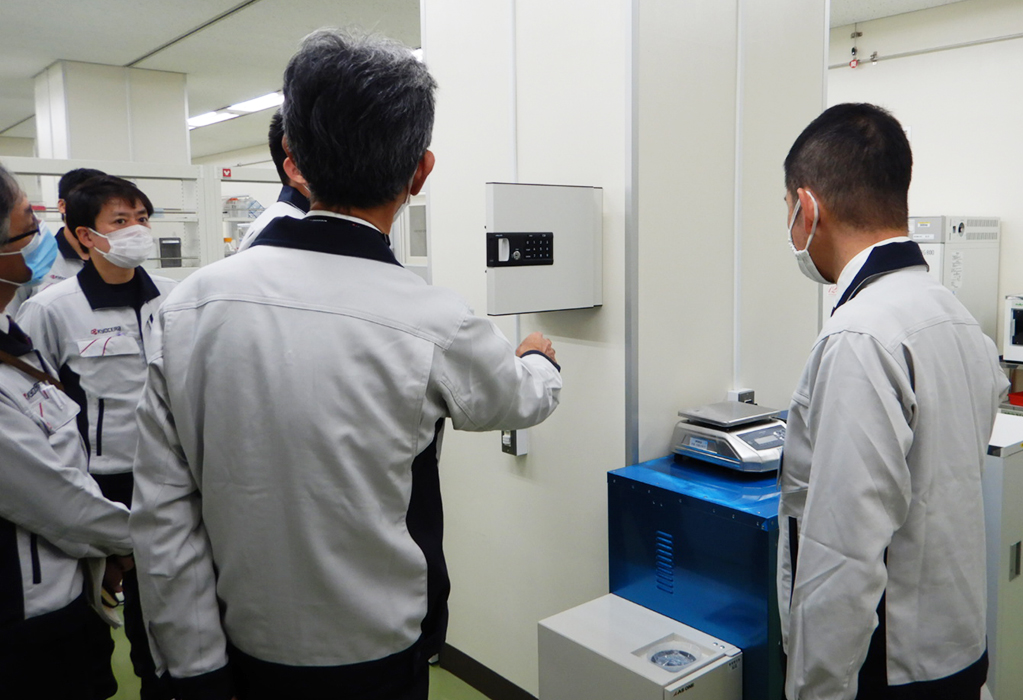 Main evaluation of environmental management
Kyocera's efforts in environmental management have been evaluated by various organizations.