Promotion of Contingency Planning
The Kyocera Group has a Disaster Response Manual established based on the Basic Guidelines for Disaster Response to take appropriate actions in the event that a large-scale natural disaster causes damage to the Kyocera Group, including minimization of personal and physical damage and implementation of swift restoration of business operations. The Disaster Response Manual is established and specifies regulations on collection and distribution of information on disasters and response measures for earthquakes, tsunami, wind, and flood damage.
Basic Policy of Disaster Response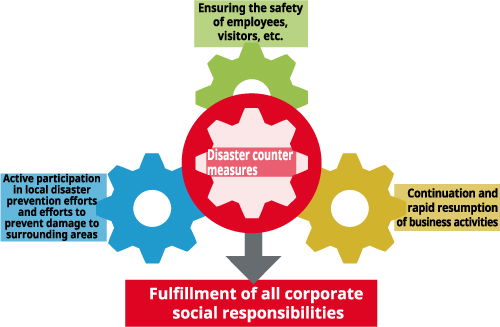 Actions to Deal with Earthquakes
In an attempt to minimize injuries and damage in the event of a major earthquake, Kyocera in Japan is installing a disaster warning system at all plants and offices using the Earthquake Early Warning System provided by the Japan Meteorological Agency. The Kyocera Group endeavors to minimize earthquake damage through a range of means, including drills held utilizing the Earthquake Early Warning System, disaster prevention training for employees, and regular disaster drills held with local fire stations and other organizations. Considerable damage is expected from a tsunami that could be generated by an earthquake in the Nankai Trough. To counter the potential damage, evacuation areas have been prepared for sites that are likely to sustain damage, based on the expected maximum tsunami height and shortest arrival time. Steps have been taken to ensure employees are fully aware of what they need to do in the event of a tsunami.
Holding of General Drill for Large-Scale Earthquakes
The Kyocera Group regularly holds a general drill simulating a building fire following the occurrence of a major earthquake. In FY2021, guidelines to prevent to spread of infectious disease during training were established and strictly enforced in order to prevent the spread of COVID-19. While drills simulating the collapse of equipment, the breakout of a fire, and an elevator malfunction following a major earthquake were held in cooperation with local fire-fighting administrations as in previous years, infection protection guidelines were followed throughout and drill participants were divided into smaller groups. Kyocera continues to hold regular drills for unforeseen situations to improve our disaster preparedness.
Business Continuity Plan (BCP) Promotion
The Kyocera Group has a Business Continuity Plan (BCP) in place to ensure rapid recovery and resumption of business operations in the event that the supply of products and services is temporarily halted due to a natural disaster or other issue.
In Japan, the Kyocera Group has formulated a BCP to respond to a major earthquake. This plan outlines necessary measures including anchoring of vital equipment, dispatching of materials for repairs, and securing alternate means of production. We also perform training and drills, and carry out reviews and revisions within the scope of our Business Continuity Management (BCM).
In 2019, damage was caused by natural disasters such as the earthquake under the Hyuga-nada Sea and Typhoon Hagibis. There has also been a rise in infections caused by COVID-19, and the pandemic continues to have an effect. The implementation of improvements to countermeasures against typhoons and wind and flood damage at all of our locations based on the lessons learned from the previous year ensured that, while some partial supply chain disruption did occur, there was no major damage or impact on business continuity.
As part of our efforts to prevent the spread of COVID-19 while continuing to provide products and services, we have also implemented infection prevention measures based on the infectious disease countermeasure action plan formulated in response to the 2009 swine flu pandemic.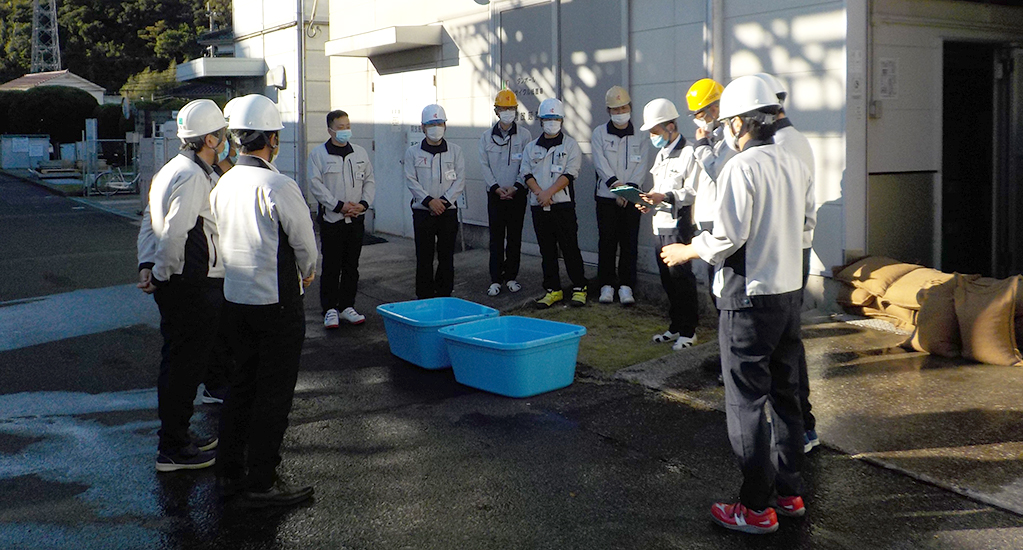 BCP Efforts Relating to the Supply Chain
The Kyocera Group promotes evaluation of alternative items and multiple purchasing sources with respect to the procurement of raw materials and components so as to prevent the stagnation of production activities during a disaster situation.
Kyocera has distributed the Supply Chain CSR Procurement Guideline to all business partners to help them understand our concept of BCP. For business partners who supply us with important raw materials and components, we are carrying out a survey on the progress of their BCP efforts in more detail.