Initiatives to Prevent Environmental Pollution
Environmental Compliance
The Kyocera Group has established autonomous environmental management standards for each site that are stricter than statutory and public regulations on emissions, wastewater, soil, groundwater and other areas of concern. We take periodic environmental measurements to ensure thorough compliance.
In FY 2020, the Kyocera Group received two complaints regarding environmental laws, regulations, and administrative guidance, and five complaints about noise and vibration, all of which have been promptly corrected and addressed.
Number of violations of laws and regulations*
Violations of laws and regulations, administrative guidance
Complaints
Water quality
Air quality
Wastes
Other
FY2020
1
0
0
1
5
Principal Kyocera Group sites in Japan, and some of our overseas sites, have acquired integrated ISO14001 certification
Target
To complete third-party assessment of compliance with environment-related laws, regulations, and ordinances at our 10 production sites in China by FY2020.
Review of FY2020
With the aim of preventing environmental pollution and achieving thorough compliance, the Kyocera Group is constructing a system of measures to confirm our compliance with environmental laws and regulations, and to identify any non-compliance. China, in particular, is engaged in reviewing and strengthening environmental regulations, and third-party assessments that evaluate the level of compliance with environmental laws and regulations were carried out at our production sites there in FY2019 and FY2020. Two sites were assessed in FY2019 and eight in FY2020, so the assessment of all ten production sites has now been completed. The necessary corrections pointed out in these assessments are scheduled for completion in FY2021. The Kyocera Group will continue working on getting a clear view of our observance of environmental laws and regulations and any changes in that situation as we aim to prevent environmental pollution and achieve thorough compliance.
Control of Chemical Substances
Some chemical substances can cause environmental pollution and/or affect human health and the ecosystem. The Kyocera Group sets a voluntary control standard and takes initiative in carrying out environmental impact mitigation activities.
The Kyocera Group (Japan) carries out thorough control of emissions and the transferred amount of Class I Designated Chemical Substances as prescribed by PRTR Law. We also control the handling volumes and emissions of volatile organic compounds (VOC), which are a source of suspended particulate matter and photochemical oxidants.
Volatile Organic Compound (VOC)
Management and Disposal of PCB Waste
The Kyocera Group (Japan) strictly controls and manages PCB (polychlorinated biphenyl) waste at specified locations with control sheets prepared in accordance with relevant laws. Kyocera has already become an early registrant for disposal of these wastes with the Japan Environmental Safety Corporation and will dispose of them accordingly.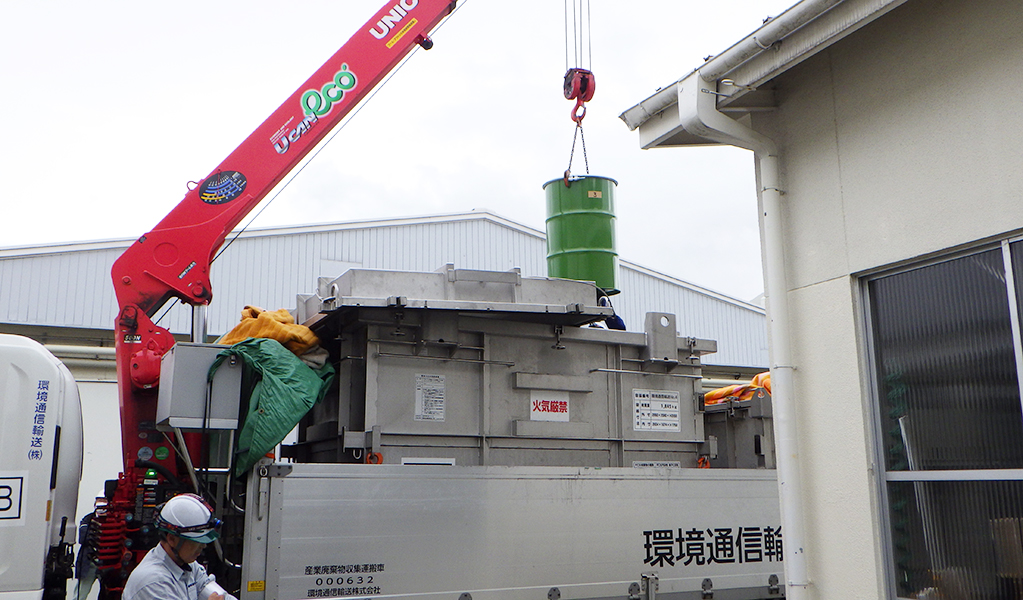 Reports on Soil and Groundwater Contamination
The Kyocera Group (Japan) conducts soil surveys and provides survey reports to competent local governments according to the Soil Contamination Countermeasures Act.
Consequently, a total of five locations were designated as areas which require action under the Act: Asahi City, Chiba, in 2013; Ebetsu City, Hokkaido, in 2014; Hachioji City, Tokyo, in 2014; Mikasa City, Hokkaido, in 2015; and Kawasaki City, Kanagawa, between 2018 and 2020. No confirmation of any spread to or impact in the surrounding areas of those sites has been reported.
We are taking appropriate measures in close cooperation with each associated municipality.
Overall Environmental Impact
The Kyocera Group (Japan) tracks and manages business activities and environmental impact.
Data from the procurement, manufacturing, distribution, use, disposal, and recycling stages are used at each stage to formulate policies and analyze and evaluate the results to effectively reduce environmental impact.
In accordance with the Act on the Rational Use of Energy, we calculate the distribution-related impact based on report data such as the use of energy in transportation by the specified consigner (Kyocera).
We calculate the annual power consumption of the main products we sold in FY2020 (printers, multifunctional products, smartphones, etc.).
We calculate the annual greenhouse gas emissions of the main products we sold in FY2020 (printers, multifunctional products, smartphones, etc.).
We calculate the weight of toner containers reused in FY2020. (Kyocera Document Solutions Inc.)
The VOC aggregate range shows data for Kyocera Corporation sites in Japan.
INPUT items
| | |
| --- | --- |
| Chemical substances | Consumption of substances covered by PRTR Law (Class I Designated Chemical Substances) |
| Water | Consumption of tap water, industrial water, and groundwater |
| Electricity | Consumption of electricity purchased from electrical power companies |
| Fuel | Consumption as energy of gas, light oil, heavy oil etc. (crude oil conversion) |
OUTPUT items
| | |
| --- | --- |
| Greenhouse gases | Emissions of CO2 and PFC etc. (6 types) as a consequence of using electricity, gas and fuel |
| NOx | Impact of nitrogen oxides associated with the combustion of gas, fuel, etc. |
| SOx | Impact of sulfur oxides associated with the combustion of fuel |
| Industrial waste | Industrial waste discharge generated in the course of our business activities |
| Wastewater | Volume of wastewater discharged into rivers etc. (Excluding wastewater discharged into sewage systems) |
| BOD | Impact of biochemical oxygen demand |
| COD | Impact of chemical oxygen demand |
| Chemical substances | Emissions and transferred amount of substances covered by PRTR Law (Class I Designated Chemical Substances) |
| VOC | Emissions of 20 VOC into the atmosphere |