Water is a precious natural resource. The importance of water resources, and water risk, is increasing in some parts of the world because of the ongoing impacts of climate change.
Water is a precious resource, and the Kyocera Group carefully manages its intake and release, as well as quantitatively assessing water risk at each production site using data from the Aqueduct Water Risk Atlas* such as water stress level, amount of water use, unit price of water, and local-level water stress assessment results.
We have set a target for reduced water consumption and continue to implement measures to make efficient use of water resources and to protect them.
Aqueduct Water Risk Atlas: Water risk data published by the World Resources Institute (WRI)
Target
To reduce water consumption (basic unit) by 1% or more in FY2020 in comparison with FY2019.
This target has been adopted at manufacturing sites with a high water risk, based on our water risk assessment.
Review of FY2020
Our assessment found four manufacturing sites with high water risk in Japan. Their water consumption totaled 6,025 thousand square meters (m3), 38% of Kyocera's total FY2020 water intake in Japan.
Thanks to treatment, recycling and conservation efforts, water consumption at our manufacturing sites around the globe declined by 1.6% in FY2020. We will continue to implement water conservation and efficiency measures to seek further gains in FY2021.
● Water Consumption
Water Conservation Efforts
Reusing Air-Conditioning Cold Water
The Toyama Nyuzen Plant uses groundwater as a cold-water source for air conditioning. The cold water had previously been used for cooling compressors or as supplementary water for the cooling towers. However, a new process has reduced water consumption by reusing the air-conditioning water as rinse water and coolant in manufacturing processes.
● Reduced Water Consumption, FY2020 vs FY2019
Approx. 180 thousand m3/year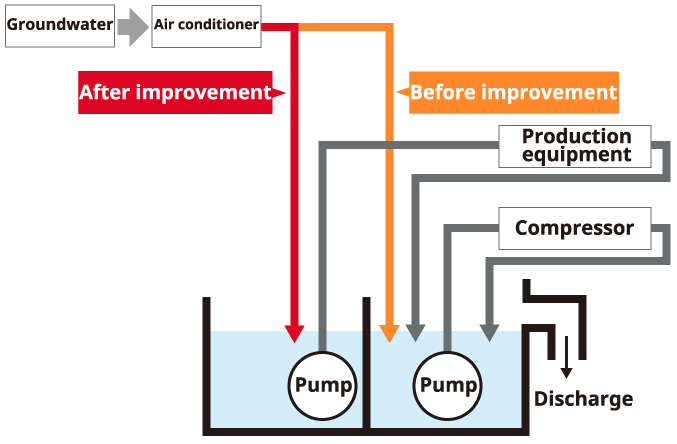 Reusing Process Wastewater
KYOCERA Document Technology (Dongguan) Co., Ltd. reduced water consumption by approx. 1,800 m3 per month by installing greywater treatment equipment in August 2018 to neutralize wastewater from its manufacturing processes. The greywater is then stored in a tank and reused as an air conditioner coolant. The reuse of greywater was expanded to buildings B, C, D, and A2 from May 2019, enabling an overall monthly average reduction of approx. 4,600 m3 in wastewater discharge.
● Reduced Water Consumption, FY2020 vs FY2019
55,200 m3/year