Respect for Human Rights
Aside from compliance with the laws of individual countries, the Kyocera Group implements measures in accordance with the United Nation's Universal Declaration of Human Rights, the Fundamental Human Rights Convention by the International Labor Organization (ILO) and other international conventions. The Kyocera Group has joined the United Nations Global Compact, a global platform setting out 10 fundamental principles relating to human rights, labor, environment, and prevention of corruption, out of agreement with the main purport of the Compact. The Kyocera Group has established "Kyocera Group Human Rights Policy" and explicitly prohibits the use of forced labor and child labor as well as discriminatory treatment on the basis of gender, age, beliefs, nationality, physical features, etc. The Kyocera Group is also working to prevent abuse of power and sexual harassment in the workplace. In addition, the Kyocera Group endeavors to exchange views and share information with employees through organizations such as labor unions and workplace associations. The Kyocera Group promotes development of a comfortable work environment that fosters motivation.
Human Rights Policy
Kyocera Group Human Rights Policy
The Management Rationale of the Kyocera Group is "To provide opportunities for the material and intellectual growth of all our employees, and through our joint efforts, contribute to the advancement of society and humankind," and our corporate activity is designed to aid in the construction of a sustainable society. We understand that in the actualization of our Management Rationale, efforts and actions to actualize a fundamental respect for human rights are important throughout the entire value chain and that respecting the human rights of all of our stakeholders is absolutely essential.
To that end, the Kyocera Group supports the "Universal Declaration of Human Rights," the "ILO Declaration on Fundamental Principles and Rights at Work," the UN "Guiding Principles on Business and Human Rights," and "the ten principles of the UN Global Compact,"
Scope
This Policy applies to our entire value chain, including all business activities of the Kyocera Group. We also expect our business partners and suppliers to respect human rights as well.
Important Human Rights Issues
The Kyocera Group shall place particular importance on the following human rights issues, and shall pay particular attention to them in our efforts to promote human rights protection.
Prohibiting forced labor:
All labor at the Kyocera Group is voluntary. We shall never use forced, captive, or detention labor, involuntary or exploitative prison labor, or labor force powered by slavery or human trafficking.
Prohibiting child labor and restricting labor for young workers:
We shall not allow children under the age of 15 to work at our companies. We shall not allow workers not yet 18-years-of-age to engage in work that threatens their health or safety.
Ensuring appropriate work conditions:
Work hours shall never exceed the limits set in applicable local laws. Wages shall always be at or over the minimum wage and benefits set forth in law, etc., shall always be provided.
Prohibiting harassment:
We shall never engage in harsh and inhumane treatment towards workers, including the different types of harassment such as sexual harassment, sexual abuse, physical abuse, mental or physical suppression, or verbal abuse.
Prohibiting discrimination:
We shall never engage in unjust discriminatory treatment based on race, skin color, age, gender, sexual orientation, gender identity or gender expression, ethnic background or nationality, the presence or absence of disabilities, pregnancy, religion, political party affiliation, union membership, the presence or absence of military service experience, genetic information, marital history, or any other aspects set forth by law. In addition, we shall never conduct medical or physical examinations to be used for discriminatory purposes.
Respecting freedom of association and the right to collective bargaining:
In accordance with the laws and labor customs of each individual country, we shall respect the right to associate freely and the rights of workers engaged in activities.
Conducting Human Rights Due Diligence
In order to actualize the goals of this Policy, we shall advance practices that respect human rights under the oversight responsibility of the management level.
In order to comply with this Human Rights Policy, we shall construct and implement human rights due diligence frameworks using the UN "Guiding Principles on Business and Human Rights."
We shall identify and evaluate adverse human rights impacts and remove or reduce the causes, provide remedy, and avoid contributing to the impacts.
If adverse human rights impacts become evident, we shall engage in remedy and correction through the appropriate procedures.
We shall continue to publically announce the progress of efforts based on this Policy.
November 2, 2020
Kyocera Corporation
Hideo Tanimoto, President
Human Rights Management System
The Kyocera Group has created a working group in which managers from multiple departments, including human resources, CSR, risk management, procurement, auditing, and public relations, participate.
After completing training for education on human rights initiatives, we are also considering broader training on human rights issues.
In addition, Kyocera considers human rights measures a critical issue and is discussing them at the Kyocera Group CSR Committee.
Measures Relating to Human Rights and Labor
Kyocera has designated May as "Morality Month" to improve human rights and labor awareness among employees. Workplace compliance information is announced at morning meetings, and training is provided for those in relevant supervisory roles. The Kyocera Code of Conduct, which covers our stance on initiatives in human rights, legal compliance, environmental and social contribution, and workplace attitudes, is made available to all employees via the company intranet, and employees are made aware of its contents. Also, human resource divisions undertake independent checks for legal violations such as discrimination, appropriate payment, and working hour management according to labor-related laws and regulations, in-house rules, and labor agreements with unions. Auditing divisions also carry out audits regularly to ensure thorough legal compliance. Details specific to each area of work are compiled in the Labor-related Code of Conduct.
Kyocera Corporation Labor-related Code of Conduct
Purpose
Since shortly after its founding, Kyocera has declared that it will "provide opportunities for the material and intellectual growth of all our employees, and through our joint efforts, contribute to the advancement of society and humankind" as its management rationale, and has managed its business based on the Kyocera Philosophy – the core management philosophy that guides the Kyocera Group. By practicing the Kyocera Philosophy daily, we will contribute to the sound development of society and build mutual trust with stakeholders while continuously developing the Kyocera Group.
Therefore, we have established the Kyocera Group CSR Guidelines, our standards of corporate conduct, and will act towards creating a sustainable society. More specific details for each area of work are compiled in the Labor-related Code of Conduct.
Scope
This code of conduct applies to Kyocera Corporation, as well as all executive officers and employees.
Labor-related Code of Conduct
Kyocera Corporation shall uphold the human rights of all workers and engage with all workers in a manner that can be considered respectful and indicative of good faith by international societies. This applies to all workers, including temporary employees, migrant workers, students, contracted employees, directly hired employees and all other working capacities.
Labor standards are as follows.
Free Selection of Jobs
There shall be no use of forced or compulsory labor (including debt bondage), labor in detention, involuntary or exploitative prison labor or labor obtained through slavery or human trafficking. This includes transportation, concealment, employment, transferral or acceptance of persons through threats, coercion, force, abduction or trickery for the purpose of receiving labor or services. Entry to and exit from facilities provided by the company shall not be restricted in an unreasonable manner, nor shall unreasonable restrictions be placed on workers' freedom of movement in company facilities. In the event that a worker will leave their country of origin to work for Kyocera, a written employment contract describing the conditions of employment must be provided in the worker's native language prior to the worker's departure from their country of origin as part of the employment process. The employment contract must comply with applicable local laws and must not be substituted or changed on the worker's arrival in the country where they will work, unless the new contract contains equivalent or better conditions. All work shall be done on workers' own volition, and workers must be free to leave the workplace or terminate their employment at any time. Employers and agents must not keep any identification or immigration documents belonging to workers, including government-issued identification, passports or work permits (except those that they are legally required to keep), and must not destroy, conceal or confiscate these or prevent workers from using them. Workers shall not be required to pay an employment commission to their employer or agent or any other fees related to their employment. If it is discovered that any workers have paid fees of this nature, the money shall be returned.
Labor by Minors
Child labor shall not be used in any stage of production. For the purposes of this code of conduct, "child" refers to persons under the highest of age 15, the age of completion of compulsory education or the minimum working age in the country in question. Reasonable work-study programs are supported as long as they comply with all laws and regulations. Workers under the age of 18 (minors) shall not be permitted to engage in work that may be hazardous to their health or safety, including night work or overtime. Kyocera Corporation shall ensure that student workers are suitably managed according to applicable laws and regulations through suitable record-keeping about student workers, strict due diligence regarding the partners providing education, and protection of student workers' rights. Kyocera Corporation shall provide suitable support and training to all student workers. If no applicable local laws exist, remuneration for student workers, interns and apprentices must be no lower than that paid to other entry-level workers performing the same or similar work. There shall be no use of forced or compulsory labor (including debt bondage), labor in detention, involuntary or exploitative prison labor or labor obtained through slavery or human trafficking.
Working Hours
Many studies on business practices have shown a clear link between overworking and a decrease in workers' productivity, increase in turnover and increase in injury and illness. Working hours must not exceed the limits set in local laws. Workers must not work more than 60 hours per week, including overtime, except in emergencies or other unusual situations. Workers must be given at least one day off every seven days.
Remuneration and Benefits
Remuneration paid to workers must comply with all applicable laws on remuneration, including those concerning minimum wage, overtime and legally required benefits. Overtime must be compensated at a higher hourly rate than the usual rate, in accordance with applicable local laws. Remuneration must not be deducted as a disciplinary measure. Workers must be given a comprehensible pay slip for each pay period. This must be provided in a timely manner and contain sufficient information for the worker to confirm that they have been paid correctly for the work they performed. Kyocera shall comply with the limitations in local laws regarding the use of temporary, dispatched or externally contracted workers.
Humane Treatment:
Workers shall not be subjected to sexual harassment, sexual abuse, physical punishment, emotional or physical suppression, verbal abuse or other mistreatment. Workers must not be subjected to any treatment that is inhumane or could be considered as such. Disciplinary measures and procedures to handle such treatment must be defined and communicated to workers.
Elimination of Discrimination
Kyocera Corporation must take all possible measures to ensure that its workplaces are free of harassment and illegal discrimination. Kyocera Corporation must not discriminate based on race, skin color, age, sex, sexual orientation, gender identity/gender expression, ethnicity/nationality, disability, pregnancy, religion, political affiliation, union membership, presence or absence or military experience, genetic information or marital history in the application of any employment conditions including remuneration, promotions, bonuses or training. Provisions shall be made within a reasonable scope for workers to practice their religions. Requests from workers for religious accommodations shall be handled by the General Affairs and Labor Division, who shall consider how to handle the request and then provide the necessary accommodations. Workers and prospective workers must not be subjected to medical or physical examinations that may be used for discriminatory purposes.
Freedom of Association
Kyocera Corporation shall respect the right of all workers to form or join a union for the purposes of collective bargaining and peacefully assembling, along with the right of any worker to abstain from such activities, based on local laws. Workers and/or a representative shall be able to directly communicate their opinions and concerns about working conditions and management practices to management without fear of discrimination, reprisal, threats or harassment.
Human Rights Due Diligence Process
Employee
Some Kyocera Group factories take audits of human rights due diligence on labor and human rights based on the RBA Code of Conduct, a third-party organization.
We have set up an Employee Counseling Center to receive consultations and reports regarding violations of behavioral guidelines, including harassment, laws, and regulations. We also carry out internal investigations and corrective actions as necessary.
Supply chain
We are conducting a CSR assessment our supply chain, which includes an assessment of human rights items.
We accept inquiries from customers using the following link.
Human rights audit items for employees and supply chains
Evaluation target group : Kyocera employees, women, children, indigenous people, migrant workers, workers hired by third-parties, etc.
Free selection of jobs (forced labor, elimination of human trafficking, freedom of turnover, etc.)
Labor by minors (elimination of child labor)
Compliance with working hours (compliance with working hours, compliance with holiday regulations)
Remuneration and benefits (payment of wages based on the law)
Humane treatment (elimination of sexual harassment, corporal punishment, etc.)
Elimination of discrimination (elimination of discrimination based on race, color, gender, age, country of origin, disability, religion, etc.)
Freedom of association (freedom to form and participate in labor unions)
Human Rights Assessment
Employee
As a result of human rights assessments by a third-party organization during the past three years, no indications regarding human rights were found.
| Items | Coverage (for the past 3 years) |
| --- | --- |
| Employee (ratio of consolidated employees) | 1.4% |
Supplier
Regarding suppliers, there are currently no human rights issues. Suppliers with a human rights category score of 60% or less are considered high risk.
Items
Coverage (for the past 3 years)
Primary supplier of Kyocera
80% (transaction amount)
5.7% (number of companies)
Human Rights Mitigation & Remediation
Employee
In fiscal 2020, we will take the following measures to provide consultation on harassment.
| Corresponding process | Number of mitigation plans | Number of mitigation measures implemented |
| --- | --- | --- |
| Implementation of harassment training | 2cases (training for all employees, training for managers) | 2cases (training for all employees, training for managers) |
Countermeasures
Prohibition of Forced Labor
The Kyocera Group Human Rights Policy and Kyocera Supply Chain CSR Procurement Guideline prohibit slavery, human trafficking and all other forced labor, along with child labor, throughout the Kyocera Group. Our supply chain is also required to comply with the Kyocera Supply Chain CSR Procurement Guideline.
Prevention of Harassment
Kyocera began providing harassment training for all employees in 2020 as a measure to prevent harassment.
Supervisors are also equipped with the necessary knowledge and training that includes case studies and discussions to create workplaces free of harassment.
Additionally, a framework is in place so that in the event that harassment or a human rights violation occurs, workers can contact an advice desk, anonymously if they wish, and the necessary measures will be taken with consideration for privacy.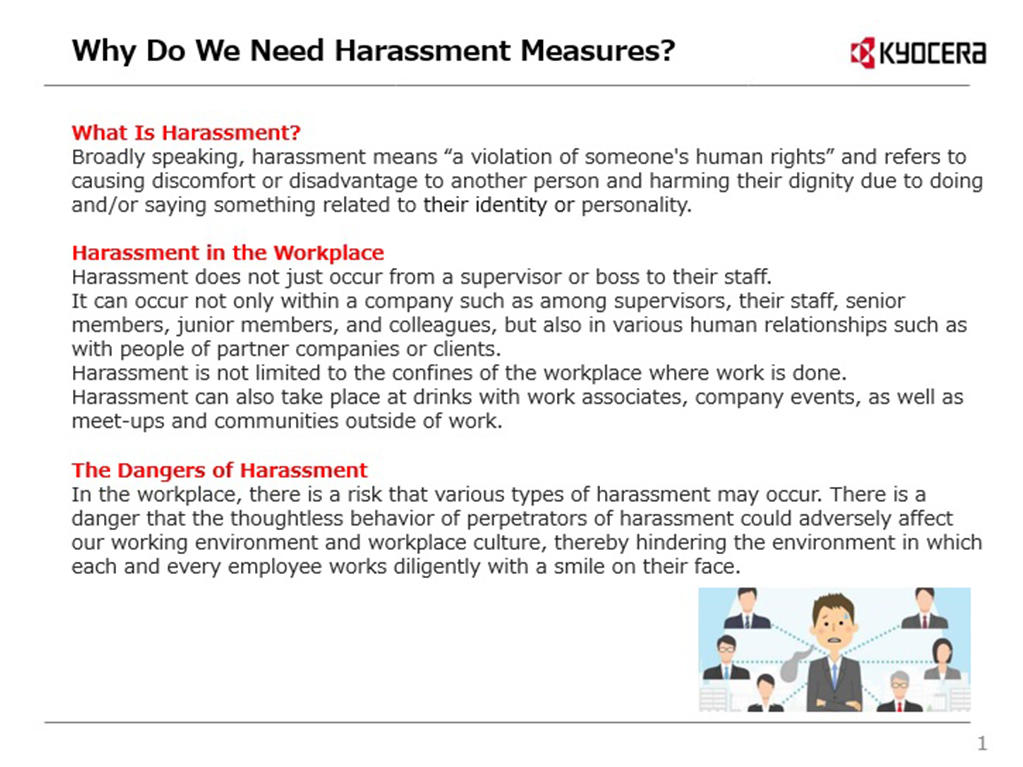 Freedom of Association
At Kyocera, great emphasis is put on building relationships based on trust and heart-to-heart bonds among employees. Labor-management relations at Kyocera go beyond the generally accepted idea of harmony between management and labor. At Kyocera, the basis of the relationship is "coaxial labor and management," where perspectives are shared on the same level (Union membership rate: 98.5%). We carry out sports meets, summer festivals and many other kinds of events that stimulate and sustain such relations through unity. In Europe, the U.S.A., China and other countries, Kyocera continues to maintain appropriate labor relations via thorough labor-management consultation in accordance with labor laws of individual countries. Labor and management on the same axis is the key for successful labor relations. Maintaining this stance will help to resolve problems in the workplace and keep the company on the path of sustainable development.