Developing Human Resources with Diverse Skillsets
The Kyocera Group maintains a fundamental management rationale to provide opportunities for the material and intellectual growth of all our employees, and through our joint efforts, contribute to the advancement of society and humankind. To realize Kyocera's Management Rationale to grow and develop the company on sustainable basis, it is essential to maximize employees' abilities. To continue growing in the current rapidly changing global business environment, we believe that attracting more diverse employees and letting every employee fully demonstrate their abilities are important.
Personnel System
The Kyocera Group is constantly working to create a range of innovative human resource initiatives based on its human resources rationale. Through these initiatives, we aim to create a workplace environment where all employees can feel pride in the company and satisfaction in their work. Furthermore, we aim to create a workplace culture where everyone can share their joy and challenges, and contribute to achieving our company's management rationale.
Workstyle Reforms
Implementing flexible work systems
Kyocera Corporation has introduced telecommuting to allow remote work. We are also promoting videoconferencing and virtual meetings using cloud services throughout the Kyocera Group. Moreover, our style of work is becoming increasingly diverse according to job functions and responsibilities. Kyocera Corporation is encouraging the adoption of workstyles that suit the characteristics of the job, including a flextime system for offices and sales offices (office divisions) in Japan. This effort is intended to boost the company's total productivity.
Optimizing workstyles
To improve productivity and deter long work hours, Kyocera Corporation has set limits on labor hours for its department and section managers. We are also making workflow enhancements that optimize labor to produce results in less time.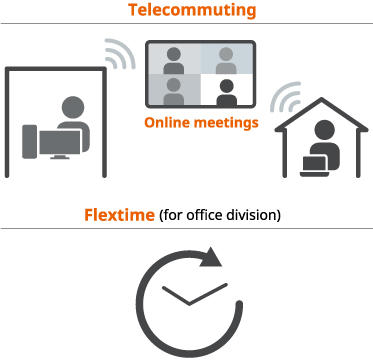 Developing Human Resources with Dverse Skillsets
Advanced Specialty Course (certification of Group principal ・principal engineer)
In Japan, Kyocera Corporation has also set up "Advanced Specialty Course " using qualification grades as a system to recognize and treat human resources with advanced skills. Qualified employees can be certified, for example, as a "Group principal engineer" or "Principal engineer." Further, in Senior Professional and Professional qualifications, employees who maximize their high-level expertise and practical skills contributions can be certified as "Experts."
Group principal engineer: Individuals who have top-class expertise within their industry and contribute to the company
Principal engineer: Individuals who have top-class expertise within the Group and contribute to their department
Expert system
Employees who have a high level of expertise and practical skills in their SP (Senior Professional) and P (Professional) qualifications and who can be expected to achieve even greater results by entrusting their work execution methods and time allocation to themselves are certified as "experts" covered by overtime compensation guarantees in the same way as managers and supervisors.
《System of Qualifications: Generalist Course and Advanced Specialty Course》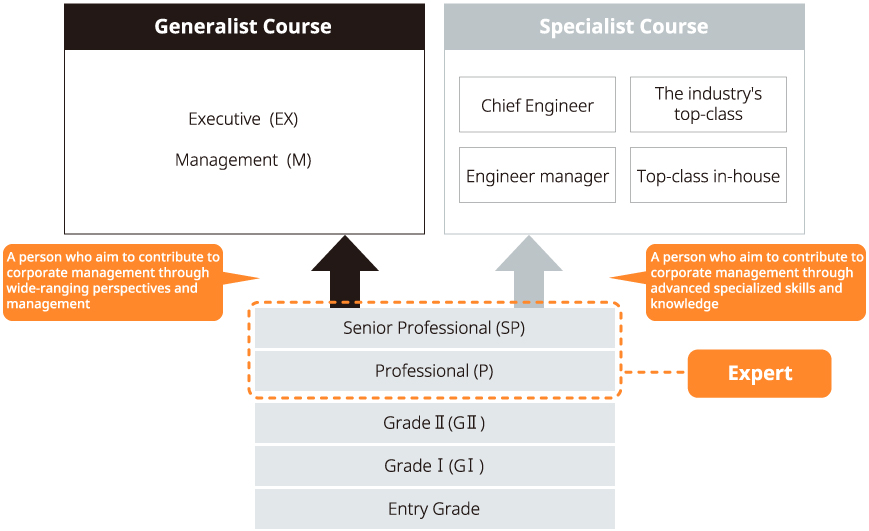 Communication Approaches
Regulations Review Project
Employees' needs and lifestyles become diversified along with changes in the social climate. Labor and management are therefore working together on checking systems and standards to ensure they are always appropriate, fair and impartial.
Labor and Management Exchange Conference
Meetings of labor and management representatives are held each month in Kyocera plants and offices. The purpose of the meetings is to verify working conditions for employees and the workplace environment, and to actively exchange views on matters needing improvement, among other issues.
People Analytics
Kyocera uses people analytics to solve HR issues and improve HR policies to enable more appropriate decision-making through the use of HR data.
Initiatives
| Item | Summary |
| --- | --- |
| Identifying Risks to Retention Improvement | By analyzing the circumstances of resignations, we strive to identify factors that contribute to resignations and improve the work environment. |
| Organizational Network Analysis | The workplace vitality assessment enables activities to improve workplace vitality and engagement. |
| Data Analysis to Resolve HR Issues and Improve HR policies | Analysis of supervisors' competence which encourage their subordinates to take on new initiatives to foster a better, more dynamic work environment. |
Analysis Result Examples
Initiatives to Improve Workplace Vitality and Engagement
The Kyocera Group (in Japan) regularly conducts an employee engagement survey. The survey is conducted using a five-point scale (five being the highest possible score) on questions concerning attitudes toward work, workplace openness, participation in management, and trust in the company, etc. The results are analyzed on an organization-by-organization basis to diagnose the vitality of each workplace. Using the survey results as a reference indicator, division and team leaders lead workplace improvement activities to enhance vitality at each workplace.
Survey Results for FY2022
Number of People Surveyed
27,296
Number of Respondents (Response Rate)
25,869 people(94.8%)
Number of Questions
74 questions
Language
Japanese only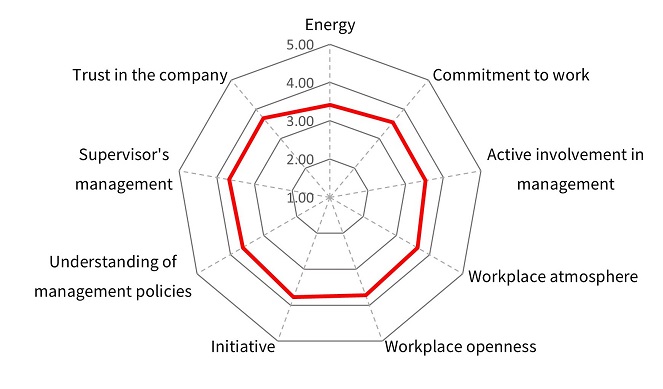 | Item | Kyocera Group Average |
| --- | --- |
| Energy | 3.41 |
| Commitment to work | 3.55 |
| Active involvement in management | 3.53 |
| Workplace atmosphere | 3.64 |
| Workplace openness | 3.72 |
| Initiative | 3.78 |
| Understanding of management policies | 3.63 |
| Supervisor's management | 3.67 |
| Trust in the company | 3.70 |
Percentage of Employees Who Gave a Rating 4 or Higher
| | |
| --- | --- |
| FY2017 | 59% |
| FY2019 | 57% |
| FY2022 | 51% |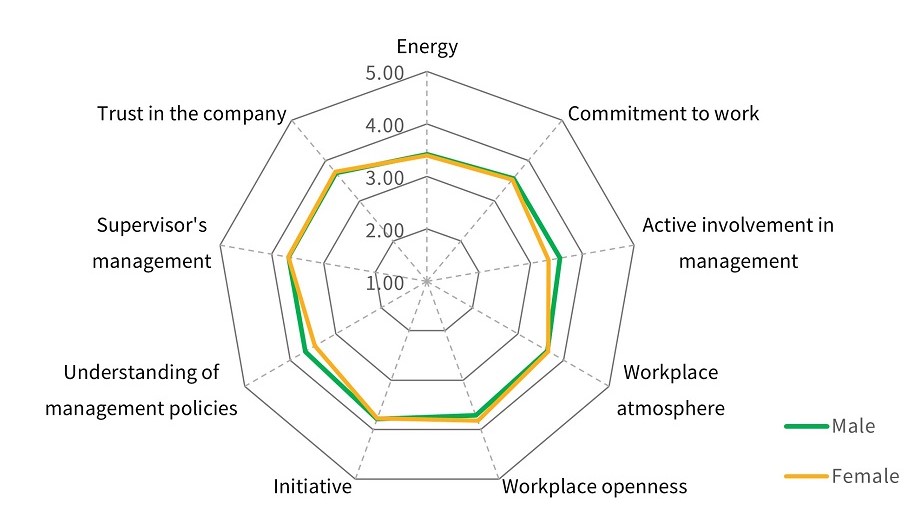 | Item | Male  | Female |
| --- | --- | --- |
| Energy | 3.42 | 3.40 |
| Commitment to work | 3.56 | 3.53 |
| Active involvement in management | 3.57 | 3.35 |
| Workplace atmosphere | 3.64 | 3.66 |
| Workplace openness | 3.71 | 3.82 |
| Initiative | 3.79 | 3.77 |
| Understanding of management policies | 3.67 | 3.46 |
| Supervisor's management | 3.67 | 3.68 |
| Trust in the company | 3.70 | 3.72 |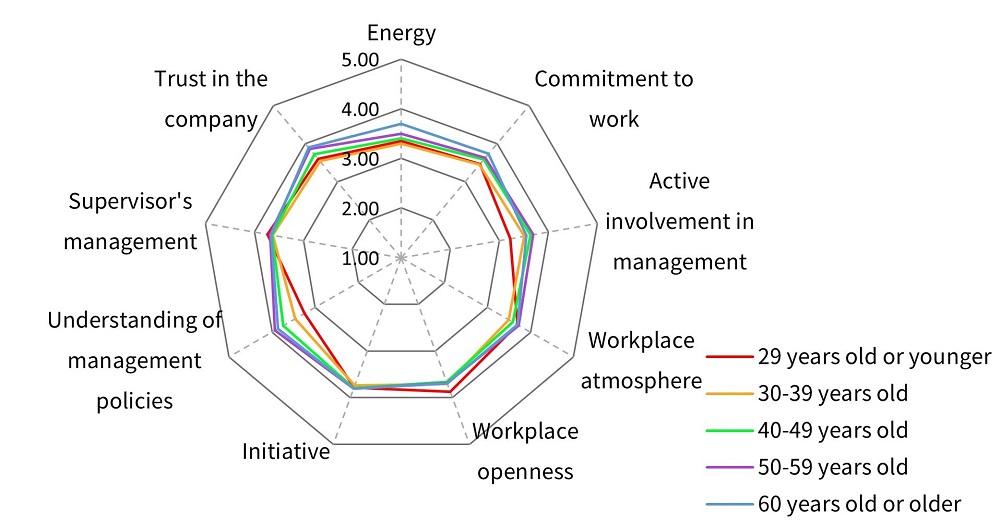 Item
29 years old
or younger
30-39 years old
40-49 years old
50-59 years old
60 years old or older
Energy
3.35
3.30
3.40
3.50
3.70
Commitment to work
3.46
3.45
3.58
3.63
3.73
Active involvement in management
3.23
3.51
3.64
3.69
3.56
Workplace atmosphere
3.70
3.50
3.59
3.73
3.70
Workplace openness
3.87
3.71
3.66
3.68
3.70
Initiative
3.78
3.74
3.79
3.81
3.80
Understanding of management policies
3.25
3.46
3.74
3.93
3.86
Supervisor's management
3.73
3.62
3.64
3.68
3.66
Trust in the company
3.60
3.54
3.72
3.86
3.90
Supervisors Who Encourage Subordinates to Take on New Initiatives
We are analyzing the influence of the division manager's leadership style and workplace conditions on employees' willingness to take on new initiatives and how the degree of influence varies by employee demographics. The analysis showed that, across all generations, the willingness decreased when the division manager's vision-creation ability was low and increased when the workplace was more accepting of different opinions. Therefore, the training for new section managers addresses workplace openness, and training for division managers addresses the importance of presenting a vision, or "what they want to be," in running the division. By incorporating the results of this analysis into management training and other programs, we are fostering a more dynamic work environment.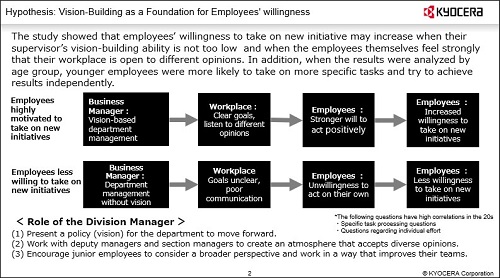 Human Resource Development
Kyocera Group regards human resources as human "assets" and supports activities enabling employees to raise awareness of personal development and their contributions in the workplace. In particular, as personal development can be achieved to great extent through work, Kyocera is striving to create a workplace environment that enables each employee to work cheerfully and energetically, and draws out natural talents to the maximum extent. Kyocera provides comprehensive support for employee growth and development using the following systems:
Support for the development of junior employees and career development
Kyocera has implemented the following programs to support the growth of new and junior employees.

Training manager system, mentor system
Setting our two years after joining the company as the training period, we appoint a training manager and carry out planned OJT based on a training plan. We also appoint senior employees who are relatively close in age as mentors to create an environment where newcomers can feel free to consult.
Career development support (annual training and interview system)
The following initiatives are implemented at each juncture up the employee's fourth year to promote workplace retention and career autonomy.
1st year annual training: Inventory of operations for one year and setting growth targets for the second year
Career design training (3rd year): Setting career goals for the fourth year and beyond
2nd and 4th year interviews: Interviews with HR personnel. Confirmation of the status of workplace retention and advice for future career development.
Step Up System
In their fourth year of employment, employees can take advantage of the Step Up System. This system allows employees to transition from a work style based on completing allocated tasks to a work style where they can take the initiative in developing their skills to enhance their work performance. The Step Up System helps employees to see the gap between their current work performance and their ideal work performance, allowing them to identify challenges along the way. Employees can then work on resolving those issues as part of their regular duties, and the Step Up System provides the opportunity to report the results of their efforts to the senior management of their Group.
Challenge System
Kyocera also has another system for human resource development, the Challenge System. It allows the sharing of employee work targets with supervisors and improves employee capabilities through interviews with supervisors. This helps employees understand their roles and encourages them to work proactively on their job and skill development. It also aims to create a working environment where every employee can work actively and brightly. Supervisors, by heeding subordinate feedback, endeavor to improve the ability of the organization to reach goals and succeed in business.
Internal Placement Application System
Kyocera's Internal Placement Application System was established to provide employees with information on divisions that need personnel immediately, for example, due to the start of a new project or expansion of an existing business. Since this system provides employees with various opportunities that allow them to experience different positions at their own will, it serves as an effective means of support for employee career improvement. The optimal assignment of personnel is also another important goal for the company.
Human Resource Education
The Kyocera Group provides human resource education aimed at improving both theoretical and practical aspects of education, understanding and practice of the Kyocera Philosophy and mastering of the specialized knowledge and skills necessary to execute work. Kyocera thus endeavors to optimize human resources who can help us achieve the Management Rationale by providing a variety of education programs based on the systems shown below whose compositions reflect their respective objectives.
Human Resource Education System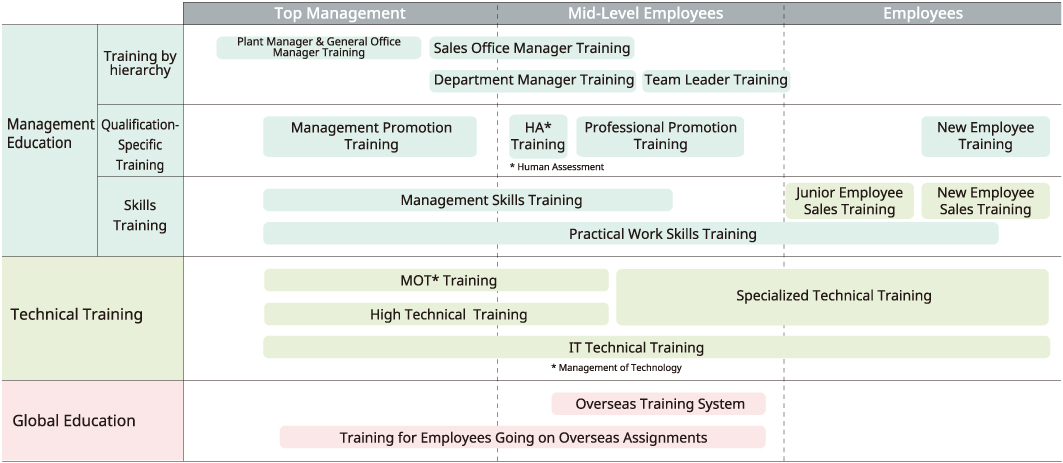 Management Education
Kyocera provides training to supervisors -- the leaders of the organization -- to develop executives with advanced management capabilities. In addition, Kyocera aims to improve employees' management capabilities by providing the training to employees necessary in each stage of their career development, from the time of entry into the company to mid-level and executive positions, so that they can learn the skills and knowledge required to fulfill their task on a step-by-step basis.
Technical Training
It is Kyocera's goal to develop human resources with a wide range of basic knowledge and advanced expert knowledge in all divisions, including engineering, R&D, manufacturing, quality assurance, sales, and management. Each level of new employees to mid-level employees, includes specialized technical training and MOT training for technical management. The training curriculum covers a wide range, such as materials technology, design skills, manufacturing technology, production technology, management skills, and quality control. Kyocera employees can take the training necessary for their assignment under this training system.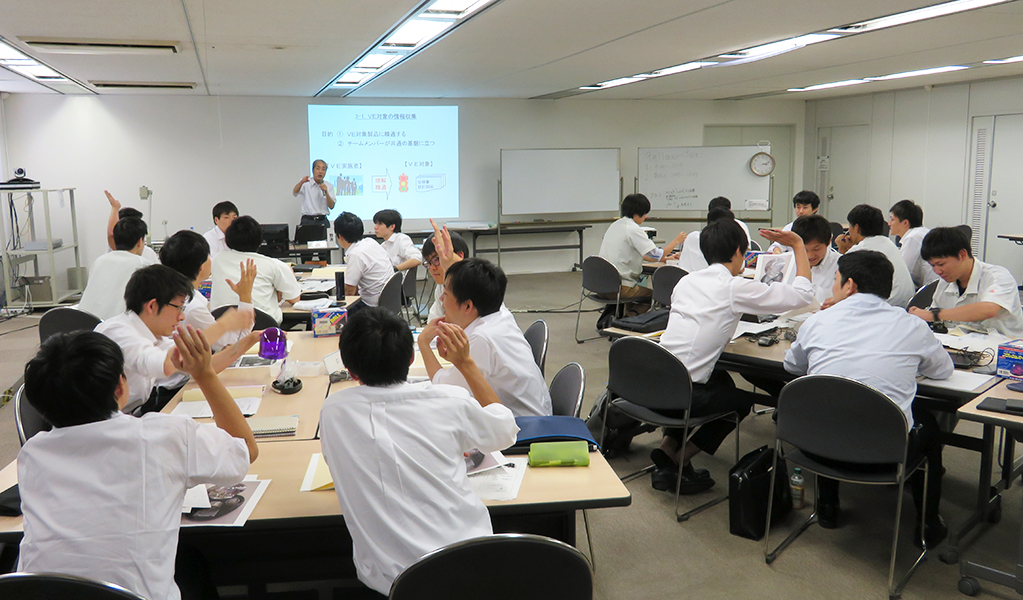 Global Education
Kyocera established an Overseas Language Training System and Overseas Graduate School Study System in order to foster human resources who can thrive on the global stage. These systems have sent employees to various regions around the world, including USA, Europe, China, Southeast Asia, and India. Kyocera is thus promoting the cultivation of employees with improved language skills, the ability to obtain up-to-date knowledge and technology that can only be acquired abroad, as well as the development of internationally minded employees. Furthermore, Kyocera provides those employees scheduled to be sent overseas sites and employees in overseas sales with training programs to understand foreign cultures. During the COVID-19 pandemic, we have also introduced an online English learning support system.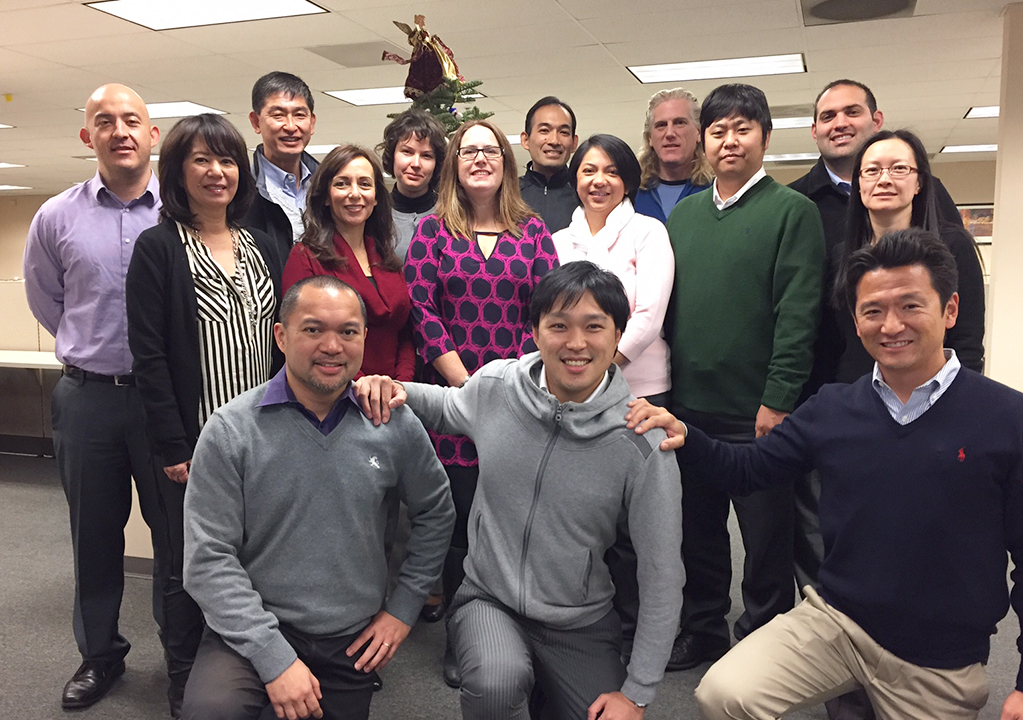 Training human resources with a diversity of experiences ( Secondments to venture companies)
With the business environment undergoing major transformations, we are implementing a system of secondments to venture companies. The aim of this system is to train up human resources capable of creating new value (innovations). We have dispatched five individuals to venture companies to observe emerging technologies and bring new insights back to Kyocera Corporation.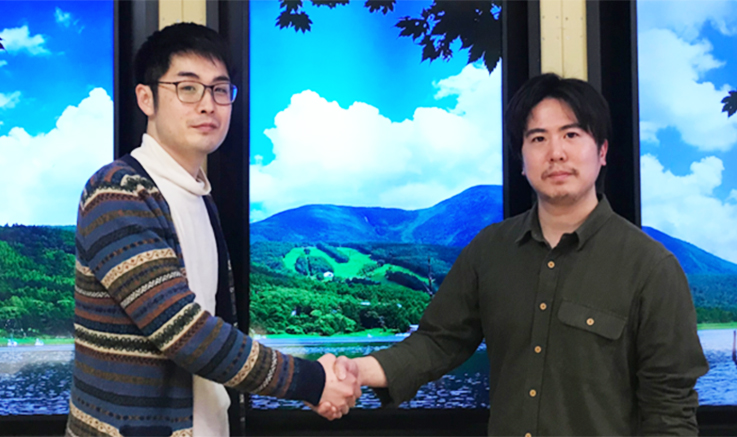 Kyocera Philosophy Education
The Kyocera Group is expanding Kyocera Philosophy Education on a global basis in accordance with the policy of the Group-Wide Philosophy Committee. For leaders, we have set up opportunities for top management and senior management in Japan and overseas to hold dialogues on the theme of our philosophy, in order to foster the next generation of management leaders with philosophy. For all employees, we build a digital infrastructure in which employees can learn freely at any time, and at the same time, we aim to cultivate a corporate culture in which the philosophy is alive by commending employees for practicing their philosophy.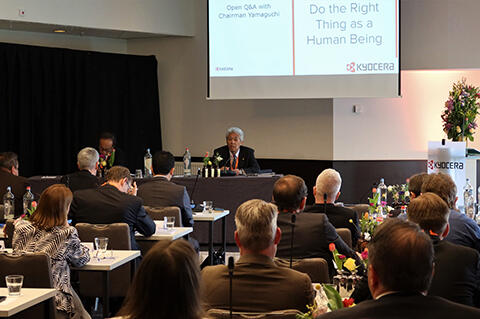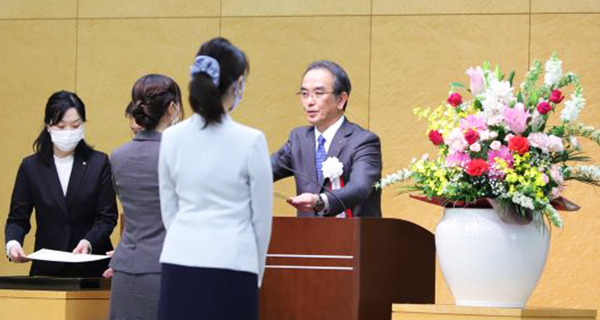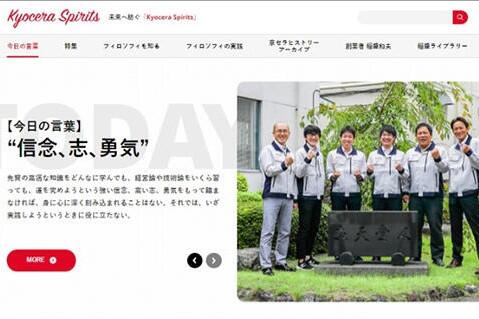 Education Results in FY2022
Kyocera Philosophy Education
Management Education
Technical Training
Global Education
Number of Course Participants
363
4,087
2,908
141
Average Annual Training
Days Per Employee
3.2 day
1.3 day
0.5 day
5 day