Measures to Counter Climate Change
The Paris Agreement, issued in 2016, pledges to keep the rise in global temperature to well below 2 degrees Celsius above pre-industrial levels and to pursue efforts to limit the temperature increase to 1.5 degrees Celsius.
The Kyocera Group also recognizes measures to counter climate change to be a priority issue. We set long-term environmental targets in 2018, and are implementing various measures to prevent global warming, including energy saving measures.
Targets
Long-term Environmental Targets
GHG emissions (Scope 1, 2*) target: Reduce 30% by FY2031 compared to FY2014 levels (SBT certified)
GHG emissions (Scope 1, 2, 3*) target: Reduce 30% by FY2031 compared to FY2014 levels (SBT certified)
Renewable energy adoption: Increase 10x by FY2031 from FY2014 levels
Scope 1: Direct emission associated with fuel consumption and production processes
Scope 2: Indirect emission associated with consumption of power or heat purchased from outside
Scope 3: Indirect emission other than Scope 1 or 2 (Including procurement of raw materials, transport, use and disposal of raw materials, as well as employee commuting and business trips)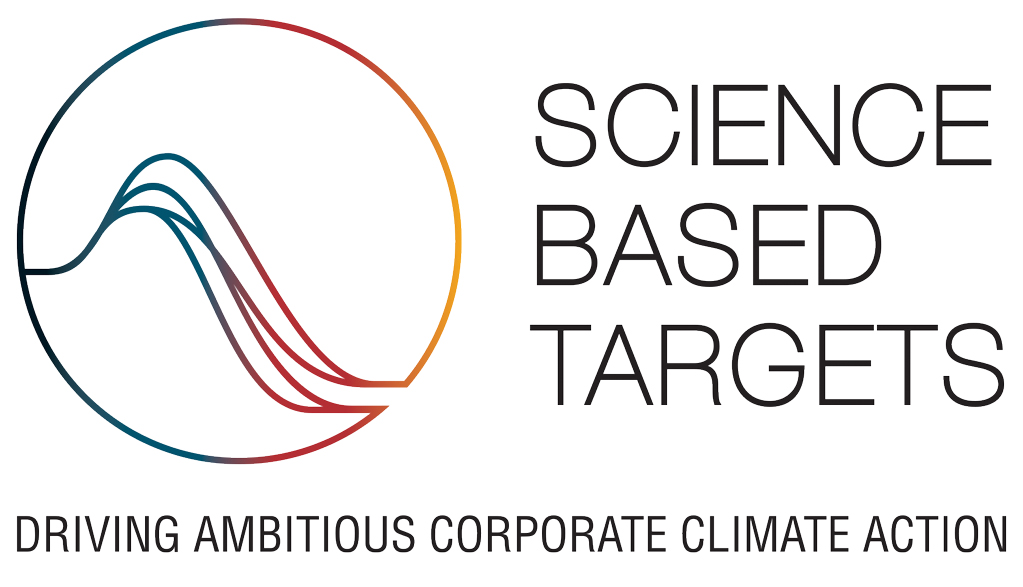 Scope 1, 2 and Scope 1, 2, 3 targets have been certified as SBT (Science-Based Targets) by the SBT Initiative, an international environmental organization.
Review of FY2020
We have proactively adopted energy-saving policies and renewable energy at our sites in order to achieve our long-term environmental targets. As an energy-saving policy, we have installed waste heat recovery chillers at our Yamagata Higashine and Kagoshima Sendai plants, and use the waste heat from the coolant to heat water for air conditioning, thereby cutting the fuel used by the boilers we had previously utilized. With regard to the adoption of renewable energy, we have installed new solar power generating systems at our Yamagata Higashine, Niigata Shibata, Toyama Nyuzen and Kawasaki plants, and at our Yokohama Nakayama Office, giving us a total cumulative generative capacity of around 17 MW as of 2019. These initiatives resulted in a 6% reduction in greenhouse gas emissions (Scope 1, 2, 3) in comparison with FY2019.
Greenhouse Gas Emissions
Greenhouse Gas Emissions (Scope 1+2)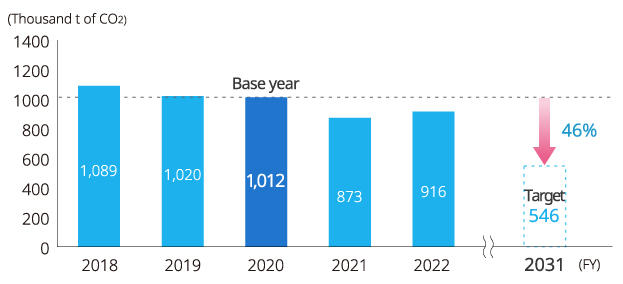 Greenhouse Gas Emissions (Scope 1+2+3)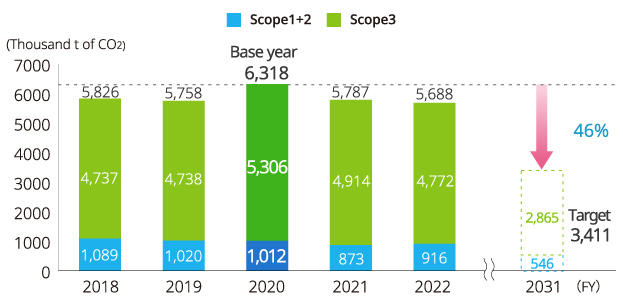 Measures to Counter Climate Change
Installation of Solid Oxide Fuel Cells (SOFC)
The SOFC is a very energy-efficient power generating unit that produces electricity through a chemical reaction between a fuel (hydrogen) and oxygen. It can also provide heat as an energy source by retrieving waste heat from this chemical reaction. Kyocera has installed a total of 17 SOFCs at our Shiga Gamo, Shiga Yohkaichi, Shiga Yasu, and Kagoshima Kokubu plants. The retrieved waste heat is used to heat the cafeteria hot water supply, to provide supplemental hot water for the boilers, and to heat water for absorption chillers that produce air conditioning. A storage battery and solar power generation system were installed with the SOFC at the Kagoshima Kokubu Plant. Going forward, we will carry out three battery control demonstration tests and further actions to counter climate change while reducing energy costs.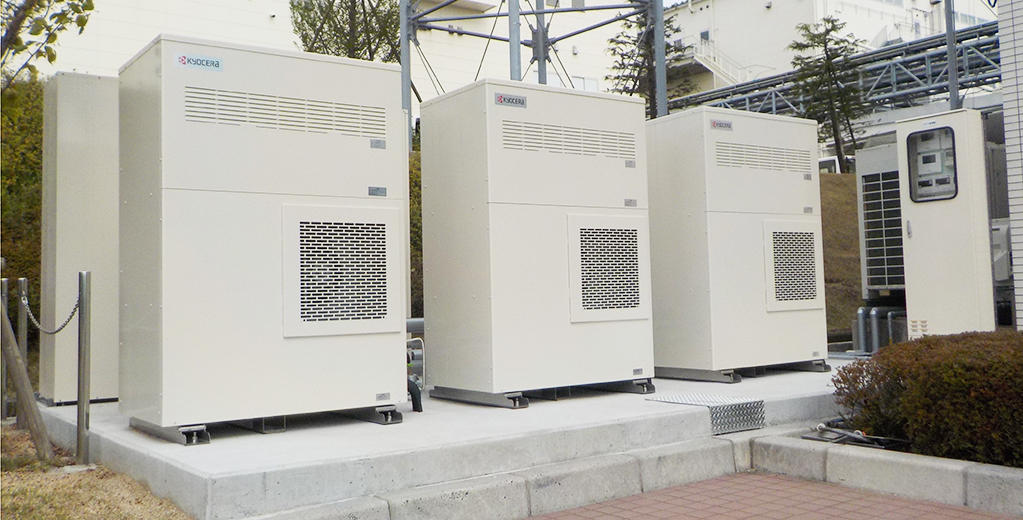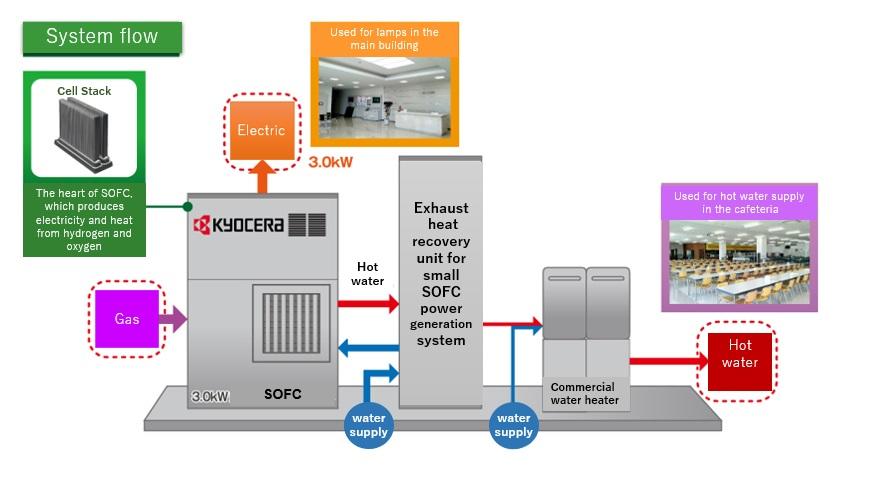 Renewable Energy "Self-wheeling" Demonstration Test Utilizing Storage Batteries
When a site cannot be secured for a solar power generating system, renewable energy can be used by the "self-wheeling" of electric power from solar power generating systems located elsewhere. In July 2020, Kyocera Corporation launched demonstration tests of Japan's first renewable energy self-wheeling system using a storage battery in Yasu, Shiga Prefecture. A Kyocera-manufactured 150 kW solar power generating system was constructed on a roughly 2,000 m2 site owned by the city of Yasu. The renewable energy generated by the system is supplied to our Shiga Yasu Plant, approximately two kilometers away, via Kansai Transmission and Distribution, Inc's electrical power grid. Via this demonstration test, we aim to establish a business model for "Self-wheeling," for which we expect to see a growing demand in the near future.

RE100 Initiative
Kyocera and Digital Grid Corporation are carrying out a demonstration test of renewable peer-to-peer (P2P)*1 electric power transactions at our Yokohama Nakayama Office. In this demonstration test, surplus power from former FIT solar panels installed at the homes of Kyocera employees and power from Kyocera's newly-built non-FIT solar power plant in Asahi, Chiba Prefecture, is adjusted by a Digital Grid Platform and supplied to our Yokohama Nakayama Office. This office also utilizes power from its existing on-site non-FIT solar power plant. If the combined electrical power is insufficient to meet demand, any shortfall will be supplied by power purchased from the Japan Electric Power Exchange (JEPX) with non-fossil-fuel energy certificates and tracking information from Kyocera's existing FIT photovoltaic power plant. This demonstration test means that all of the electricity consumed by the Yokohama Nakayama Office will come from solar energy.
Peer-to-peer (P2P) electric power transactions make use of advanced technologies that utilize AI, for example, to predict power generation output, collect power from sources such as residential homes and/or business facilities that own solar installations and storage batteries, and then supply that power to homes and other points of variable electric power demand.

Energy-saving Policy: Installation of Waste Heat Recovery Chillers
A waste heat recovery chiller utilizes heat pump technology to retrieve and use low-temperature heat. At our Yamagata Higashine and Kagoshima Sendai plants, we had previously heated water for air conditioning via boiler steam heat exchange, but we installed waste heat recovery chillers that retrieve waste heat generated by the turbo refrigerator's coolant system and use it to heat the water, thereby reducing the amount of boiler fuel used.
Reduced CO2 Emissions
324 (t-CO2/year)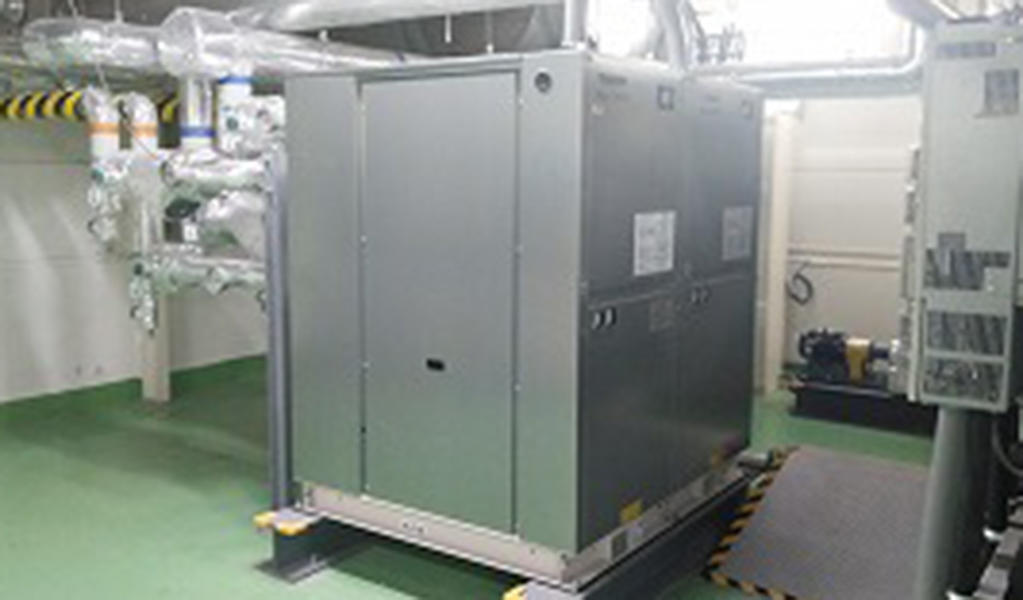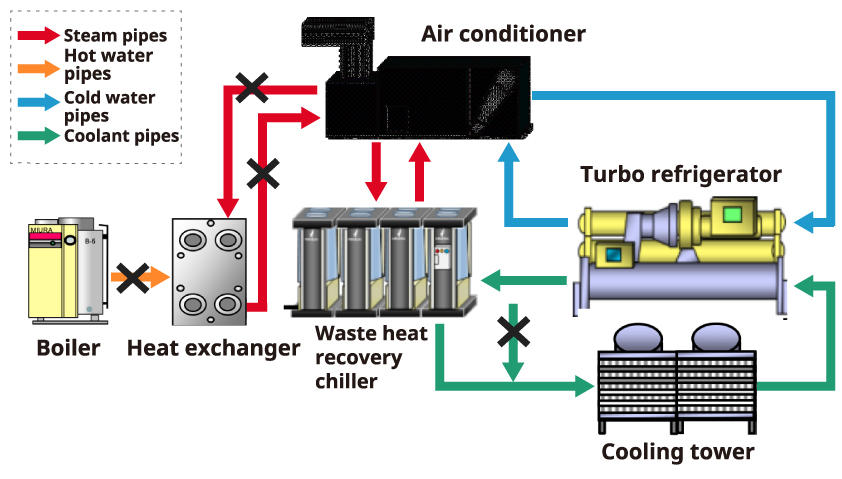 Introduction of Solar Power Generation Systems
We are installing solar power generation systems at our premises in Japan and overseas.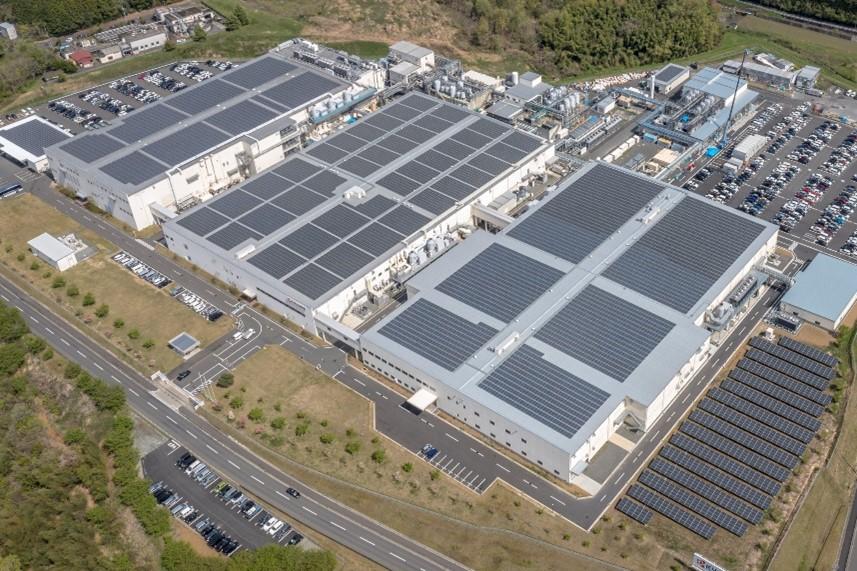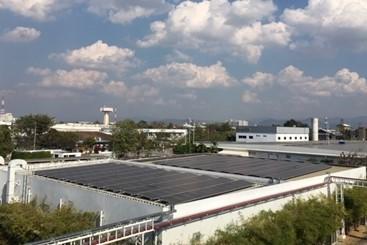 ● Introduction of Solar Power Generation Systems
Site
Generating capacity (kW)
Installation/Additional year (FY)
Japan
Hokkaido Kitami Plant
759
FY2011 (Final extension: FY2019)
Fukushima Koriyama Plant
2,241
FY2014 (Final extension: FY2019)
Yamagata Higashine Plant
538
FY2020
Niigata Shibata Plant
411
FY2020
Toyama Nyuzen Plant
360
FY2020
Nagano Okaya Plant
307
FY2011 (Final extension: FY2020)
Kawasaki Plant
47
FY2020
Osaka Daito Office
31
FY2004
Shiga Gamo Plant
571
FY2011 (Final extension: FY2016)
Shiga Yohkaichi Plant
1,826
FY2006 (Final extension: FY2020)
Shiga Yasu Plant
971
FY2011 (Final extension: FY2020)
Kyoto Ayabe Plant
2,077
FY2014 (Final extension: FY2020)
Keihanna Research Center
412
FY2019
Kagoshima Sendai Plant
1,420
FY2011 (Final extension: FY2020)
Kagoshima Kokubu Plant
1,682
FY2006 (Final extension: FY2020)
Kagoshima Hayato Plant
50
FY2006 (Final extension: FY2019)
Chiba Sakura Office
493
FY1985 (Final extension: FY2014)
Yokohama Office
58
FY2012
Yokohama Nakayama Office
239
FY2012 (Final extension: FY2020)
Headquarters
214
FY1999
Headquarters of Kyocera Document Solutions Inc.
12
FY2008
Kyocera Document Solutions Inc. Tamaki Plant
838
FY2011 (Final extension: FY2020)
Kyocera Document Solutions Inc. Hirakata Plant
60
FY2006
Chiba old factory site
688
FY2015
Overseas
Kyocera International, Inc. (USA)
279
FY2006
KYOCERA Mexicana, S.A. de C.V. (Mexico)
100
FY2011
KYOCERA Document Solutions Espana S.A.
(Spain)
36
FY2008
KYOCERA Document Solutions Belgium N.V.
(Belgique)
9
FY2010
KYOCERA Document Solutions Deutschland GmbH. (Germany)
16
FY2008
KYOCERA (TIANJIN) SOLAR ENERGY CO., LTD. (China)
93
FY2011
SHANGHAI KYOCERA ELECTRONICS CO., LTD. (China)
155
FY2010 (extended in FY2013)
Total
16,993