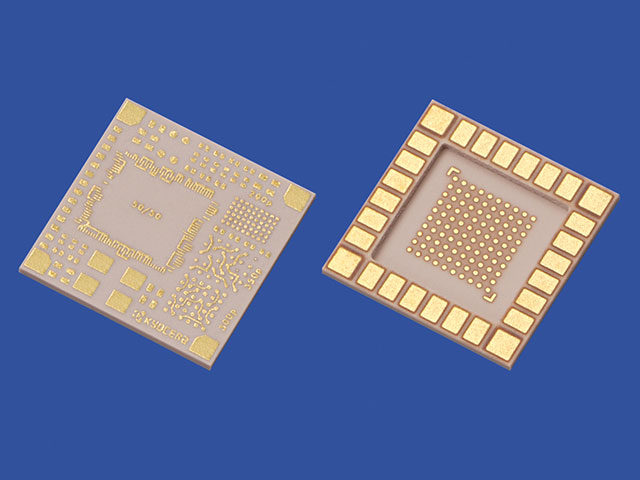 Kyocera offers Low Temperature Co-Fired Ceramic (LTCC) materials with excellent performance characteristics for a wide range of packaging applications -- including conductors with low electrical-resistance and dielectrics with high flexural strength.
Typical Applications
The following Radio Frequency (RF) modules and components are used in mobile communication devices such as mobile phones and mobile personal computers:
TV tuner modules, wireless LAN modules, Bluetooth®* wireless modules, Ultra-Wide Band (UWB) modules, front-end modules, power amplifier modules, SAW filters and duplexers
TV: Television; LAN: Local Area Network; SAW: Surface Acoustic Wave
Miniaturization of RF Modules
Reducing the size and thickness of RF modules is possible by embedding passive components -- such as band pass filters, baluns and others -- in LTCC substrates.

LTCC Substrate with Embedded Passive Components

High-Strength Materials (LTCC Hard) : GL330
Kyocera's LTCC Hard materials have a high flexural strength (400MPa) that is equivalent to alumina ceramics. They offer excellent resistance to the shock of drop-testing and are well-suited as module substrate materials in mobile communication devices. As substitutes for conventional LTCC materials, LTCC Hard substrate materials maintain the same level of mechanical integrity even with a reduction of approximately 30% in thickness. This is a result of the flexural strength of the LTCC Hard materials being two times greater than that of conventional LTCC materials.
* The Bluetooth word mark and logos are owned by the Bluetooth SIG, Inc. and any use of such marks by KYOCERA Corporation is under license.