Kyocera's newly developed Peltier unit unitizes the company's Peltier module technology to create a product with improved versatility that can be used in a wide variety of industries. Originally, Kyocera's Peltier module was used in applications that required high reliability, such as the automotive industry. Here we speak with a development manager about his thoughts on this project.
Peltier module technology refined for the automotive industry
What is a "Peltier module," and how does it work?
Peltier modules are, put simply, ceramic devices that convert electricity into heat. Depending on the direction of the electrical current, the module can generate cold and heat. The temperature can be adjusted between -20℃ to +80℃ range depending on the size of the module and elements.
Is it possible to produce rapid heating and rapid cooling?
Of course. Peltier modules are commonly used in a wide range of applications. Kyocera is currently mass-producing this product mainly for automotive seat temperature control systems and lithium-ion battery temperature management control systems. However, they can be found in small refrigerators and dehumidifiers as well.
When did Kyocera begin Peltier module development?
Kyocera started producing Peltier modules more than 15 years ago. But the most significant feature of the new Peltier unit is that the interior Peltier module is equipped with a cooling heat sink and a blower fan, making it possible for customers to utilize it immediately instead of needing to design their own system.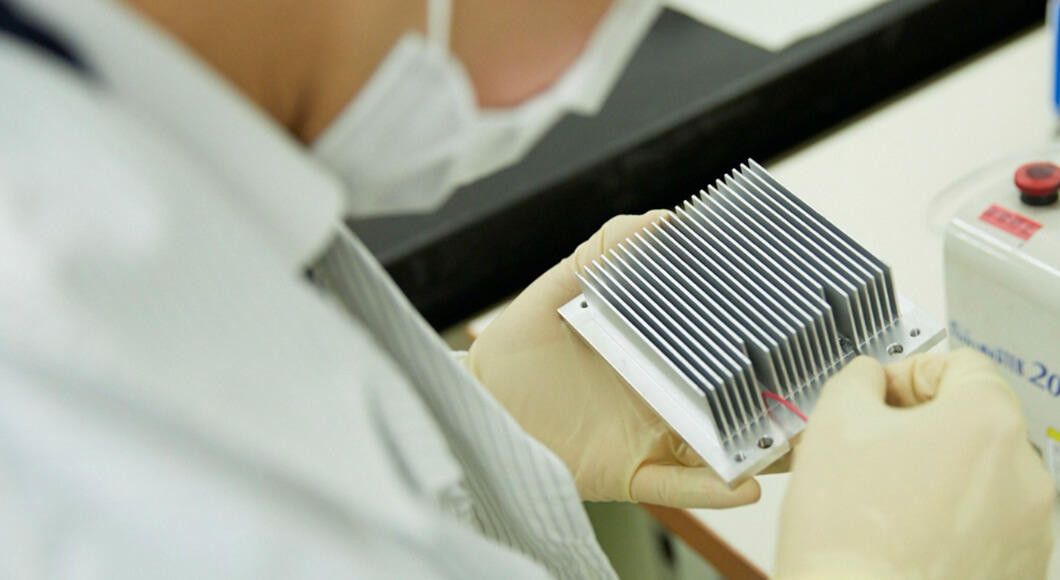 When did you start development on the Peltier unit?
It was around autumn of 2019. We started developing it for physics, chemistry, and medical equipment such as blood analysis and reagent temperature control. The inspiration behind its development was a customer comment: "We want something that can adjust the temperature more easily and quickly." To install the Peltier module on the customer side, the customer needed to customize the device by installing a heat sink or a fan. However, to do this requires knowledge in utilizing the Peltier modules. The new Peltier units don't require such knowledge, so customers can begin using the units right away.
You've really put the customers' demands front and center. As a device, do you believe the Peltier unit can respond to the customers' requirements for temperature control?
Yes, I do. Originally, Kyocera's Peltier modules met high durability levels required for automotive applications, so I think the Peltier unit can be implemented in other industries that require higher quality standards than consumer products.
Are there any features unique to Kyocera's Peltier modules in particular?
Other manufacturers use alumina substrates, a type of ceramic, but Kyocera's Peltier modules use copper plates. Copper has excellent thermal uniformity, and the copper plates have a quick temperature control response. In addition, since thermoelectric elements used in Peltier modules have a cylinder shape, reliability against module deformation stress is high. In addition, a special coating is applied to the side of the elements to prevent corrosion due to condensation.
I see. So the Peltier module itself, which forms the heart of the Peltier unit, has high reliability and durability.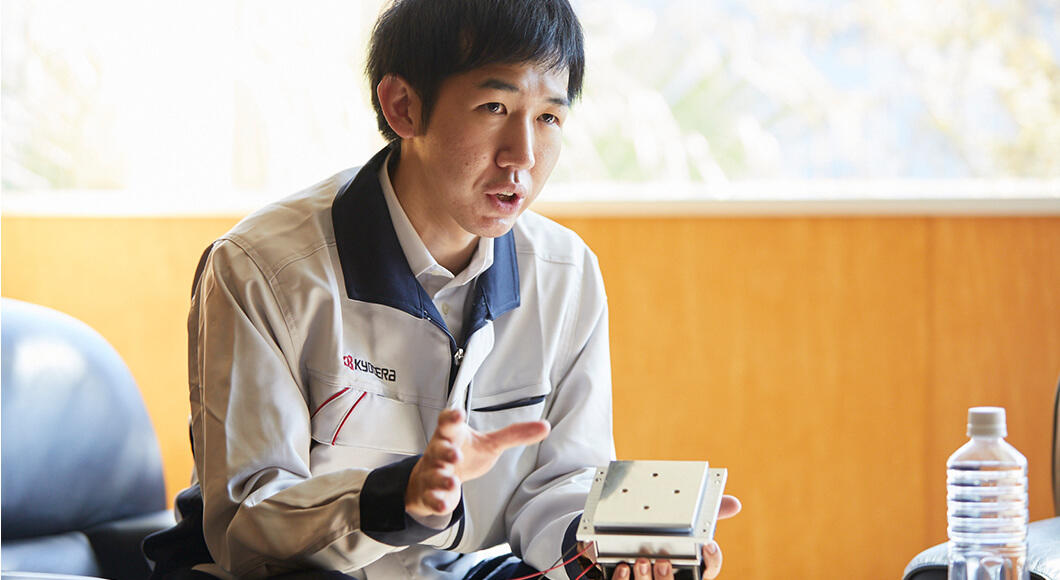 Helping Improve the Capabilities of PCR Test Equipment
How did the development of the Peltier unit progress? Did it go smoothly?
We didn't have any design know-how for unitizing the Peltier module, so we had to start from scratch. After evaluating dozens of fans and heat sinks, we were finally able to achieve a temperature control range of ±0.1℃ under certain specific evaluation conditions.
Meaning that depending on the conditions, if you set the temperature to 36 degrees, it will stay within 35.9 ~ 36.1℃?
Yes, exactly. As a device, the Peltier module simply exploits a heat transfer phenomenon, so the heat does not disappear completely; it just moves to the other side. For example, when cooling, we must manage the heat coming from opposite the cooling side to optimize the cooling temperature.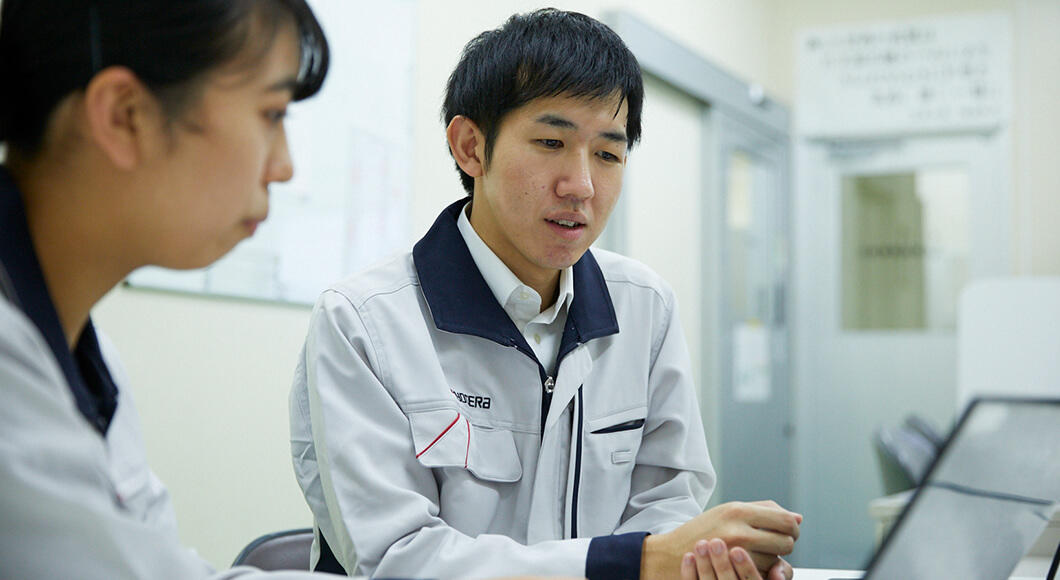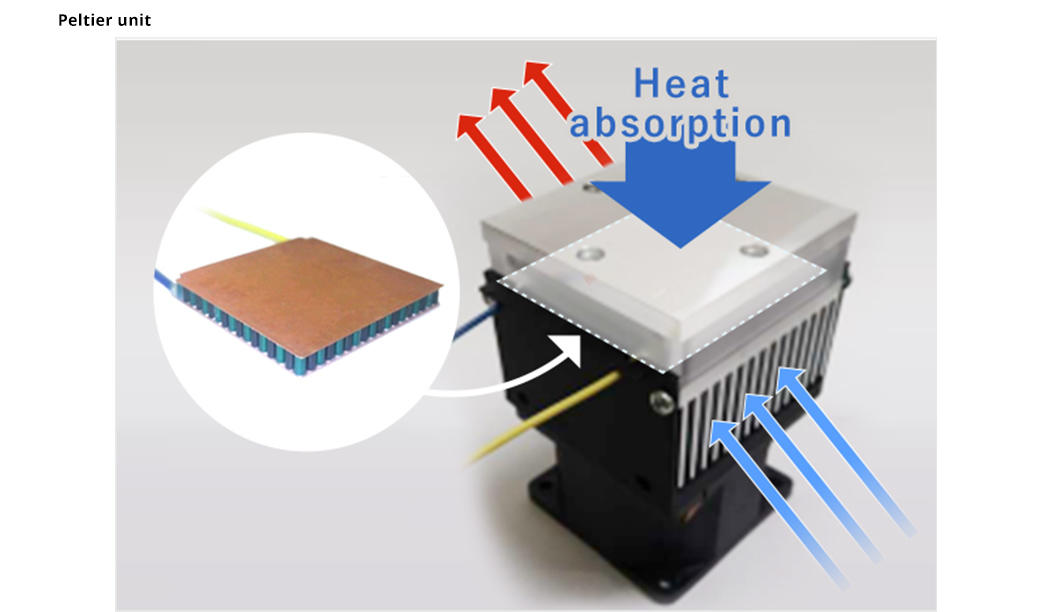 So it radiates the heat using a heat sink and fan. What industries do you envision having use for the Peltier unit?
I would especially like to see its implementation in the medical industry. As I mentioned earlier, Kyocera's Peltier modules were mostly used in the automotive industry. By unitizing these systems, we believe we can meet the needs of more people and industries.
So the medical industry seems like a perfect fit, being an industry that requires high reliability, high durability, and accurate temperature control.
Yes, exactly. Due to Covid-19, and there was a huge increase in demand for PCR testing equipment. In particular, PCR testing requires technology that provides accurate temperature control and quick response and high reliability. To help address PCR testing shortages, we hope that this Peltier unit can be used in the medical industry to help expand access to reliable PCR testing equipment. Previously, our focus had been on the automobile industry, but we would like to expand our technology to various other industries by responding to our customer demand for customization.