Preserving the planet's future with "solid" technologies
SOFC (Solid Oxide Fuel Cell) is a highly energy-efficient power generation system. A SOFC can generate energy by chemically reacting fuel (hydrogen) and oxygen, and also supply energy as heat. Kyocera has engaged in the development of miniaturized SOFC technologies since 1985, and we succeeded in installing our SOFC cell stack on the world's first residential SOFC in 2011.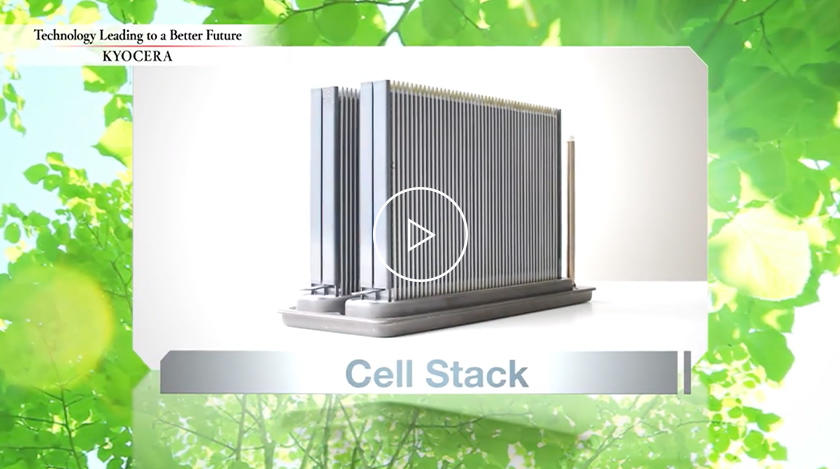 BASIC STRUCTURE
Kyocera's SOFC cell stack uses several dozen ceramic power generation cells which are joined together in series. Each cell is a uniquely-designed cylindrical flat plate structure, and the resulting stack achieves excellent durability, miniaturization, and high power generation efficiency.

ADVANTAGES
High power generation efficiency

High durability/maintenance saving

Low noise

Recoverable heat energy
BASIC PERFORMANCE
Kyocera's SOFC cell stack has been improved since mass production started in 2011, and has achieved further miniaturization with the 3rd generation product. We have achieved approximately 90,000 hours of continuous operation and 360 operation cycles (*), equivalent of 12 years, by leveraging our advanced fine ceramics design, manufacturing, and evaluation technologies.
*Operated with 700℃ electric furnace and hydrogen/air conditions of electric generation. Results might differ based on the operating environment and conditions (temperature/gas content/etc.).
SPECIFICATIONS
Design specifications
・Size

L:260mm W:120mm H:190mm

・Rated generating efficiency

87%(LHV)

・Power output [AC]

700W

・Weight

5kg

・Rated total efficiency

55%(LHV)
*Above parameters are based on existing residential SOFC systems.
APPLICATIONS

USAGE EXAMPLES

Kyocera's SOFC cell stacks have many uses in your daily life.

SOFCs are expected to be installed in communication base stations, traffic lights, and pipeline monitoring as backup power sources.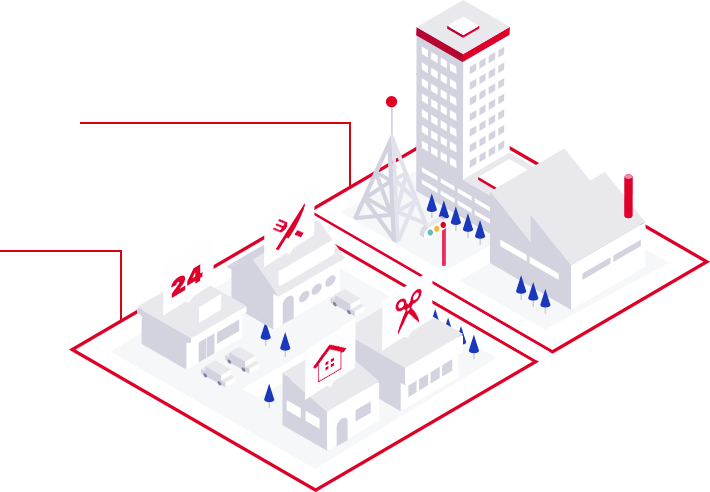 SOFCs are already widely used in households and small businesses such as convenience stores and restaurants.
Please feel free to contact us for more options if you have a request for a power generation module that includes a reformer and a heat recovery unit.
CONTACT FORM
Please feel free to contact us.Kyocera is always exploring ways
to support new innovations and we look forward to finding solutions to your challenges.