"Precise actuation and sensing."
Piezoelectric elements have a unique characteristic whereby the element elongates or vibrates when an external voltage is applied, similar to how it generates electricity when external pressure is applied. Kyocera's piezoelectric elements transform and vibrate at levels of nanometers to micrometers level in less than a micro second and repeat such movement rapidly and accurately, even in tough operating conditions, such as in a car. Conversely, when the piezo device receives mechanical pressure, it is converted to electricity, which becomes a signal and is used for a sensor/detector.
Because of Kyocera's unique lamination technology, our piezo devices have achieved automotive-grade durability, and are used in many highly demanding applications.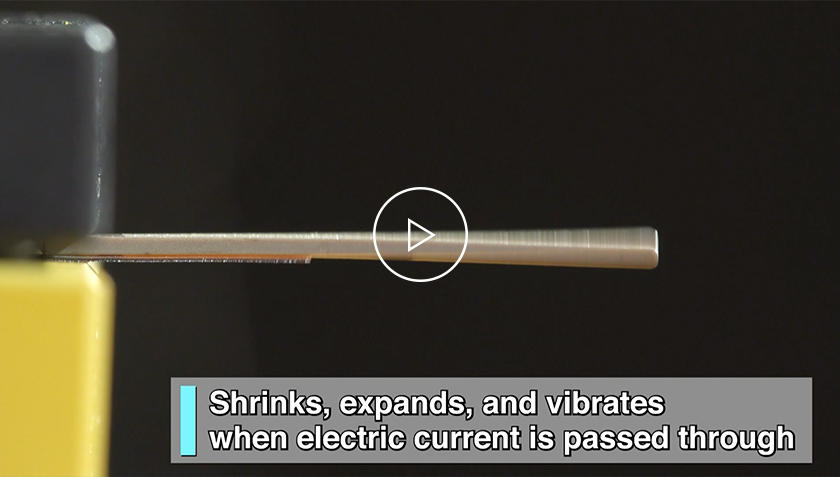 BASIC STRUCTURE
Kyocera has two types of piezo device structures, one is a single-plate type, and the other is a multi-layer type, both of which are made of PZT ceramics (lead zirconate titanate). Multi-layer type piezo elements have between tens and hundreds of ceramic layers and internal electrode layers with an external electrode on the out side.
When using vertical/horizontal elongation movement (known as the Inverse Piezoelectric Effect), piezoelectric devices can be used for actuators, ultrasonic transducers, etc. When using the electricity generation effect (known as the Piezoelectric Effect), piezoelectric devices can be used for pressure sensors, power generation modules, etc.
As shown in the figure below, there is a vertical displacement type, which elongates along with the electric field direction, and a horizontal displacement type, which elongates perpendicularly against the electric field.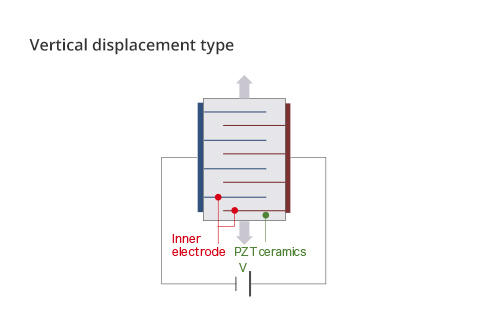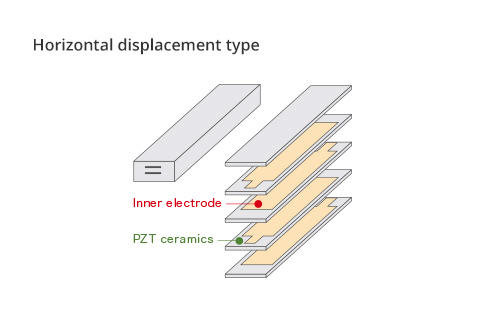 ADVANTAGES
Super fast response

High precision displacement

Low power consumption

Electromagnetic (noiseless)

Long life (has been installed in automobiles)
LINE-UP
Kyocera has three kinds of basic product structures.
We propose suitable designs based on customers' requirements.
Multi-layer
horizontal displacement type(d31 mode)
Horizontal displacement type (d31 mode) piezoelectric elements displace perpendicularly to the lamination direction. Because of Kyocera's unique material and lamination technology, Kyocera's piezo devices can create large displacements with low voltage, and it is widely used for household products such as mobile phones and toothbrushes for children, as well as industrial applications such as valves, etc.
SPECIFICATIONS
Example of the product

Specification example 1

Dimensions:

Width:10㎜×Length:40㎜×Height:0.5㎜

Displacement:

0.5㎜

Generative force:

0.4N

Specification example 2

Dimensions:

Width:3㎜×Length:24㎜×Height:1㎜

Output:

400Hz、78dB(※)
1kHz、94dB(※)
*Measured at a point 1mm from attached surface.
Standard design

Please feel free to ask for customized designs.
Available dimensional rangeWidth:2mm~50mm
Length:2~50mm
Height:0.2~1.6mm
*We design the position and shape of the outer electrode based on customer requests.
APPLICATIONS
IoT / 5G

・Antenna adjustment

・Optical communication control

・Telecommunications base stations

・Mobile phones

etc.

Semiconductor

・Air valve,

・Parts feeder

etc.

Science / Medical

・Musical toothbrush

・Incubator

・Ultrasonic diagnostic equipment

etc.

Ecology / Energy

・Gas valve

・Micropump

etc.

Mobility

・HAPTIVITY

®

panel (pseudo tactile)

etc.
Iot / 5G Mobile phones / Smart phones

Piezo elements are used as the receiver for mobile phones, replacing the traditional receiver speaker. The piezo vibrates the phone screen, creating sound. Kyocera's piezo sound receiver also achieves clear sound quality using our unique evaluation/analysis technology.

Science / Medical Musical toothbrush

Kyocera's Piezo elements are used in new toothbrush products that allow users to hear music only while brushing teeth since the piezo vibration transfers the sound using bone conductivity when the brush is in contact with the teeth. This acoustic device has to be mounted in a very narrow space at the tip of the toothbrush, therefore piezoelectric elements are used for this application due to its compact design.

Mobility HAPTIVITY

®

panel (pseudo tactile)

By incorporating piezo elements in touch screens, it vibrates the touch panel and gives users a click-feeling like when pressing a mechanical switch. We have achieved a realistic feel through Kyocera's unique precision control technology.
Please feel free to contact us for any other applications not listed above.
SAMPLE PRODUCTS
After receiving an inquiry, our sales team will contact you to confirm your requirement details. Depending on the requirement, we will choose and propose suitable standard samples for evaluation. We can provide a sample with the FPC electrode, and we will propose a driving method according to the customer's usage conditions and method.
Standard product
[ Specifications ]
Recommended drive conditions:8.4Vrms, within 1,000Hz
Displacement length:~0.9㎜
CONTACT FORM
Please feel free to contact us.Kyocera is always exploring ways
to support new innovations and we look forward to finding solutions to your challenges.