BASIC STRUCTURE
Kyocera's Peltier module structure has two types of semiconductor elements arranged in tandem sandwiched between copper substrates. When electricity is passed through the module, electrons move in one element and positive holes move in the other element, this is called the "Peltier effect." This allows one side of the substrate to absorb heat and the other to radiate heat, so the hot and cold sides to be switched depending on the current direction. It can also be used as a thermoelectric power generation module using the "Seebeck effect" in which a current flows by applying a temperature difference on both sides of the Peltier module.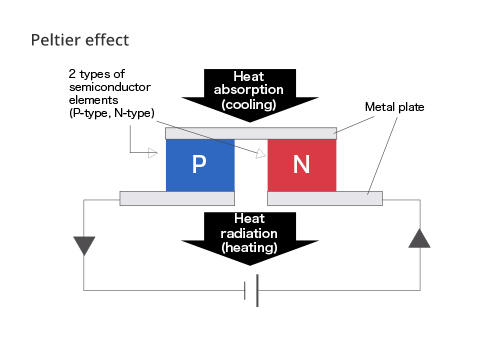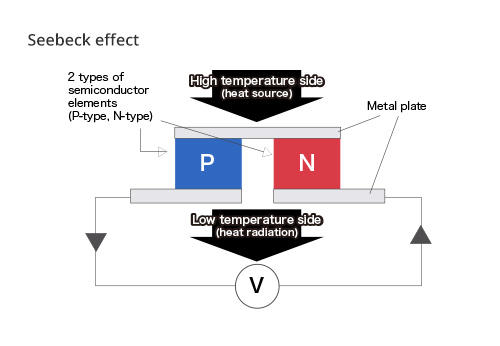 ADVANTAGES
Spot cooling

Cooling/heat radiation reversal possible

High precision temperature control (±0.05℃)

Compact / Light weight / Vibration-free / Noiseless (Compressorless)

Convert temperature difference into electrical energy
BASIC PERFORMANCE
Features of Kyocera's Peltier modules include unique columnar shape elements and copper substrates.

We succeeded in alleviating stress concentration and improving long-term durability by using the columnar shape elements. Also, corrosion resistance due to moisture condensation is improved by coating the outer element of the surface, allowing us to achieve the reliability required to operate in harsh automotive environments. In addition, the copper substrate has low thermal capacity and uniform heat distribution, which contributes to quick response and small temperature variation.
SPECIFICATIONS
Design specification
・Size: 20mm ~ 40mm square (Please contact us even if your request is out of range)
・Built-in thermistor available on request
・Resin sealing on the outer periphery
・Heat sink (radiation fin) on the module surface by soldering or thermal grease.
・Blower fan integration available
The products can be customized based on customer requests.
APPLICATIONS
IoT / 5G

・Telecommunications base station / Optical communication etc.

・Optical communication

etc.

Semiconductor

・Coaters/Developers

・Wafer tester

・Wafer cooling

etc.

Science / Medical

・PCR test equipment

・Blood test equipment

・DNA amplifier

・Incubator

etc.

Ecology / Energy

・Thermoelectric generator unit

・Neck cooler

etc.

Mobility

・LIDAR

・HUD

・Headlight

・Battery temperature management

・Seat temperature control

etc.
Science / Medical Analysis equipment
(PCR test / blood / etc.)

Peltier modules are also used for precise temperature control for various analysis equipment such as blood analyzers, PCR, etc., and Kyocera's Peltier modules have long-life, high-reliability characteristics thanks to their unique structure so they are suitable for these fields which require a high level of quality.

Mobility Battery temperature
management

Kyocera's Peltier modules are used for battery temperature management, and can improve battery life and help reduce battery size. Kyocera's modules can withstand the severe demands required for automotive applications.

Mobility Seat temperature control

By redirecting the cool air generated by the Peltier module using a fan, the seat can be cooled faster than the whole cabin air conditioner. In addition, the temperature of the driver's seat and the passenger's seat can be controlled individually. Kyocera's Peltier module can also be supplied with a fan and radiation fin bonded directly to the substrate.
Please feel free to contact us for any other applications not listed above.
SAMPLE PRODUCTS
After receiving an inquiry, our sales team will contact you to confirm your requirement details. Depending on the requirement, we will choose and propose suitable standard samples for evaluation. We can also offer a blower fan and heat sink integrated unit for instant evaluation. Please feel free to contact us.
Standard Product - 20mm type [20mm/30mm/40mm in lineup]

[ Specifications ]
Size:20㎜×22.4㎜
Voltage:6.5V
Heat absorption:about 29W

Radiation Fin Integrated Module

Connector Type
CONTACT FORM
Please feel free to contact us.Kyocera is always exploring ways
to support new innovations and we look forward to finding solutions to your challenges.