"Precise actuation and sensing."
Piezoelectric elements have a unique characteristic whereby the element elongates or vibrates when an external voltage is applied, similar to how it generates electricity when external pressure is applied. Kyocera's piezoelectric elements transform and vibrate at levels of nanometers to micrometers level in less than a micro second and repeat such movement rapidly and accurately, even in tough operating conditions, such as in a car. Conversely, when the piezo device receives mechanical pressure, it is converted to electricity, which becomes a signal and is used for a sensor/detector.
Because of Kyocera's unique lamination technology, our piezo devices have achieved automotive-grade durability, and are used in many highly demanding applications.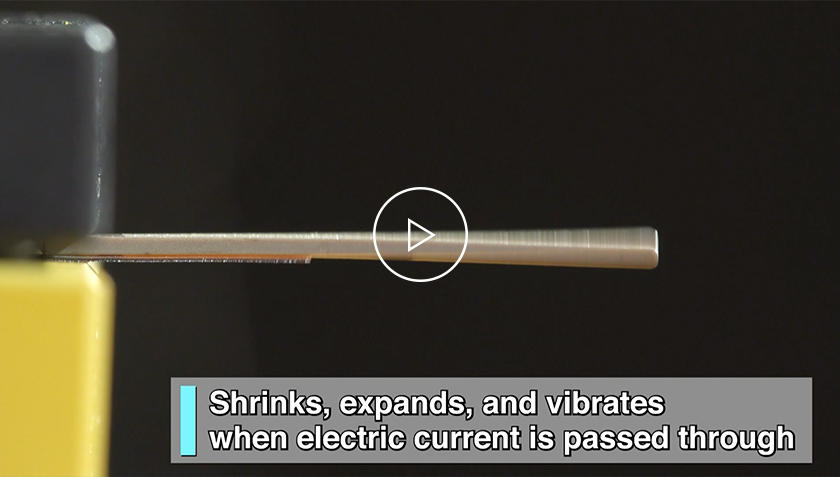 BASIC STRUCTURE
Kyocera has two types of piezo device structures, one is a single-plate type, and the other is a multi-layer type, both of which are made of PZT ceramics (lead zirconate titanate). Multi-layer type piezo elements have between tens and hundreds of ceramic layers and internal electrode layers with an external electrode on the out side.
When using vertical/horizontal elongation movement (known as the Inverse Piezoelectric Effect), piezoelectric devices can be used for actuators, ultrasonic transducers, etc. When using the electricity generation effect (known as the Piezoelectric Effect), piezoelectric devices can be used for pressure sensors, power generation modules, etc.
As shown in the figure below, there is a vertical displacement type, which elongates along with the electric field direction, and a horizontal displacement type, which elongates perpendicularly against the electric field.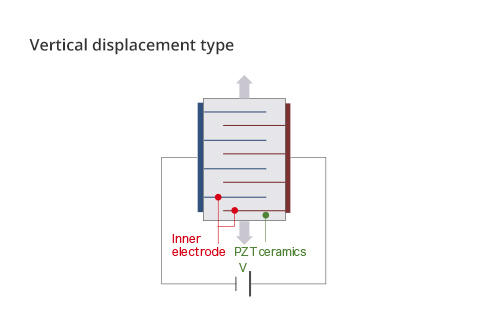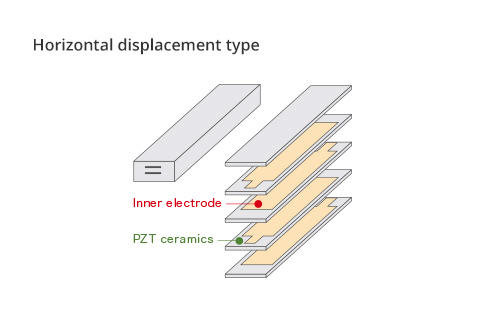 ADVANTAGES
Super fast response

High precision displacement

Low power consumption

Electromagnetic (noiseless)

Long life (has been installed in automobiles)
LINE-UP
Kyocera has three kinds of basic product structures.
We propose suitable designs based on customers' requirements.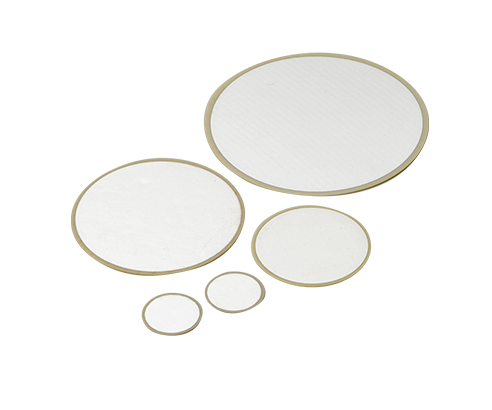 Single plate type piezo has a structure with single layer piezo plus surface electrodes on the top and bottom of the plate. It is used as a pressure sensor using the "positive piezoelectric effect", and as an ultrasonic sensor using the "inverse piezoelectric effect".
APPLICATIONS
IoT / 5G

・Ultrasonic flaw detection

・Pressure sensor

・Vibration sensor

・Touch sensor

・Buzzer

etc.

Semiconductor

・Liquid level sensor

・Ultrasonic welding

・Ultrasonic cleaner

etc.

Science / Medical

・Nebulizer / Inhaler

・Micro pump

・Ultrasonic diagnostic equipment

etc.

Ecology / Energy

・Smart meter (gas/water flow meter)

etc.

Mobility

・Ultrasonic distance sensor

・Pressure sensor

etc.
Science / Medical Nebulizer / Inhaler

Kyocera's Piezo element is used for medical nebulizers, inhalers, and air fresheners to atomize liquid media by fine vibration. Kyocera, which has been working on optimizing the manufacturing process for many years, provides Piezo elements with high reliability, durability, and stable quality.

Mobility Ultrasonic distance sensor

Ultrasonic sensors are used in various automotive applications such as parking sensors and liquid level sensors. Kyocera has been working in this field and has achieved outstanding quality and durability for automotive applications.

Mobility Pressure sensor

Kyocera's piezoelectric elements show stable sensing performance over long periods even in harsh environments, such as automobiles. The number of automotive sensor devices is expected to increase as demand increases to match trends in autonomous and assisted driving.
Please feel free to contact us for any other applications not listed above.
SAMPLE PRODUCTS
After receiving an inquiry, our sales team will contact you to confirm your requirement details. Depending on the requirement, we will choose and propose suitable standard samples for evaluation.
CONTACT FORM
Please feel free to contact us.Kyocera is always exploring ways
to support new innovations and we look forward to finding solutions to your challenges.