"Fast heating"
Kyocera's ceramic heater is widely used in industrial and automotive applications. Taking advantage of our unique ceramic lamination technology and more than 30 years of experience, Kyocera's heater can deliver robust quality with outstanding performance. The highly reliable ceramic heaters allow customers to minimize the size of the heater while maintaining maximum wattage to support a rapid heating rate. Kyocera works with each customer to provide open-source tools or customized designs to meet your unique performance needs.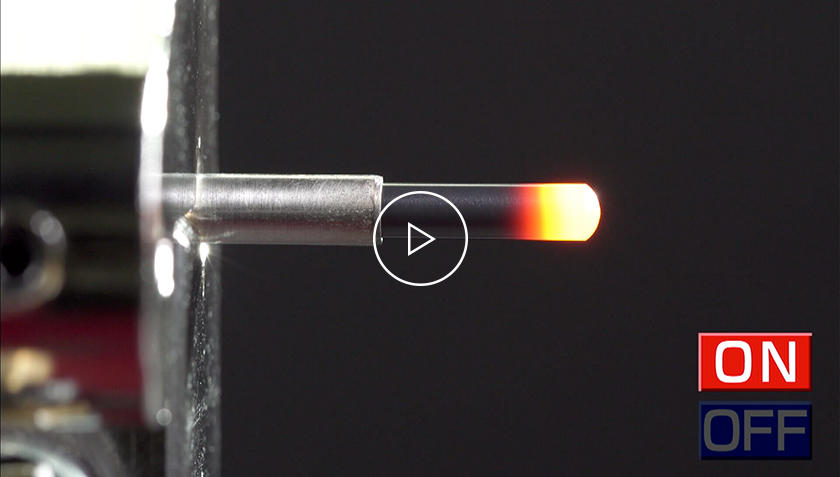 BASIC STRUCTURE
Kyocera's ceramic heater has a structure in which a heating element is built into the base ceramic material and is integrated by simultaneous sintering. This structure can completely shut out the outside air, and by embedding multiple circuits, it can also be equipped with an output switching function and a temperature sensor function.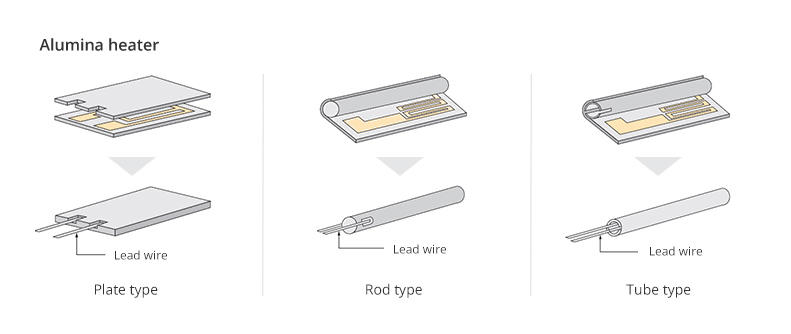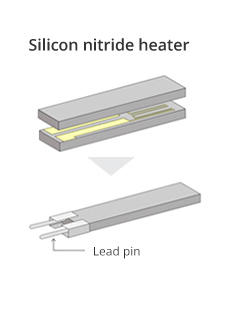 ADVANTAGES
Rapid heating

Small size / High watt density

Long product life

High insulation

Direct water and kerosene heating

Vacuum environment

Oxidation and chemical resistance

Output switching

Temperature sensing
LINE-UP
Kyocera has two types of ceramic material for your heater application, alumina and silicon nitride.
Kyocera will be happy to help you select the appropriate material for your needs.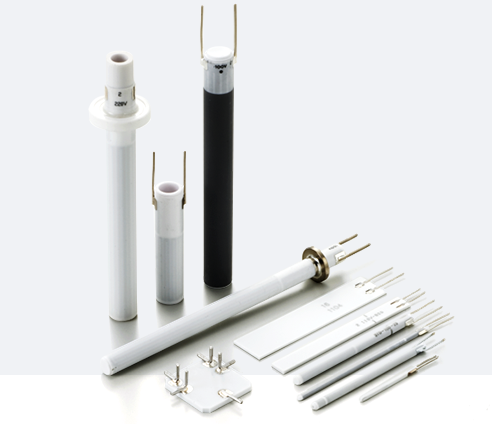 ALUMINA HEATER
The alumina heater concept was developed based on the ceramic lamination technology developed for ceramic packaging of integrated circuits (ICs). The alumina heater can be found in automobiles, kerosene and gas furnaces, and water heater applications.
SPECIFICATIONS
Standard Specifications
・Max operating temperature

1,000℃ MAX

・Specific heat (20℃)

0.78×103 J/(kg•K)

・Normal operation temperature

800℃ MAX

・Linear expansion coefficient (40~800℃)

7.8×10-6/℃

・Thermal conductivity (20℃)

18 W/(m•k)
Standard dimensions
Plate type (mm)
・Length/Width

160×160 or Φ160

・Thickness

0.3~5.4

・Tolerance Length (ℓor w) 20 or more : ±1% /
less then 20 : ±0.2
Thickness 1 or more : ±10% /
less than 1 : ±0.1
・Warpage

0.4/100
Rod / Tube type (mm)
・Length

120max/200max

・Outer diameter

Φ2~Φ50/Φ3~Φ20

・Tolerance Length (ℓ) 50 or more:±1%/
less than 50:±0.5
Outer diameter(d) Φ10 or more: ±2%
less than Φ10: ±0.2
・Warpage

0.4/100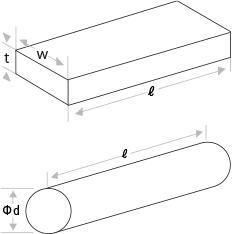 Please inquire about complex shape requirements, through-holes, bonding to metal, etc
APPLICATIONS
IoT / 5G

Semiconductor

・Electrostatic chuck (ESC)

・Stepper

etc.

Science / Medical

・SEM

・Chromatograph / Mass spectroscope

・DNA analysis equipment

etc.

Ecology / Energy

・Shower toilet

・Curling iron

・Deodorization ozonizer

・Fan heater

・Soldering irons

etc.

Mobility

・Cabin heating for EV

・Gas sensor

・Thermostat

etc.
Semiconductor Electrostatic chuck (ESC)

Electrostatic chucks (ESCs) are used in semiconductor manufacturing equipment for adsorption/fixation of wafers/temperature control. Since extremely precise dimension/temperature control is required in the semiconductor manufacturing process, Kyocera's unique pattern simulation and trimming technology achieves minimal dimensional variations and in-plane temperature distribution, contributing to high-quality semiconductor manufacturing.

Ecology / Energy Shower toilet

Alumina heater is used as a water heater for bidet toilets to warm the water before showering. Due to quick heating functionality, the preheating tank can be removed, contributing to space savings and power consumption reduction. In addition, the high watt density of the alumina heater also contributes to the miniaturization of the heater unit itself.

Mobility Gas sensor

Some of gas sensors use a heater to activate the sensor function. For automotive applications, it is used in oxygen sensors in the exhaust system. Kyocera's heater has high durability and rapid heating performance, which contributes to sensor reliability and shorter start up time.
Please feel free to contact us for any other applications not listed above.
SAMPLE PRODUCTS
After receiving an inquiry, our sales team will contact you to confirm your requirement details. Depending on the requirement, we will choose and propose suitable standard samples for evaluation. Information about operation conditions (Voltage/heating performance), size/shape, and applications is highly appreciated.
Standard product
Plate Type

[ Specifications ]
Voltage:110V/220V
Resistance value:40Ω/70Ω/80Ω/
        160Ω/170Ω/175Ω
Output:48-96W
Operating temp. :658-971℃

Rod Type

[ Specifications ]
Voltage:24V/100V/220V
Resistance value:1.7-450Ω
Output:20W/25W/30W/54W
Operating temp.
:750-1206℃

Tube Type

[ Specifications ]
Voltage:100V/120V/220V
Resistance value:5.55-22.3Ω
Output:1200W/1600W
*Output at water temperature 42℃
[Note]
- The operating temperatures above are those of the heater itself.
- Please use an electrode temperature of 200℃ or less.
CONTACT FORM
Please feel free to contact us.Kyocera is always exploring ways
to support new innovations and we look forward to finding solutions to your challenges.