Magnets possess north and south poles and generate magnetic fields. Most ceramics are nonmagnetic, with ferrite being one notable exception.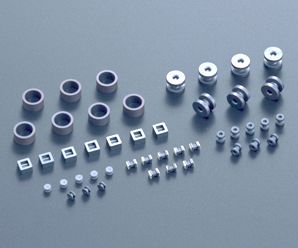 Applications: Coils.
Description
Magnetic Properties
Ferrite is well known among Fine Ceramic materials for its magnetic properties. Ferrites are made by mixing and sintering iron oxide, manganese oxide and nickel oxide powders. Their primary uses include serving as magnets and magnetic coils in a wide variety of electronic circuits, and in electronic devices, such as transformers and loudspeakers.
The term "Fine Ceramics" is interchangeable with "advanced ceramics," "technical ceramics" and "engineered ceramics." Use varies by region and industry.
People who read this page also read.
If you want to use ceramics in business, click here.
Kyocera's Fine Ceramics products (All websites below open in a separate window.)
Product Category
Search by Material
Search by Property/Characteristic