Kyocera Corporation (President: Hideo Tanimoto) today announced that it has been recognized as a Supplier Engagement Leader for its initiatives to reduce greenhouse gas emissions throughout its supply chain.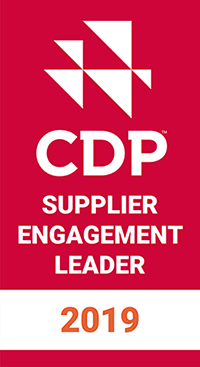 Based on an annual survey of suppliers conducted by CDP, an international non-profit organization, the "Supplier Engagement Leader Board" lists companies recognized for outstanding environmental records and targets; this is the fourth year of the survey. The Kyocera Group has set an environmental target of reducing greenhouse gas emissions, including internal emissions and emissions from its supply chain, 30% from fiscal year 2013 levels by March 31, 2030. In particular, CDP praised Kyocera's comprehensive approach to reducing greenhouse gas emission and named Kyocera as a leading company on the list. This year, CDP named 159 companies, just 3% of the total candidates. The 2019 list includes 28 Japanese companies.
The Kyocera Group will continue to contribute to the realization of a sustainable, low-carbon society by pursuing new greenhouse gas reduction approaches beyond conventional frameworks.
About CDP
CDP (former name: Carbon Disclosure Project) is an international non-profit organization established in the United Kingdom in 2000. Acting as a representative for institutional investors across the globe, CDP encourages major companies worldwide to disclose information regarding climate change, greenhouse gas emissions, water management, and other environmental concerns and evaluates such companies.