Interview
Renewable Energy and Energy Management Systems Supporting a Decarbonized, Sustainable Society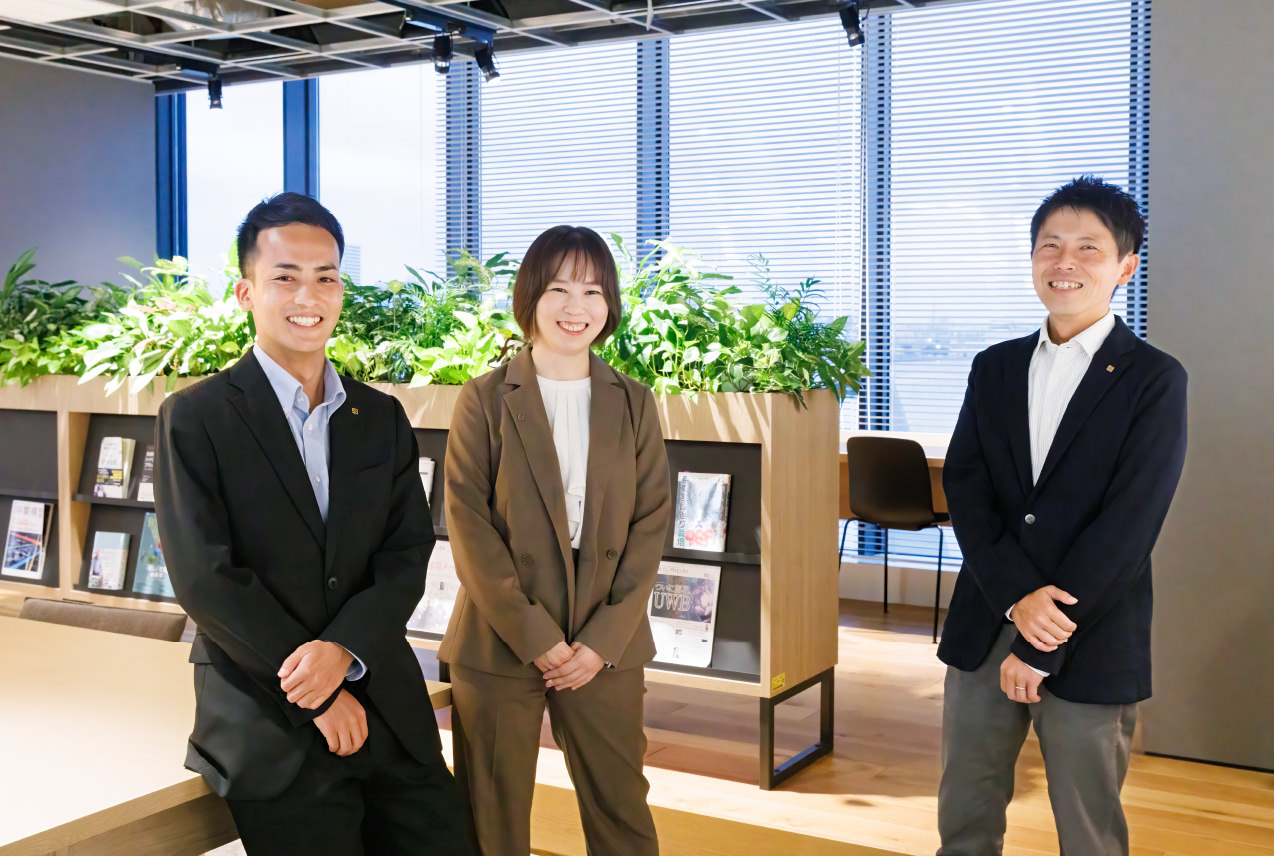 Preserving the Environment for Future Generations Through Renewable Energy and Energy Management Systems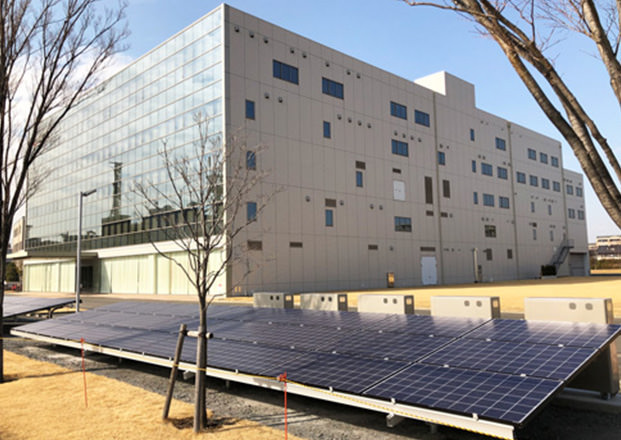 One of the many issues facing humanity is the deterioration of the global environment due to climate change caused by increasing CO2 emissions. There is grave concern surrounding the current situation, and in response nations around the world are working to realize a decarbonized, sustainable society.
Long before the current global movement toward decarbonization, however, Kyocera was engaged in the development of solar cells, and later promoted the widespread use of renewable energy from solar and other power generation systems. Essential to a sustainable society will be renewable energy sources such as solar and wind power, together with efficient energy management systems. By further reinforcing these technologies, Kyocera will contribute to a decarbonized society.
As one part of its efforts, Kyocera is testing Japan's first* self-wheeling energy system. A self-wheeling system is one whereby energy generated at a company's plant or facility is supplied to a different site of the company using existing power lines from general utility power transmission and distribution companies. This self-wheeling system uses a storage battery and is garnering widespread attention as a potential solution to provide stable power and reduce the impact on power grids through highly precise supply and demand management.
The Kyocera Group has established a set of long-term environmental targets to achieve by FY2030 and is promoting various activities to ensure they are achieved. One goal is to reduce the amount of Kyocera-produced GHG emissions by 30% compared to FY2013 levels. Another is to use ten times more renewable energy than FY2013.
Through this test, Kyocera hopes to establish a business model that facilitates self-wheeling renewable energy, for which demand is expected to greatly increase in the future. In addition, Kyocera will work to achieve a decarbonized society and contribute to stable, efficient supply and demand management to help realize Japan's goal of making renewables the country's primary source of energy in the future.
*Among self-wheeling energy tests in Japan (As of January 28, 2020; survey conducted by Kyocera)
Testing Japan's First*1 Self-Wheeling Renewable Storage Battery Energy System
Kyocera has installed an approximately 150 kW solar power generation system on a 2,000 m2 piece of land owned by Yasu City in Shiga Prefecture, Japan. Using Kansai Electric Power's transmission and distribution network, renewable energy generated by the system will be supplied to Kyocera's Shiga Yasu Plant approximately two kilometers away. The test makes use of a stationary lithium-ion storage battery to provide a stable energy supply and streamline the self-wheeling system. Furthermore, using technology to control separate storage batteries (developed during Kyocera's Virtual Power Plant project and other tests), Kyocera hopes to ensure highly precise management of supply and demand to reduce power generation and demand imbalances*2*3 and create a system that can supply renewable energy with little impact on the grid.
Moreover, the storage battery installed next to the solar power generation system can function autonomously during disasters and other incidents that cause widespread power outages. By providing nearby residents with charging services, for example, the battery can be used as a local disaster countermeasure.
*1:Among self-wheeling energy tests in Japan (As of January 28, 2020; survey conducted by Kyocera)
*2:Power generation imbalances: Differences between actual power generation and power generation forecasts reported by power generation companies in advance to general transmission and distribution companies
*3:Power demand imbalances: Differences between actual consumption and amount determined in the contract between consumers and electricity retailers
Coexisting with Nature to Increase Renewable Energy Usage
Overcoming Challenges to Develop Kyocera's Renewable Energy Business
Kyocera is making efforts to create an environmentally friendly society using renewable energy. Below we hear from the senior manager in the Energy Business Development Division who is responsible for helping to drive Kyocera's renewable energy business forward.
Senior Manager

Sustainable Engineering Department
Energy Business Development Division
Corporate Management Promotion Group
What type of work does your job entail?

Simply put, my job is to create systems for society. Up until now, I've been involved in the development of new systems that optimize the supply and demand balance of electricity and ensure stable power supply. The automated demand response system we began developing in 2013 is a good example.

Demand response is a mechanism whereby, in response to requests from power transmission and distribution companies and electricity retailers, consumers reduce their consumption of electricity by certain amounts at certain times. Consumers who do so are provided with payment or a discount on their electricity bill. By stabilizing the power grid and reducing power procurement risk, the mechanism allows electricity providers to achieve a stable supply of electricity. To enable this mechanism to function effectively, Kyocera worked with the Japanese national government and other electric power companies to develop a remote management system for storage batteries installed in homes, plants, and other consumer facilities. We've now begun testing these systems using Virtual Power Plants (VPPs).

You mentioned your work in creating new systems. What difficulties are there in doing such work?

We're aiming to make use of natural energy sources, which are inevitably influenced by the weather. For example, in comparison to a thermal power plant, which can generate power 24 hours a day, even in sunny weather, the period in which a solar power plant can generate energy is limited. By aiming to thoroughly understand and work alongside nature, we have to consider how to control these natural sources of energy as best we can. This is why I think my job is about coexisting with nature.

So since we can't have complete control over nature, it is important to create systems based on the analysis of data on natural phenomena.
How did you become interested in developing systems that enable stable supplies of energy?

I became really interested in stable energy after experiencing the Great East Japan Earthquake. On the day of the earthquake, I was working in a place called Yoga in Tokyo, and I had to walk all the way home to Yokohama. As I was walking, the lights around me gradually went out, and as I crossed the Tama River, everything was pitch black. Even the traffic lights had gone out. So when there was a car accident at a crossroad, for example, ambulances and police cars couldn't even make it to the site. That's when I realized how important it is to have stable energy.

So you experienced firsthand how power outages can put a stop to everyday mechanisms we take for granted.

Exactly. I realized how risky it was to rely on power sourced from somewhere far away. What we're trying to do is eliminate the need to source power from elsewhere, and build systems that allow us to store and use energy generated locally. The reason I want to help develop these systems is because I know how important it is to manage and efficiently use locally generated energy.
Renewables as a Primary Source of Energy
Supporting the Creation of Self-Sufficient Systems
Together with the national government, governmental organizations, and other electric power companies, Kyocera has long aspired to create a society in which renewable energy circulates throughout the system. Here we ask what the future holds for Kyocera, and what is expected of the next generation of employees.
Do you have any personal goals for the future?

We're currently working to make renewables our primary energy source. It will be essential to work with nature if we want to create systems that successfully use renewable energy. I want to help contribute to the environment so we can pass it on to our grandchildren, and successive generations after that.

What is Kyocera doing to make this a reality?

Currently, we're testing a self-wheeling energy system that we hope will help increase the number of regions that can generate and consume renewable energy locally. Japan is now promoting SDGs and Society 5.0 to revitalize rural areas, while concurrently engaging in efforts to create compact cities. Both of these will require energy to be consumed and managed independently. If local governments, corporations, and individuals can think about creating and using their own energy anywhere and at any time, they can become involved in the creation of a sustainable society. Each will be responsible for sourcing their renewable energy, which will require mechanisms that will allow them to do so. Looking forward, people will look to us to support the creation of these mechanisms.

Does this mean that everyone will have a role to play in making a sustainable society a reality?

That's right. Through developing self-wheeling management systems, our goal is to enable self-procurement of renewable energy without placing an additional burden on transmission and distribution companies and electricity retailers. If we can do so, local governments and other companies can make use of the technology, and play their part in the creation of a sustainable society.

I see. You're hoping to open the path to a sustainable society through Kyocera's total solution capabilities.
What, then, do you have in mind for the next generation of employees?

If they come up with a solution to a certain problem, I want them to bring in as many people as possible. I believe a job only really takes shape when you discuss an idea with someone, take action together, and then bring in even more people.
Up until now, it is said that Japan has developed alongside a "scrap–and–build" culture. In the future, however, it will be important to "build back better" - that is, use our comprehensive strengths to create something better than before.
This is exactly why I want new employees to connect with as many people as possible, and give shape to the solutions they believe are necessary for today's society. I believe that it's people like this, those who can create their own work, that will make society a better place.
Index
Kyocera's Main Growth Markets