(Aquala is approved for sale only in Japan and currently available only on the Japanese market)
Kyocera Corporation (President: Hideo Tanimoto) today announced it received the President's Award from the
Japan Techno-Economics Society
(JATES) for the development of its Aquala
®
surface-processing technology. Developed in collaboration with the University of Tokyo, Kyocera's Aquala technology has proven to extend the life expectancy of artificial hip joints, remaining durable even after long-term testing equivalent to more than 70 years in vivo
*1
. JATES has honored outstanding innovations every year since 2013, with the aim of revitalizing Japan's economy and encouraging researchers to learn from the achievements of previous award recipients.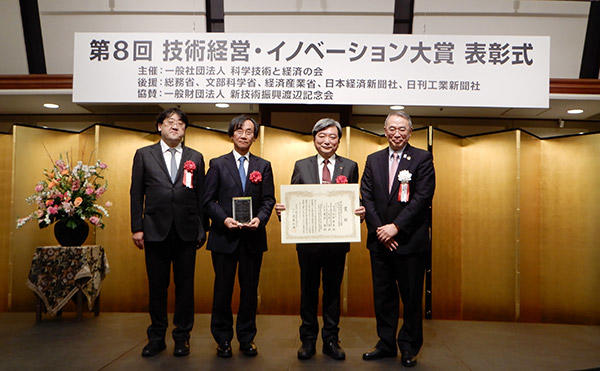 8th Annual Award ceremony, Tokyo, Japan
About Aquala Technology
Kyocera's Aquala technology is an advanced bearing material that was designed for use on the acetabular side for artificial hip joints. The technology is engineered to reduce wear, lower friction and optimize lubrication in the hip joint. When used in combination with a femoral head made of Kyocera's BIOCERAM AZUL
®
advanced ceramic technology, it results in an ultra-low wear, total hip replacement. Aquala helps to reduce the incidence of wear particles generated at the bearing surface of the artificial joint - which can lead to osteolysis, or bone loss -, loosening of the joint, and eventually joint failure. With wear reduction of up to 99 percent compared to conventional products, Kyocera's Aquala technology could potentially provide patients with a "lifetime joint" that reduces the chances of additional surgery due to excessive wear to the implant.
Aquala represents the first Japan-market use
*2
of the biocompatible material PMPC
*3
to create a nanometer-scale
*4
hydrophilic polymer layer with biomimetic
*5
functions similar to human articular cartilage. JATES recognized this innovation for its impact in supporting Japan's "super-aged" society, and for the collaboration it represents between medical and industrial sectors.
Japan's Ministry of Health, Labor and Welfare approved the use of Aquala technology in artificial hip joints on April 28, 2011. To date, more than 60,000 patients have undergone orthopedic joint replacements using Aquala technology.
Summary of Technology Management & Innovation Awards
* You can scroll this table sideways.
Award name
President's Award at the 8th Technology Management & Innovation Awards
Award winner
Hideo Tanimoto, President of Kyocera Corporation
Kazuhiko Ishihara, Professor, Graduate School of Engineering,
University of Tokyo
Toru Moro, Project Associate Professor, Graduate School of Medicine,
University of Tokyo
Project
Development and practical application of artificial hip joints;
Long-lasting product based on biomimetic technology supporting a "super-aged" society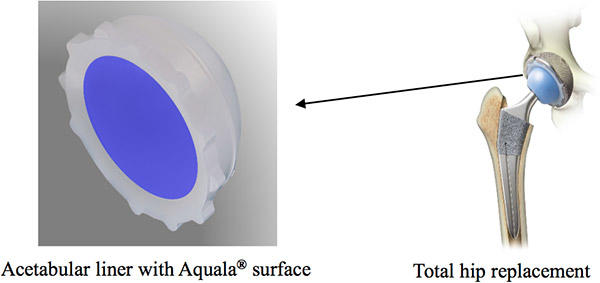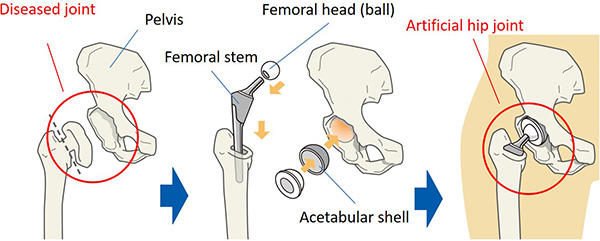 Mechanism of Hip Joint Replacement Technology
*1 Reference Source:「T. Moro, Y. Takatori, M. Kyomoto, K. Ishihara, M. Hashimoto, H. Ito, T. Tanaka, H. Oshima, S. Tanaka, and H. Kawaguchi: "Long-term hip simulator testing of the artificial hip joint bearing surface grafted with biocompatible phospholipid polymer," The Journal of Orthopedic Research 32(3): 369-376, 2014」
*2 First use: Based on research by Kyocera
*3 PMPC: Poly(2-methacryloyloxyethyl phosphorylcholine [MPC]), an implantable, biocompatible polymer
*4 Nanometer-scale: A scale of 1-100 nanometers (a nanometer is one-millionth of a millimeter).
*5 Biomimetic: The science of solving complex human challenges using models from nature
* "Aquala" and "BIOCERAM AZUL" are registered trademarks of Kyocera Corporation in the United States and Japan.