Interview
Extending the Life Expectancy of Artificial Hip Joints with Aquala®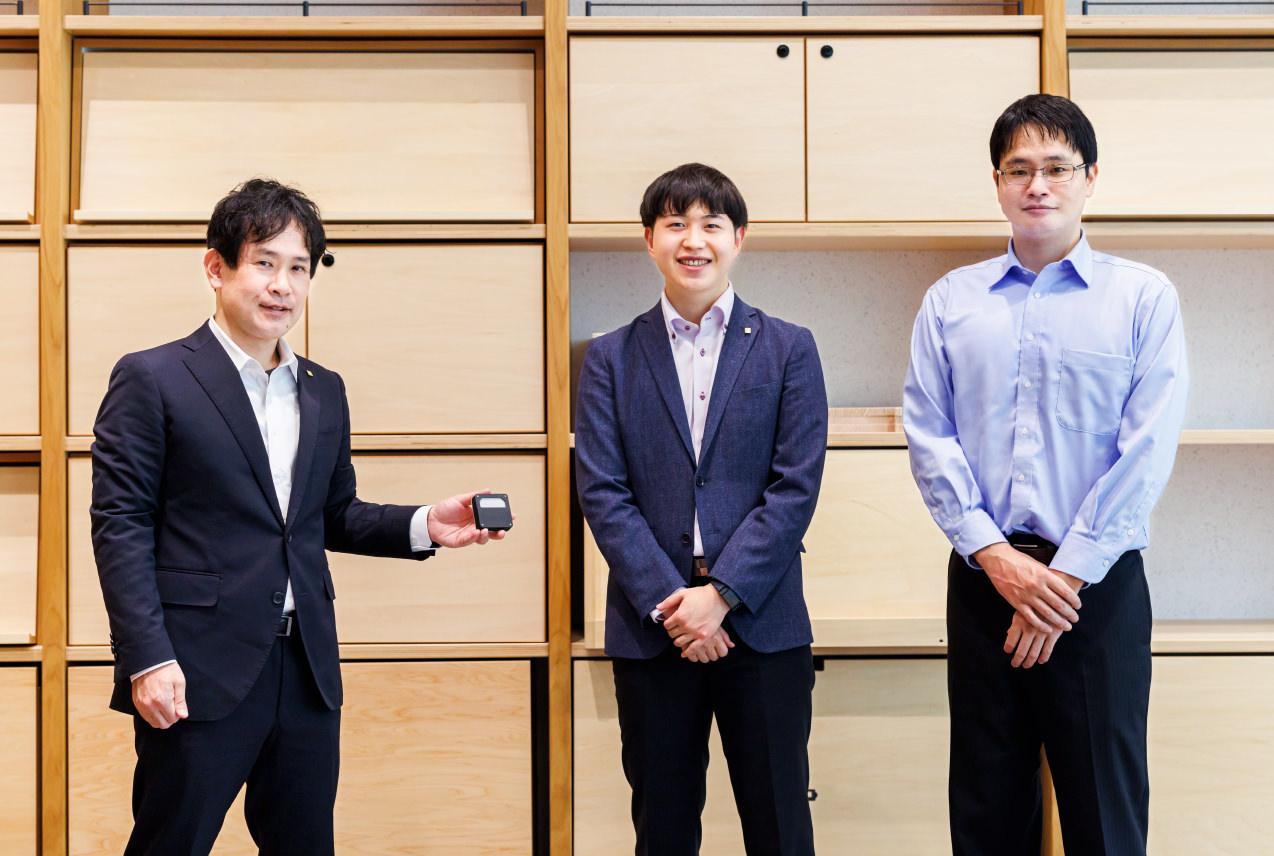 Applying Biomimetic Technology to Artificial Hip Joints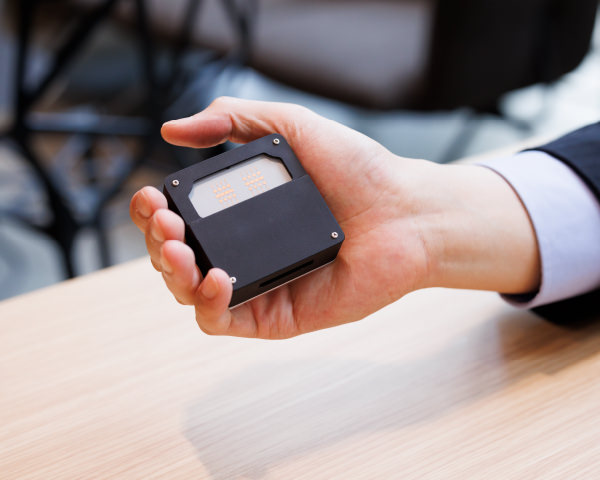 As the Japanese population continues to age, extending individuals' healthy life expectancy is an urgent task. As part of its medical business, therefore, Kyocera has been applying ceramic technology to the research and development of artificial hip joints.
Barring any issues, human joints can last a lifetime of activity. Artificial hip joints, however, currently only last around 15 years. As such, some patients have to undergo revision surgery to replace failing artificial hip joints. And, the older the patient gets, the harder surgery becomes. How to extend the life expectancy of artificial hip joints has long been the most serious issue regarding implant development.
To help solve this issue, Kyocera has been engaged in the research and development of Aquala®, a technology that extends the lifespan of artificial hip joints. Hip replacement surgery is a procedure in which hip joints damaged through disease or injury are replaced with implants, often made from ceramic, polymer (plastic), or metal. To realize high affinity between the bone and fine ceramics, Kyocera began basic research into hip replacements in the 1970s.
Since then, Kyocera has conducted years of research alongside universities and other companies, aiming to extend the life expectancy of artificial hip joints and help patients restore their biological functions and live more comfortable lives.
During this process, Kyocera began utilizing biomimetics, which aims to mimic biological structures; in this case, the characteristics of articular cartilage. Kyocera's new surface-treatment technology Aquala® mimics the hydrophilic, gel-like structure found on the surface of biological articular cartilage to create a hydrophilic polymer (MPC polymer) layer on the surface of the artificial hip joint. The technology enables smoother motion and enhanced durability whereby the surface friction of implants using Aquala® is one-tenth that of conventional implants, while walk-load testing (artificial hip joint simulation) equivalent to around 70 years in vivo has revealed extremely low wear. As such, the lifespan of artificial hip joints, which has been a long-standing challenge, is expected to greatly increase as a result of this innovative surface treatment technology.
Aquala®
Biomimetic surface-treatment technology developed in Japan that grafts MPC polymers - which have the same molecular structure as cellular membranes - onto the sliding surface of artificial hip joints. Walk-load testing equivalent to more than 15 years of activity has shown that the amount of wear debris produced compared to conventional products has been reduced by approximately 99%. As a result, Aquala® technology is expected to substantially extend the lifespan of artificial hip joints.
*"Aquala" is a registered trademark of Kyocera Corporation in Japan, the EU, the U.S., and other countries.
Long-Standing Development Aimed at Extending the Life Expectancy of Artificial Hip Joints
Since joining Kyocera in 2001, the senior manager of the Medical Materials Department at the Medical R&D Center who was involved in R&D for Aquala®, has also worked on the technological development for artificial joints. Below, two junior R&D employees from the Medical R&D Center's Biomedical Section involved in the development of Aquala® speak to him about the challenges faced on this project so far.
Senior Manager

Medical Materials Department
Medical R&D Center
Corporate R&D Group

Medical Unit Development Engineer

Biomedical Section Team 1
Medical Materials Department
Medical R&D Center
Corporate R&D Group

Medical Unit Development Engineer

Biomedical Section Team 1
Medical Materials Department
Medical R&D Center
Corporate R&D Group
Kyocera is involved in R&D across a range of medical fields. Why did the company choose to begin producing artificial joints?

When Kyocera began research into artificial hip joints in the 1970s, fine ceramics were attracting a huge amount of attention, so the company used this technology to diversify its business. It was also discovered that fine ceramics were highly biocompatible.

So Kyocera began research to see if it could apply its fine ceramic technology to artificial hip joints?

That's right. Kyocera has always wanted to help make people's lives better, and one way is through the healthcare and medical field. Ever since Kyocera began selling artificial hip joints in 1982, the company has always been looking for ways to extend human life expectancy and increase the number of people who could stay active during their older years. One result of this endeavor is Aquala®.

What obstacles did you come across in the development of Aquala®?

When I first joined Kyocera, I was involved in polyethylene research, which was used to form the bases of artificial hip joints. I had a hard time because many of my superiors were experts in fine ceramics but there weren't many polymer specialists in the company at the time.

Under such circumstances how did you move forward with development?

We visited other companies with expertise in chemicals, who taught us about polymers from the ground up. Thanks to them, we were able to gain a vast amount of knowledge in that field.

I see. So you pressed forward with development by gaining expertise you lacked at the time.
The Next Generation of Kyocera Employees Leading the Creation of a Better Future
Applying the Perspectives of Patients and Doctors to Improve R&D
Aquala® is expected to greatly extend the usage life of artificial hip joints. However, with Japan's super-aging society, a succession of new technologies will be required to solve further issues with artificial hip joints and other medical-related ailments. Here, the manager of the Medical Materials Department tells new team members what is expected of them as they work to develop new solutions to the issues facing society.
Aquala® is but one success. However, for patients who have undergone replacement surgery, there are still many functions that they can't fully regain. It's important that you work to develop and provide medical solutions that allow patients to live freely following their surgery.

Both of you have begun researching treatments and solutions that offer complete cures while symptoms are still mild. I hope you'll both work hard and take the lead in these developments.

We'll do our best to meet your expectations in developing new solutions to medical-related problems.

Engineers tend to focus on the technology side, so I hope you'll go about development taking into consideration the needs of patients as well as the doctors who provide medical care.

I think we often make assumptions about what patients and doctors require. We have to make sure we listen to their requirements and collect information from medical settings in a more direct manner.

I'd like to develop solutions that enable treatment that eases the burden on patients. This could be technology that, for mild symptoms, lets patients avoid surgery. Regenerative medicine is still very expensive; if it could become more accessible, I think patients would be extremely happy.

I'd also like you both to always be thinking about what is required to become the best in the world.

There are a large number of world-class medical companies, such as those dealing in medical devices and pharmaceuticals. It might be difficult to compete with them toe-to-toe right now, but that doesn't mean that you can't get the better of engineers working at those companies.If each individual at Kyocera can continue to excel, in the future we will be able to compete on the global stage. This is why the next generation of researchers needs to consider how to become the best in the world. Set your goals high, and keep making innovative suggestions.

Although at the moment we can only offer our solutions to patients in Japan, I hope that in the future we'll be able to take our technology overseas as well.

Overseas development will mean overcoming various differences in medical and regulatory systems, as well as patients' physical characteristics. But on a technical level, I think our products are ready. I hope you'll make this a reality.
Index
Kyocera's Main Growth Markets