Interview
Leveraging Local 5G to Build Smart Cities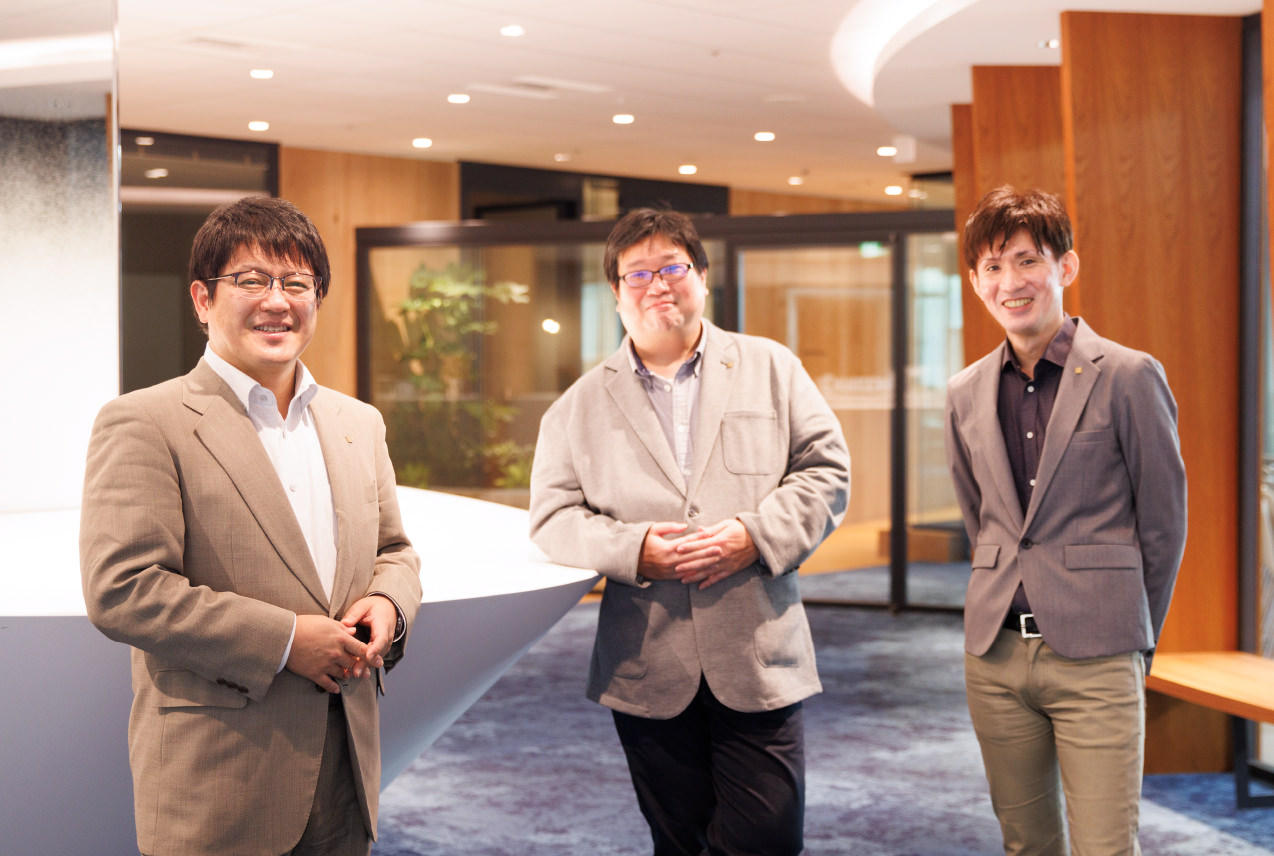 5G Critical to Kyocera's Smart City Vision
for a Brighter Future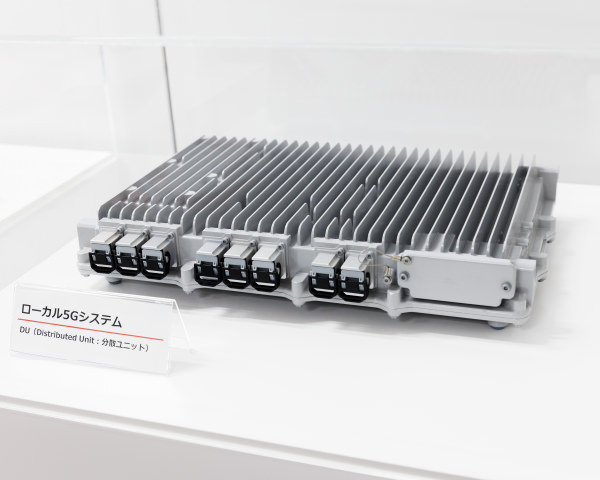 Today, IT devices and communications technologies play an integral part in everyday life. Their continual progress helps make our lives richer and more convenient. While it is hard to imagine the world without smartphones, it is a lifestyle that only became possible with the emergence of 4G. However the evolution of communications technology knows no bounds, and spring 2020 saw the beginning of the rollout of 5G - the next generation of wireless technology.
These advancements will boost further expansion of the Internet of Things (IoT), in which everything and anything is connected via the Internet. Kyocera is supporting this new, connected society by undertaking the development and installation of base stations and devices that enable data transmission between IoT-connected objects, as well as the construction of wireless networks. This enables wireless networks that solve the challenges faced by our customers.
Kyocera is also using the telecommunications technologies it has accumulated over the years to engage in the development of a local 5G that will allow companies and local governments to build and operate their 5G networks. Kyocera believes this is the first step toward truly smart cities which offer the provision of smart services in areas where they will have a direct impact on the community.
Local 5G Expanding the Possibilities of Smart Cities
Compared to existing 4G (LTE) networks, 5G achieves exceedingly faster speeds, lower latency, and simultaneous connection of a large number of terminals. It allows smoother viewing of hi-definition video and achieves uninterrupted, stable connection even when moving at high speeds. 5G can also carry out real-time processing of massive amounts of data transmitted from IoT devices. Great expectations are being placed on 5G networks as a new societal infrastructure that will expand the possibilities of smart cities.
*"4G LTE" service name is used in line with the International Telecommunication Union (ITU) recognizing LTE as 4G.
*LTE is a trademark of ETSI.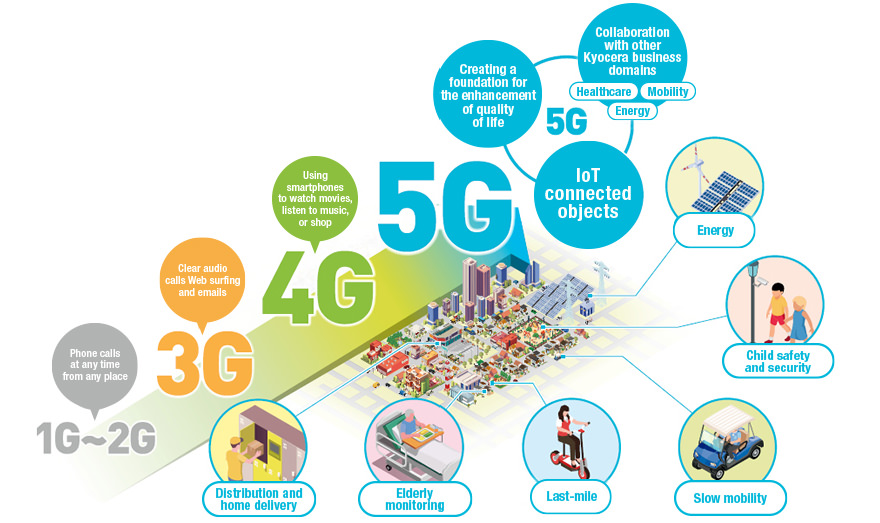 Despite these promising capabilities, it is difficult to cover large areas with 5G due to the nature of its wireless signal. To help overcome this issue, Kyocera is working on the development of a so-called "Local 5G System" that enables self-operated and owned 5G networks. This new communication paradigm will allow limited-area networks, such as those in a factory, office, or event venue, to become its own 5G wireless network, and the adoption of such networks will accelerate efforts by various local communities to create progressive, truly smart cities.
One-Stop Solution with Local 5G
What Are the Challenges for Adoption?
Telecommunications is the backbone that supports all other Kyocera businesses; and also plays an important role in the creation of smart cities. We asked engineers from Kyocera's Communication Systems R&D Division, Corporate R&D Group what challenges were faced during this project.
Manager

Business Strategy Section
Communication Systems R&D Division
Corporate R&D Group

Security Unit Engineer

Section 4 Development Department 1
Communication Systems R&D Division
Corporate R&D Group

System Development Engineer

Section 2 Development Department 2
Communication Systems R&D Division
Corporate R&D Group
What difficulties have you faced up to now in developing the Local 5G System?

One difficulty we faced in starting the infrastructure business was that it was a field in which networks had not been utilized before.

So you needed to discover the latent needs of customers?

Yes, that was one difficulty. We felt, though, that we should be able to find some kind of solution if we could clarify what the customer needs were. Kyocera's strength is in carrying out several related issues at the same time, from the development of devices to the construction of base stations. Because we were already engaged in the construction of local 5G environments, we decided to change the way we were going to do things. We could ask customers what kinds of issues they were facing, and then create a package of solutions that would solve those problems.

That method could convey what a local 5G network could offer even to customers who don't have a clear idea of what they want to achieve through 5G.

Precisely! By collaborating with various Kyocera divisions and research centers, we could develop proposals that take different approaches to solving issues faced by our customers, and propose concrete ways to make the most of a local 5G system.

Do you feel any pressure to support our digital society that way?

I have to admit that I do feel some pressure. Unlike developing, say, a smartphone, we have to consider completely different things when developing infrastructure.

Infrastructure is extremely important for the rollout of local 5G, isn't it? For example, specifications and ensuring security?

Exactly. If a call gets interrupted on a smartphone, all you need to do is hit redial and call again. It's a completely different matter if a lifeline utility like electricity or water gets cut off.

In that sense, ever-higher-reliability is required of infrastructure, and there is even greater social responsibility involved.

Even so, I enjoy thinking about the things that we can create going forward. The 5G technology that is the focus of our research can be used to solve various issues, such as labor shortages in rural areas and elderly care.
Toward a 5G Society
Expectations for the Next-Generation of Engineers Who Will
Help Create the Smart City of the Future
It is expected that 5G communications technology will be utilized in the future in many different fields, including healthcare, nursing care, education, agriculture, and manufacturing. What expectations do senior workers have of junior engineers, who will be responsible for materializing Kyocera's vision of a smart city in the future?
I want Kyocera to be a company that quietly supports our society from the background, and I, too, want to develop those kinds of solutions. That's why I would like new engineers to look at many different fields and accumulate a diverse wealth of knowledge.

By that, do you mean new technologies?

Of course, that's part of it, but it's also important to learn about the past, too. For example, I think that 5G technology will be useful for dealing with natural disasters and other challenges. Natural disasters didn't just start occurring in the past few years; if you look back through history, you can see that they have been occurring for thousands of years. People from past generations surely contributed things we can learn from. I want new engineers to study these things, then use them to help create new technologies.

Interesting. I've only been looking at new things. Going forward I'd like to change my attitude and begin looking for clues hidden in the experiences of those who came before.

5G will lead to a future in which anything is possible, regardless of where the user is located. I want the two of you to become engineers who can support that kind of future.

Opportunities to make the most of 5G technology are sure to increase going forward, such as in remote healthcare and education.

I want to play a part in the development of a society where people can experience many different things without having to change their physical location. That's the kind of future that can be achieved with 5G.

Perhaps virtual reality (VR) and augmented reality (AR) technologies could make it possible for people to travel into the far reaches of the Amazon jungle or explore the surface of the moon – allowing them to experience things that they wouldn't otherwise be able to in their daily lives. 5G holds this possibility.
That's why I want you two to think about what you can do to help realize a society in which everyone can live an enriching life. I want you to start by taking action; actions beget experiences and foster passion.

I see! As developers, we tend to focus only on technology. But it is important to remember that technology rooted in passion is what fuels further efforts.

Exactly. Developing technologies is a means for us to realize our passions. No matter what difficulties we may face, solutions will reveal themselves so long as we never lose sight of our passion.
Index
Kyocera's Main Growth Markets