Interview
Local 5G Delivers
Customized Communications
to Transform the Future of Connectivity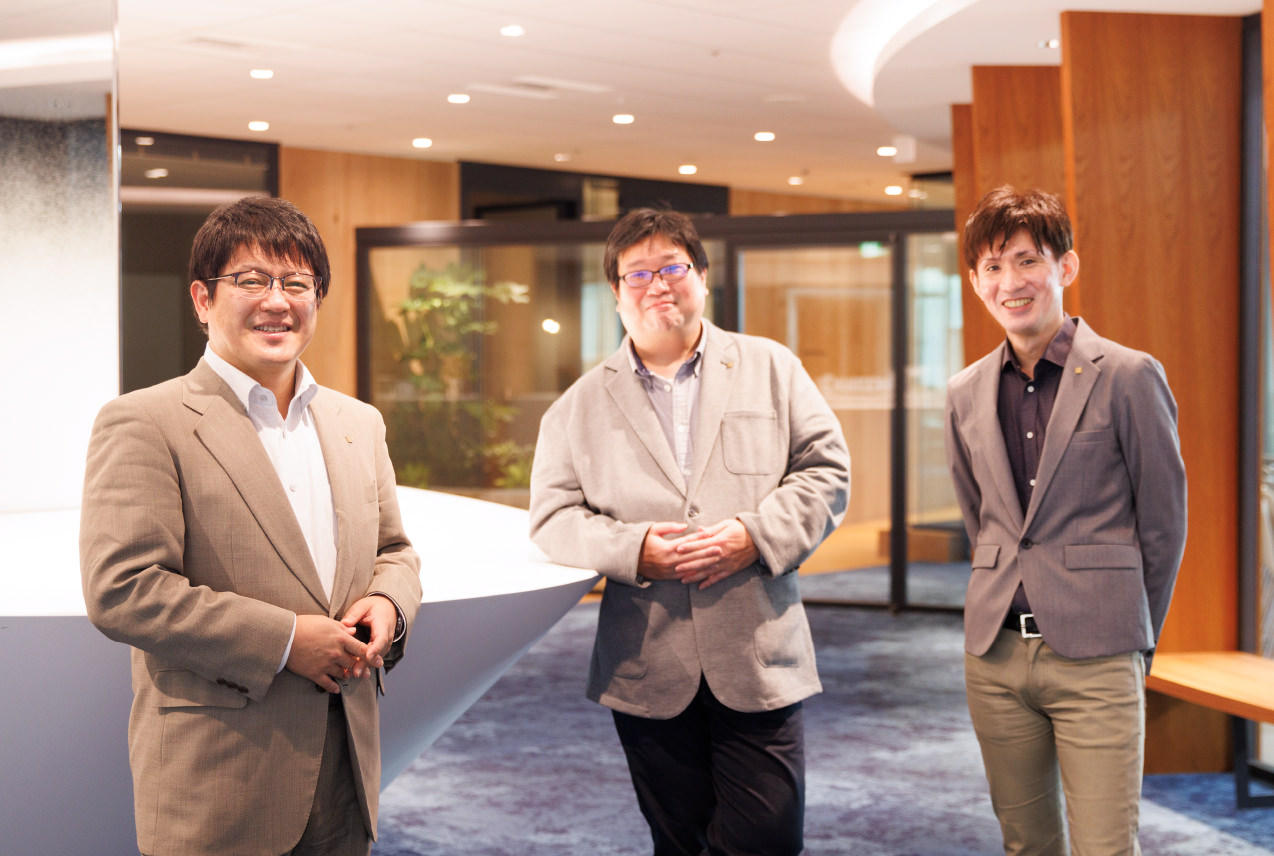 Ultra-High-Speed, Low-Latency Local 5G Communication Will Dramatically Change Our Concept of Society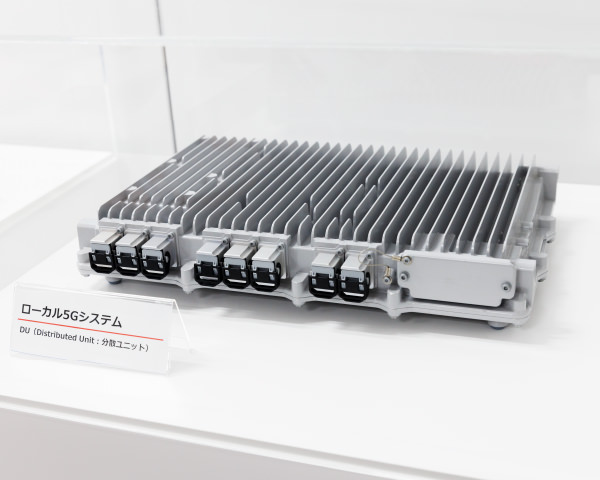 Kyocera is leveraging its expertise in various fields, including telecommunications, to realize smart cities.
Technology for connecting people, things, and information is becoming increasingly important. In a smart city, where many different things in our everyday lives are connected via networks, there will be an even greater need than at present for high-speed, high-capacity, and secure communications. To enhance this connectivity, Kyocera's researchers have developed Local 5G (also known as Private 5G), which provides ultra-high-speeds and low latency, and we are working toward its implementation in society. We aim to deliver a consistent 5G service that includes everything from planning solutions in line with the issues faced by companies and local governments to adjusting systems and installing hardware.
Local 5G System (Private 5G System in Japan)
Stability, ease of installation, flexibility, and reliability are just a few of the strengths of Kyocera's Local 5G System, a stand-alone system that can offer a one-stop solution for on-site problem-solving in manufacturing.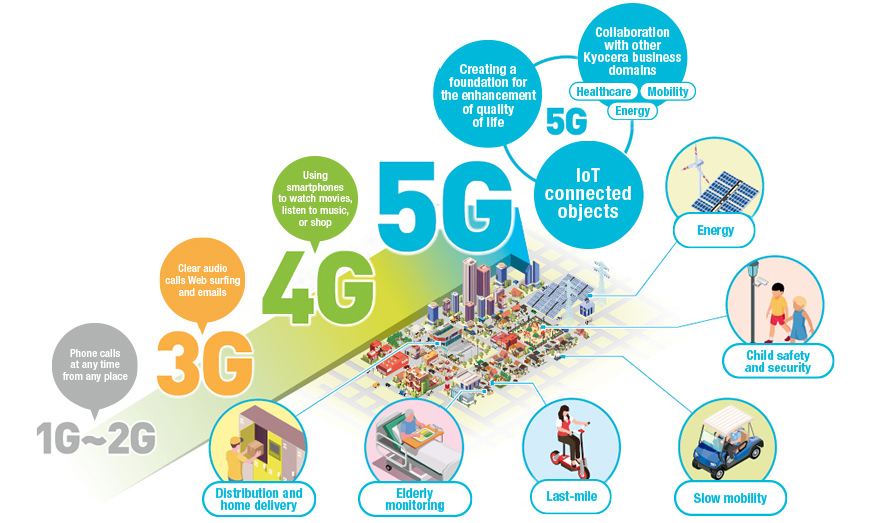 Building Independent Communication Networks for Stronger and Faster Area Connections
We asked Kyocera's Communication System R&D Division members about the strengths of the Local 5G communication method, the differences between Local 5G and the public 5G we regularly use with smartphones, methods for utilizing Local 5G technology, and more.
Manager

Section 2, Solution Development, Business Solution Promotion Department
Communication Systems R&D Division
Systems R&D Group
Corporate R&D Group

Local 5G System Development Engineer

Section 2, Solution Development, Business Solution Promotion Department
Communication Systems R&D Division
Systems R&D Group
Corporate R&D Group

Manager

Section 6, Development Department 2
Communication Systems R&D Division
Systems R&D Group
Corporate R&D Group
I joined Kyocera around the time when cordless telephones had just begun to appear. People's concept of the telephone had changed significantly, and I remember thinking that a fantastic technology had emerged. Not long after that, cell phones arrived on the scene. Because I have been involved in telecommunications since cell phones rose to prominence, I have seen firsthand how much people's lifestyles change whenever there is innovation in our means of communicating.

I, too, have devoted myself to research and development in telecommunications. When cell phones first appeared, peoples' lifestyles and the business world completely transformed. Cell phones were a sensation then, but smartphones have replaced them in the mainstream. Because of this device, which surpasses what people conventionally thought of as a telephone, society has changed dramatically again.

Considering this from the viewpoint of communication methods, from 1G to 2G and 3G, evolution was confined to telephony. 4G, which emerged alongside the evolution of smartphones, completely overtook that field. Telecommunications and lifestyles have become more intimately linked, and mobile communications networks have become indispensable in our everyday lives.

I agree. Then in recent years, 5G has emerged, which boasts communication speeds around 100 times faster than 4G and low latency. As a result of this technology, a more remarkable societal transformation will likely occur. Telecom carriers have begun public communications services using 5G, known as "Public 5G," but in what ways does the "Local 5G" Kyocera is researching differ from that kind of technology?

I was involved with developing the core network (CN) for Local 5G. The big difference between Public 5G and our Local 5G is that with the latter, locally installed CNs and other 5G devices enable the development of independent communication networks. In areas covered by telecom carriers, it is possible to use public 5G. However, since it assumes utilization by many users, telecom carriers set upper limits on the amount of data and speeds for both downloads from the internet to devices and uploads from devices.

It is true that with public 5G, there is greater demand for downloads to view video content, websites, and social media, whereas it is rare for users to upload large amounts of data from smartphones.

Yes. Local 5G is a technology that builds out of networks from the base station themselves. Because of this, high communication speeds are possible even in areas with no public 5G communications infrastructure. In addition, customizing uploads and downloads is likely in line with the types of communications customers desire. Based on this technology, the two of you are advancing the development of solutions that match customer requirements. So far, what industries have demand for this technology?

At this point, we are receiving many requests from customers who wish to establish factory communications networks. The demand at factories is for 5G's characteristic high speed, high capacity, low latency, and multiple simultaneous connections, along with the flexible customization of uploads and downloads you mentioned.

At factories, Local 5G is successful in monitoring and management using image data. For example, such data can show whether a production line is flowing smoothly, whether a product is defective, or whether someone is in a hazardous location. Various cameras capture images of what is happening across the factory. Within a large factory, uploading images in real time enables automated management.

When building that kind of management structure, the high speed, high capacity, and low latency of 5G, which enables simultaneous, real-time communication via dozens of devices, is beneficial. Another strength of Local 5G is that by adjusting upload data capacities, users can upload ultra-high-resolution images, such as 4K and 8K, directly from their devices. Therefore, we expect this technology to allow more detailed and flexible management methods.

In the same way as Local 5G, Wi-Fi, a standard technology in our everyday lives, also enables the creation of communications environments in areas where signals do not reach. However, a drawback of Wi-Fi is that communication slows when multiple devices are connected. So, Kyocera's Local 5G is more appropriate for managing human safety and product quality at factories and similar locations.

*

Wi-Fi is a registered trademark of Wi-Fi Alliance.

Another advantage of Local 5G is that it is less subject to signal interference because it communicates using an independent frequency. As a result, the future of communications will see significant growth through facilities, communities, and local governments able to have ultra-high-speed, stable communication networks. There are still only a limited number of precedents, but in the future, it will be necessary to consider further the solutions we can deliver through Local 5G.
Enhancing Customer Interaction through Kyocera's Co Creation Room and Expanding the Future for Local 5G
Kyocera's "Co Creation Room," which we established at our Minatomirai Research Center in Yokohama in April 2022, is a venue to demonstrate Local 5G in action and gain feedback. The Co Creation Room is also used to uncover customers' opinions based on their firsthand experience, issues faced by businesses and local governments with whom we can collaborate, and the kinds of industries and objectives with the most significant needs.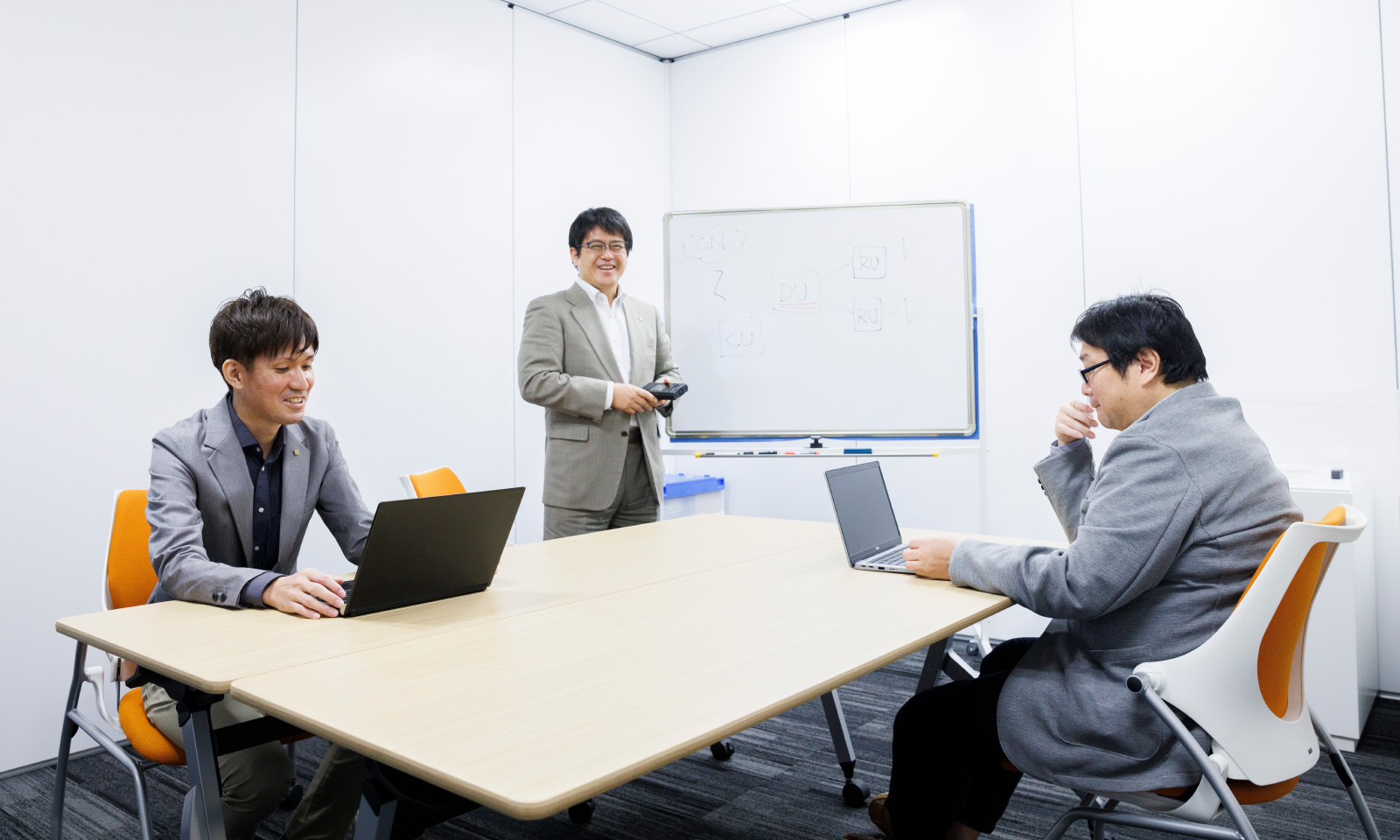 Because Local 5G is such a new technology, there is still potential for developing new applications that use it as a solution. Through the opening of the Co Creation Room, have the two of you gained a real sense of that growth potential?

To establish a Local 5G communications network, it is necessary to obtain a license. For this reason, until recently, it had been difficult for customers to test the performance of Local 5G and to experience what it could do firsthand. However excellent a technology, customers won't want it if they can't see how to utilize it. So we created the Co Creation Room to do away with such issues. At present, we are demonstrating to customers the performance of Local 5G and, through talking with them, expanding the possibilities of this communication technology. We are sometimes surprised by the types of industry applications and objectives we encounter in such customer visits.

Right now, we are working toward commercialization from the point of view of delivering high-speed communication environments to areas and facilities that do not have them—for example, factories—and we hope that expanding the possibilities of Local 5G via the Co Creation Room will lead to the system becoming a more central part of our everyday lives. Furthermore, as a technology, Local 5G will play the critical role of helping bring to life the type of smart cities that Kyocera has long been aiming for. Therefore, we hope its existence will become even more important and a cornerstone of communities.

Smart cities are communities built on various things linked in a network. And not just devices like smartphones and PCs but everything from essential lifestyle items, including cars and consumer electronics, to facilities like factories, hospitals, and schools. Wherever we are, the real-time exchange of information is becoming a fundamental aspect of our lives, so high-speed, low-latency communication is necessary. Stability under multiple simultaneous connections is also essential for anyone and anything to connect to a network. Therefore, Local 5G technology is likely to play a significant role in society in the future.

For this to be a fundamental infrastructure supporting people's daily lives, the stability of always being connected and the reliability of securing those connections will be essential. I also aim to help achieve smart cities, and each day I know that I must develop CNs with ever-better performance.

The concept of "human communication" will surely be a crucial part of the future development of telecommunications technology. During the COVID-19 pandemic, online meetings became the norm, but there is still a big difference between an online meeting and talking with someone sitting next to you. By advancing the research and development of Local 5G, which focuses on smart cities, I would like to play my part in making seamless communication—communication that is not limited by distance or time—a reality so that it feels as if the person you are speaking to is right in front of you.

To do this, high-speed, stable communications, image-processing technology, and the evolution of devices are also essential. Because Kyocera can provide a total package of everything from developing devices to proposing solutions and installing equipment, we can advance development in communications with a broad outlook that is not limited to telecommunications.

In that sense, we are incredibly thankful for the Minatomirai Research Center, which enables lively interaction between fellow researchers. Of course, not just researchers, but the comments from customers that we hear in the Co Creation Room and the opinions of new employees who enter the company in the future will be sources of encouragement that broaden our research horizons. We are undertaking verification tests of Local 5G in various fields and environments. While working toward the system's implementation in society, we would like to broaden its potential with the know-how that we have cultivated.
Developer Interviews:
Understanding New Challenges and Future Projects
Being Undertaken at Kyocera
Index
Kyocera's Main Growth Markets