The BIOCERAM AZUL Story
Alumina ceramics were first used clinically by French orthopedic surgeon P. Boutin et al in 1970. In Japan, we began the sales of artificial implants made from alumina in 1980. In 1990, we began the sale of artificial heads made from alumina (BIOCERAM AL190), which is highly purified by refining alumina and refining crystalline grains. Five years later, in 1995, we began selling femoral heads made of zirconia (BIOCERAM ZR195) a structural ceramic prosthesis with high strength and toughness.
We have continually pursued improvements in the reliability of our ceramic materials in order to ensure that patients feel comfortable after surgery. In 2009, we succeeded in developing a zirconia-reinforced alumina material (BIOCERAM AZ209) and created BIOCERAM AZUL in 2015.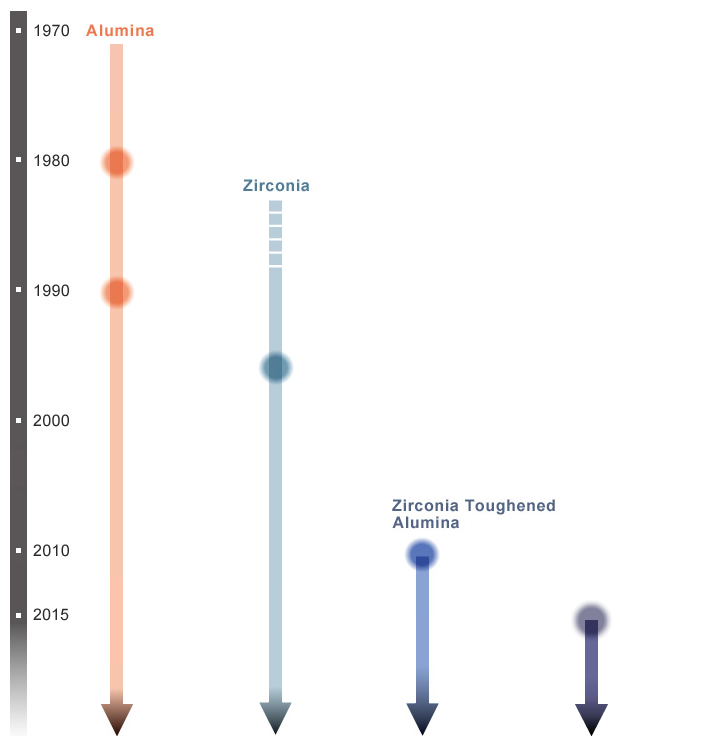 Clinical applications of the first alumina hip prosthesis by P. Boutin (France) et al. (1970)
Commenced sale of alumina artificial bone and alumina heads (Kyocera)
Commenced sale of high-purity alumina prosthetic materials (Kyocera)


Commenced sale of zirconia femoral heads (Kyocera)


Commenced sale of zirconia-reinforced alumina femoral heads (Kyocera)
BIOCERAM
AZ209


BIOCERAM AZUL