KYOCERA Corporation (President: Hideo Tanimoto) announced that two of its products received awards from the CEATEC 2021 Online Exhibition. CEATEC is a leading Japanese trade show covering technologies for Society 5.0.
Kyocera's Smart Checkout System won the Digital Transformation (DX) Award, and its Energy Harvesting Smart Buoy, developed jointly with Nagasaki University, won the Carbon Neutral Award.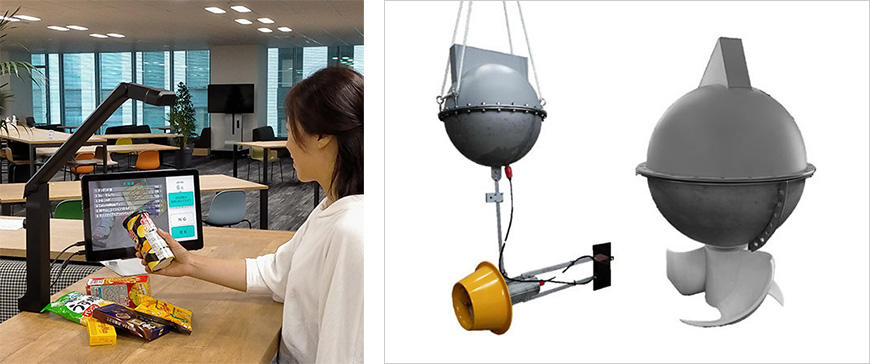 "Smart Checkout System" (left) and "Energy Harvesting Smart Buoy"(right)
■About the Smart Checkout System
Kyocera's Smart Checkout System incorporates Kyocera's AI object-recognition technology into a camera system that can recognize multiple objects during retail checkout - even overlapping products and fresh fruit. Proprietary AI-based optimization reduces the time it takes to register a new product and, since the entire system uses just a single camera, PC, and display, installation costs are low. In addition, it offers the potential to mitigate COVID-19 infection risk at retail shops by limiting physical proximity and reducing contact between customers and staff.
<Reference>Press Release URL :
https://global.kyocera.com/news/2021/0601_ndye.html
Award Recognition
Kyocera's Smart Checkout System received high praise for its innovative registry system that supports streamlining store operations, saving labor, and reducing interpersonal contact through infection control measures. With its unique image recognition AI, a single camera can recognize multiple overlapping products, reducing the burden on both users and employees. In addition, there is little equipment to be installed, and additional registration of new products (AI learning) is easy, which contributes to cost reduction for installation and operation. In addition to supermarkets and other stores, the system is expected to be applied as image recognition technology in other fields, such as restaurants, inspection work, and autonomous driving.
■About the Energy Harvesting Smart Buoy
The Energy Harvesting Smart Buoy combines Kyocera's IoT technology and Nagasaki University's tidal current power generation technology. Because the energy necessary for the buoy's sensing and radio-based communication is generated by tidal power generation, it can operate reliably at sea for extended periods with no external power supply, contributing to the monitoring and understanding of our oceans.
<Reference>Press Release URL :
https://global.kyocera.com/news/2021/0801_kswa.html
Award Recognition
Scientists depend on accurate marine data to monitor environmental issues such as pollution and rising sea temperatures; however, one ongoing challenge has been the lack of a stable power supply for ocean monitoring equipment. Through joint research with Nagasaki University, Kyocera has developed an energy-harvesting smart buoy that uses a tidal power generation system on the buoy itself to generate energy from shifting tidal currents. Actual sea trials have confirmed that the amount of power generated by its high-efficiency turbines exceeds the power it consumes. As a result, it is expected that "visualization of the sea" in various applications, such as sustainable fisheries and marine research, will lead to DX in the marine industry and sciences.
■ Background: CEATEC AWARD 2021
| | |
| --- | --- |
| The CEATEC AWARD 2021 recognizes exhibitors who have submitted their applications in advance to the CEATEC AWARD 2021 judging committee, which judges, selects, and awards innovative products and services from academic and technical viewpoints, as well as from the perspectives of marketability and future potential. | |