Kyocera Corporation (President: Hideo Tanimoto, hereinafter "Kyocera") signed a joint research agreement with the Town of Kinko in Kagoshima Prefecture, Japan (Mayor: Kazuaki Kiba, hereinafter "Kinko") and Osumi Peninsula Smart Energy Corporation (President: Hironori Murakami, hereinafter "Osumi Peninsula Smart Energy") to conduct the Japan's first
*1
"Self-Wheeling" renewable energy project using energy generated with wood biomass. "Self-wheeling" refers to electricity generated independently by a company to be supplied to its own factory or office at a different site using an existing power grid. The three companies conducted an initial test for the Kagoshima project on January 15, 2021, and will subsequently conduct a one-year experiment beginning in March 2021.
■Joint Research Agreement Background
Social and economic issues such as Japan's declining birthrate and aging population, farm labor shortages, public transportation route cancellations, and the effects of climate change have all become increasingly aggravated in recent years. Furthermore, local governments must work to solve these issues and contribute to realizing Japan's Sustainable Development Goals (SDGs). To deal with the local community's issues, the Kinko has formulated the "Kinko Energy Master Plan"
*2
, aiming to revitalize the regional economy. In January 2021, Kyocera and Osumi Peninsula Smart Energy agreed on this plan and signed the joint research agreement.
■Joint Research Overview
As a first step toward achieving the "Kinko Energy Master Plan," a joint experiment will be conducted for a period of one year, beginning in March 2021. Kinko has built public facilities, including the Tashiro branch of the Kinko local town office and a microgrid
*3
with wood biomass power generation, aiming to use the town's abundant forest resources for local production and consumption of renewable energy and the prevention of natural disasters in the community.
Kinko's microgrid supplies electric power generated at wood biomass power generation facilities to public facilities connected by private power distribution lines. However, electricity demand declines at midnight and early in the morning caused surpluses in electricity generated.
In this experiment, Osumi Peninsula Smart Energy will operate an energy management system (EMS) developed by Kyocera, which manages the power supply by predicting the amount of electric power generated and electric power demand. Surplus power from wood biomass power generation will be supplied to the Kinko main local town office.
Through this experiment, the three parties aim to reduce the amount of electricity purchased by the Kinko town office's main building and increase the town's renewable energy usage ratio.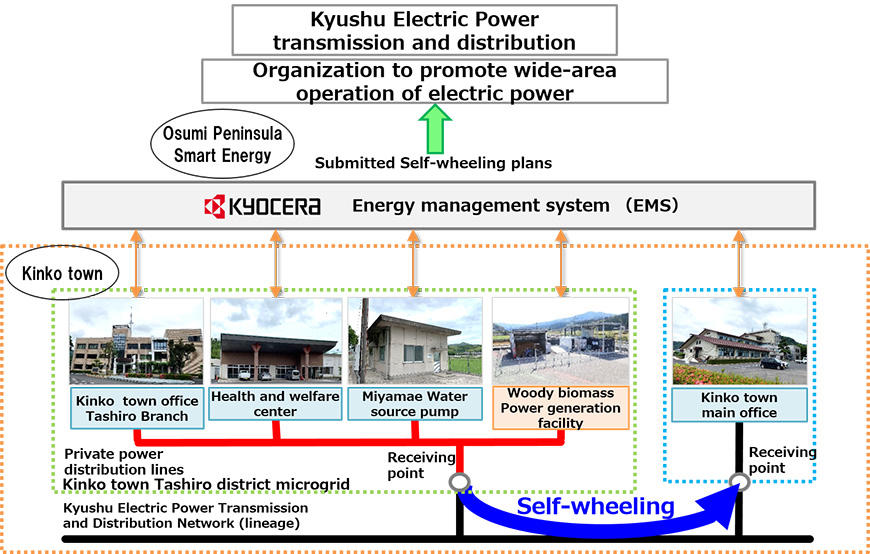 Conceptual diagram of experiment on self-wheeling system between public facilities
■Initiatives for revitalization of the regional economy
This joint research project will also explore the establishment of new businesses by combining renewable energy and agriculture (agribusiness) or renewable energy and transportation (regional transportation business). These businesses could help combat the various societal issues facing Kinko, including farm labor shortages (agriculture is a key local industry) and public transportation route cancellations.
*1 Among self-wheeling tests in Japan (as of January 18, 2021, based on Kyocera research)
*2 The basic policy formulated in March 2020 for the Town of Kinko renewable energy recycling project within the region. Aiming to revitalize the local economy, Kinko conducted surveys and studies on the amount of renewable energy, local production and consumption in the town and compiled a road map to achieve a 100% renewable energy utilization rate and plans for the Osumi Peninsula.
*3 "Microgrid" refers to a small-scale energy network that does not rely on power supply from a large-scale power plant but instead aims to realize local production and consumption using energy sources and consumption facilities inside the community.