Interview
Ultra-High Speed and High Security
LiFi Light Communication
Enabled by GaN Laser Technology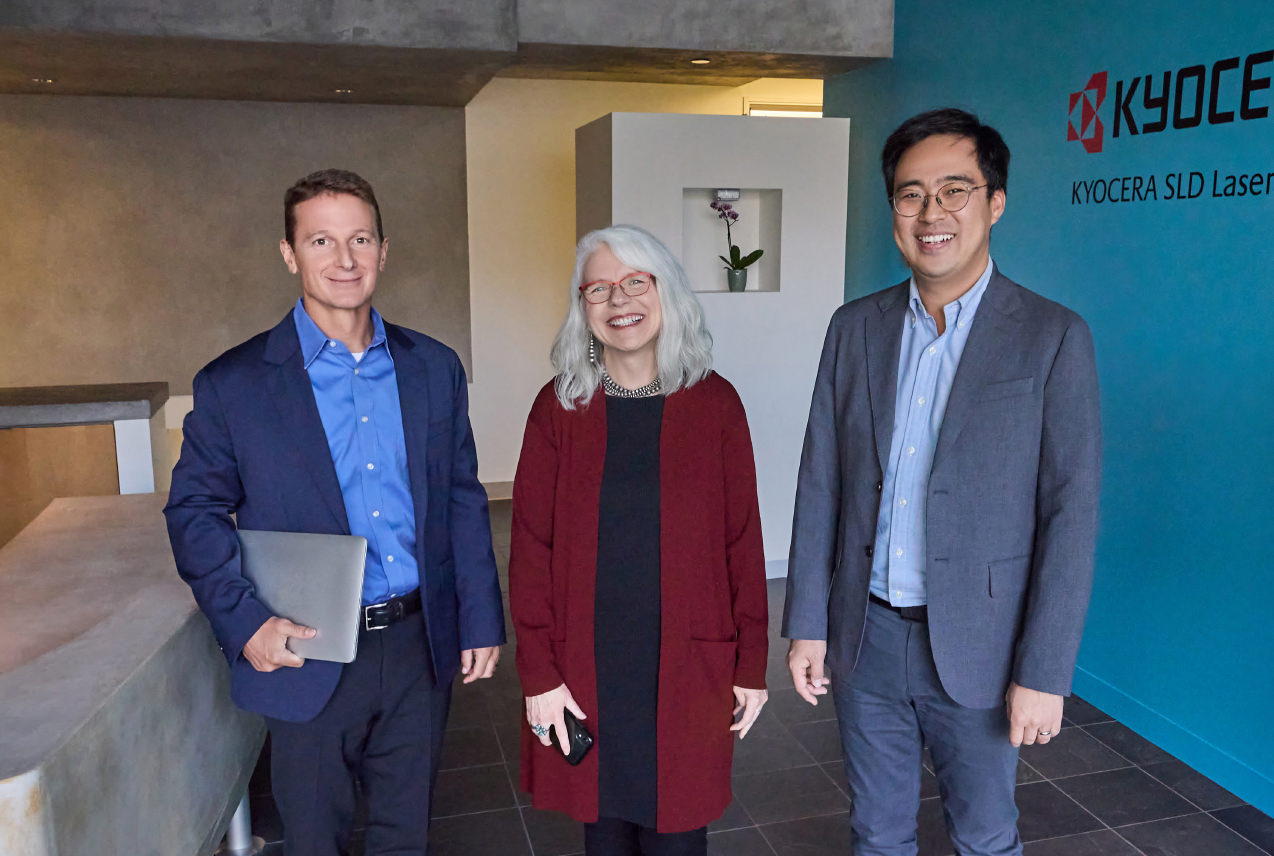 High Speed Anywhere and Everywhere:
Toward the Era of Light Data Delivery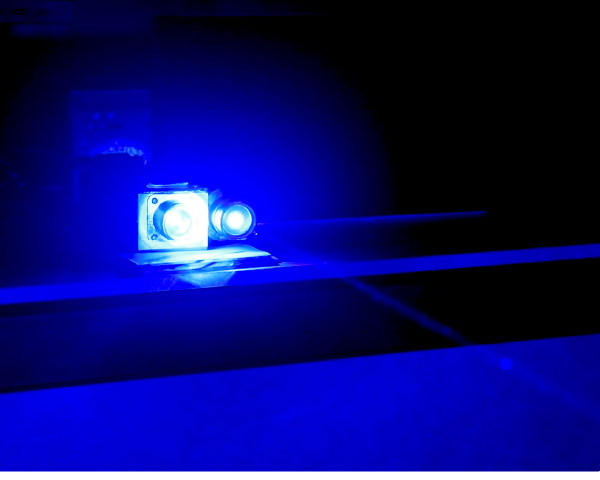 5G, Wi-Fi,*1, and other wireless communication technologies overcome time and distance to connect people with information. Along with their popularization in business, telecommunications, and entertainment that use online environments, higher speed, higher capacity data transmission is a theme directly influencing our everyday lives.
Among the different types of wireless communication available, Wi-Fi is limited not just to computers and smartphones but consumer electronics, such as TVs, and is one of the technologies with which we are most familiar. Many of us use Wi-Fi regularly for online meetings and video streaming services. However, Wi-Fi uses radio waves, which have difficulties such as capacity and data rate limitations, security challenges since the RF is difficult to control precisely, and limits to implementation in sensitive environments such as aviation. During the COVID-19 pandemic, there was a massive increase in the need for a stable communications environment, and there is now a demand for this issue to be tackled.
Light fidelity (LiFi) is a form of wireless communication that utilizes light and has been attracting attention as a technology to solve the problems inherent to Wi-Fi to enable higher speed, higher capacity, higher security, and RF-free communication. Kyocera is working on developing this technology with our Santa Barbara, California-based group company, Kyocera SLD Laser (KSLD).
*1. Wi-Fi is a trademark registered to Wi-Fi Alliance.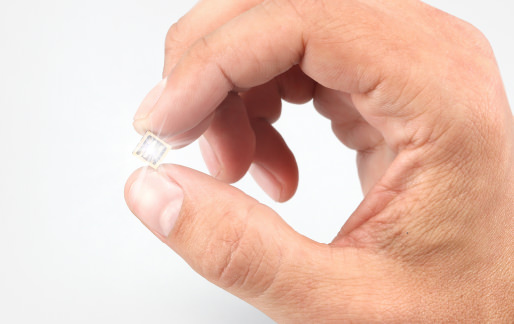 Laser diodes (GaN devices)
Kyocera SLD Laser is developing laser diodes using gallium nitride (GaN), which enables high efficiency and output. GaN lasers are expected to be utilized in various contexts, including laser lighting, vehicle headlights, optical transmissions, such as power supply and LiFi, and sterilization processing. In addition, laser-based lighting is being delivered now for automotive and specialty applications so that Laser LiFi can utilize that lighting infrastructure for between-vehicle communication.
Welcoming the Creator of LiFi Technology and Opening up the New Frontier of Laser LiFi
With LiFi, rather like Morse code, light is switched on and off at high speed to enable data transmission. Here at KSLD, we have engaged with Professor Harald Haas —who is pioneering this technology and first coined the term "LiFi" — as an advisor. We are endeavoring to develop new capabilities for LiFi that will boost existing LiFi to even greater heights.
CMO, SVP BD, and Co-founder

KSLD

Senior Director, Product Marketing

KSLD
Senior Process engineer

KSLD

Professor

Professor at University of Strathclyde and senior advisor for KSLD
LiFi is a new technology expected to be utilized practically in the future. For this reason, it will need to respond to a wide range of business activities, not just with technological development in both hardware and software, but by developing markets and formulating a long-term, wide-ranging vision regarding the kinds of products and applications into which LiFi can be incorporated. Today, we are joined by professionals from various fields who make up the KSLD team, including the creator of LiFi, Professor Harald Haas.

As a senior process engineer in the KSLD R&D department, I am mainly responsible for developing hardware technologies for LiFi. Existing LiFi primarily uses LED as a light source, but we are attempting to create Laser LiFi, a new product that utilizes GaN laser technology. It is a challenge that we can undertake thanks to the laser technology and know-how that Kyocera possesses, and we are proud that KSLD is the only company in the world undertaking this development.

I am mainly responsible for opening up new markets. As well as enabling faster and faster communication with higher capacity than LED-based technologies, the merits of Laser LiFi are that the light can travel long distances and has outstanding controllability and directionality. As such, I am seeking markets where those strengths can be leveraged daily.

Laser LiFi technology will lead to new solutions in various markets. Where do you see areas with high levels of interest?

In the field of mobility—for example, cars, aircrafts, and shipping—as well as being leveraged as a technology for vehicle-to-vehicle communication, it is highly likely that Laser LiFi can be successful as a means of communication to enable remote operation in autonomous driving. Another characteristic of blue wave GaN lasers is that light travels further. Even underwater, light is less likely to weaken, and because it covers longer distances, we believe that the realization of underwater wireless communication is also possible.

Laser LiFi can deliver high-capacity data quickly and accurately. My job as a marketing officer is to promote the kinds of capabilities that Laser LiFi has, develop product kits to suit practical use, and tell as many people as possible about the superior value of this technology.

Recently KSLD exhibited at CES in Las Vegas, right?

Yes, we did. At the show in Las Vegas, we gave a practical demonstration of the fact that Laser LiFi enables transmission speeds 100 times faster than 5G. Recently, we have also released a development kit that allows customers to tailor Laser LiFi performance in line with their needs. As a result, we have received positive feedback from many people, and we were chosen as a winner at the 2023 SPIE Prism Awards*2, which recognize innovative technology in optical solutions.

My team and I have supported KSLD for six years through research projects and advisory work. We provide data based on the results of fundamental research into LiFi and draw up a long-term vision for the kind of societal transformation this technology will bring about. I am thrilled that LiFi, which I originally proposed, is gradually acquiring better performance thanks to this collaboration with KSLD.

Research and development for LiFi are actively being undertaken with other teams. What strengths do you believe are unique to development at KSLD?

Capitalizing on GaN technology to enable unprecedented data transmission speeds at very high distance can only be achieved by KSLD. The Laser LiFi prototype developed with KSLD is currently setting multiple records, including transmission speeds of 100 Gbps and the ability to communicate in the air, the sea, and outer space. In partnership with KSLD, it is our conviction that it will be possible to expand on many more use cases for LiFi, which will unlock new potentials for LiFi and enhance its contribution to society.
The Existence of Laser LiFi Will Transform the World in Many Different Ways
The appeal of Laser LiFi does not just lie in faster transmission speeds. This technology also differs from conventional wireless communication from the viewpoints of energy efficiency, security, long range and so on. So how exactly will it change the world? We were given an explanation of this long-term vision.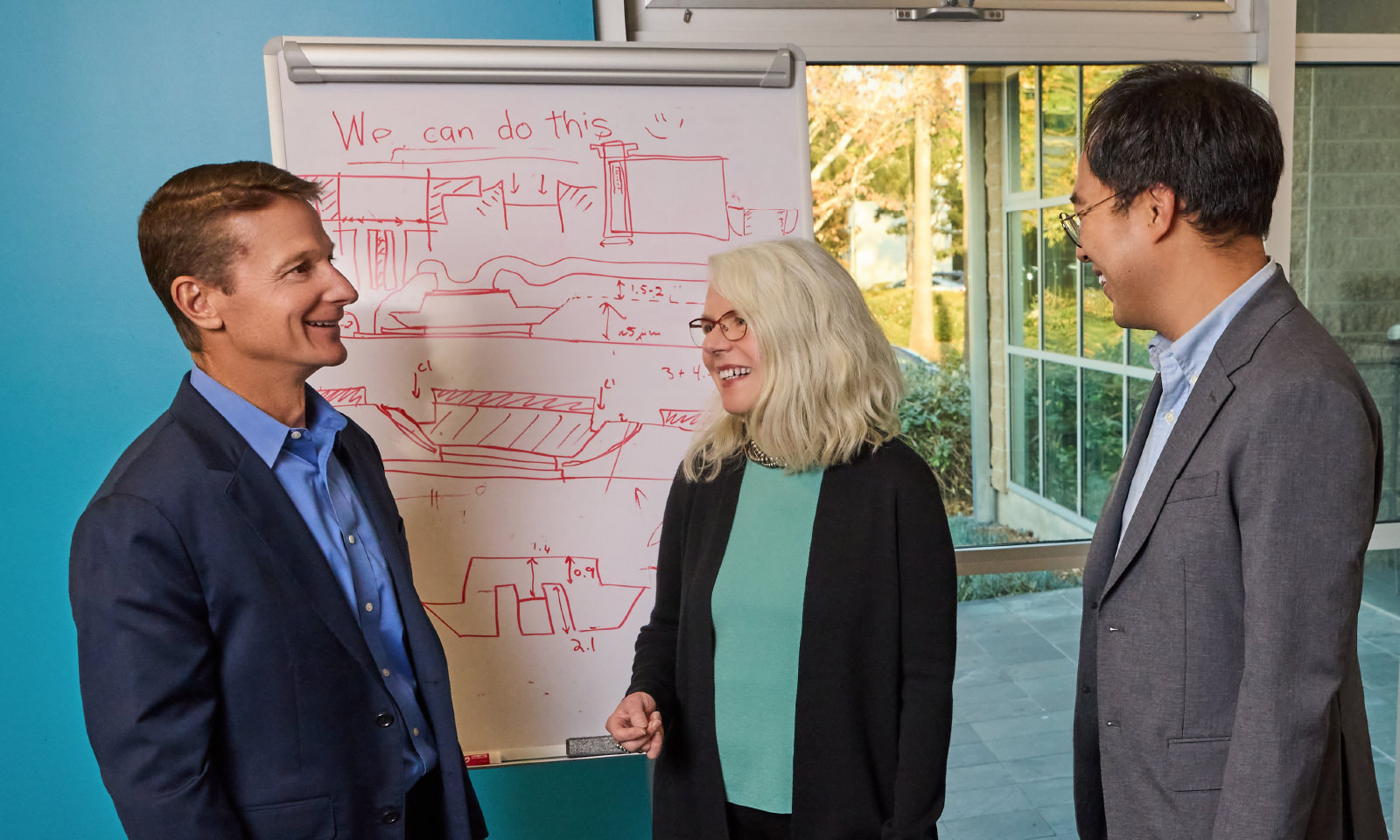 As well as high-performance communication, the merit of Laser LiFi is that it can operate using smaller amounts of energy. Laser LiFi can combine lighting and communication and reduce the need for inefficient RF transmitters. Laser LiFi can efficiently deliver data much further than any RF or LED that could travel in environments such as underwater.

You're right. If you can imagine a laser pointer, it will be easier to understand the energy-saving mechanism. LED light spreads light more widely and would require special optics to collimate a light beam, whereas, with a laser, the light beam is much more confined and thus easier to control. In this way, because small amounts of light can be handled precisely, Laser LiFi exhibits energy savings and, therefore, lets us reduce our environmental impact.

Being able to handle light in a pinpoint fashion also gives rise to the advantages of high directionality and the ability to manage data securely. In addition, Laser LiFi enables the reliable and efficient exchange of data. In the business sector, it will bring about possibilities beyond our imagination in various contexts, such as health care, education, and entertainment.

As you said, Laser LiFi is set to make our everyday lives more enjoyable and convenient. Communication in augmented reality (AR), virtual reality (VR), and the metaverse will become much smoother than at present. Shortly, the scenarios depicted in science fiction movies may become commonplace.

As we head toward that phase of practical use, we would like to rapidly advance our research in collaboration with the partners expanding our technology's possibilities. Because Laser LiFi is such a new technology, there may be untapped applications for its utilization that are as yet untapped and have been inconceivable until now. This is an unknown domain, so there will be many challenges, but overcoming those is also a motivation for me.

With a view to utilization and the increased demand accompanying an expanding market, it is also essential to establish a stable manufacturing system. We are leveraging decades of fiber optics communication manufacturing infrastructure with KSLDs unique semiconductor processing capabilities and Kyocera's packaging expertise to bring practical Laser LiFi to market. Compared with LED LiFi, a Laser LiFi system requires high-speed electronics that are difficult to obtain, so as we advance, we would also like to work on strengthening our supply chain in that regard.

As I said at the beginning, Laser LiFi cannot be developed just by experts in specific fields. So, a strength of our team is that experts in various fields—for example, hardware, software, and marketing—are joining forces. This team can demonstrate breadth and depth in its capabilities, so we want to continue generating results that amaze the world and contribute to society.

Working with this team is a driving force for conducting research. It excites me to think we are doing things no one else can. Working on projects with our friends at Kyocera generates a positive synergy, and it is fun to feel that development is moving forward.

Until now, the idea that wireless communication involves radio waves was the global norm. But Laser LiFi is a means to surpass radio waves concerning performance and sustainability. Moreover, as we keep showcasing this technology's power and unique advantages in various use cases, many more people will wake up to the idea of light as a means of transmitting wireless data. I look forward to transforming accepted practice in communications from radio waves to light, and through this, having a significant impact on all kinds of cutting-edge technologies, such as mobility and robotics.
Developer Interviews:
Understanding New Challenges and Future Projects
Being Undertaken at Kyocera
Index
Kyocera's Main Growth Markets