High-performance branch connector 'Sheltap®' meets the requirements for use in automotive purposes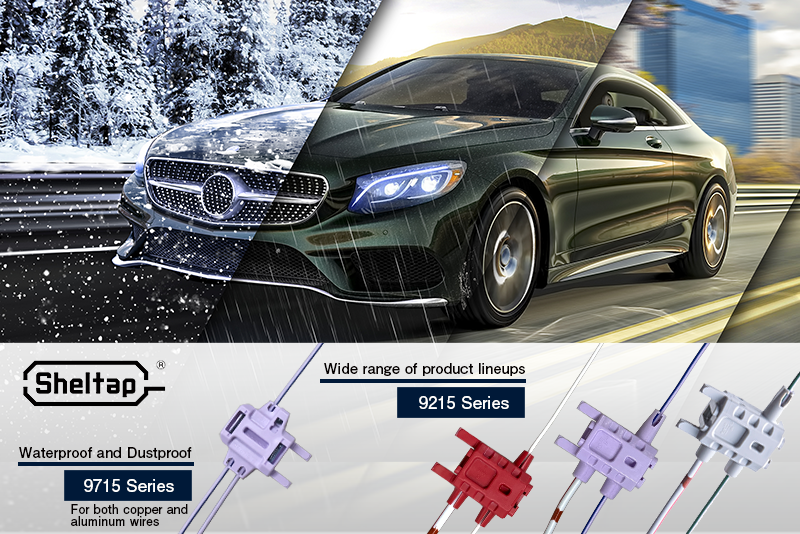 'Sheltap (registered trademark)' is wire branch connector developed by Kyocera with excellent workability that easily connects wires by bending the hinge like a clamshell.
Patented technologies provide reliability and workability as well as both waterproof and dustproof performance
Numerous proprietary technologies are behind Sheltap's improvement in reliability, waterproof performance, workability, and dustproof performance . Kyocera protects these technologies with a full range of intellectual property including many patents (including some that protect joint inventions with automobile manufacturers), design rights, and trademark rights. We are actively seeking to further strengthen this protection by ensuring the rights in the United States, Europe, China, and South Korea. This group of technologies has been recognized by Kyocera as an important intellectual property. Thus, Kyocera is working to both prevent the occurrence of counterfeit products and to expand its business by making effective use of its intellectual property rights.
The Sheltap lineup by Kyocera includes the 9215 series, which delivers excellent workability, and the 9715 series, which comes with both waterproof and dustproof specifications in addition to having excellent workability. With its proprietary wire-retention structure, the 9715 series prevents the connector from falling off the wire during assembly. The mounting position can be easily changed before electric connection by sliding the connector over the wire, thus making it easy to change the mounting position.
The 9715 series can be used in various situations and environments exposed to water and dust. Our proprietary technology structurally links the sealing material and the locking mechanism thereby realizing the high waterproof and dustproof performance required by automotive applications. The 9715 series has cleared 'JASO D616,' which tests automotive wire harness connectors, and can be used under harsh environment such as the presence of high-pressure water jets, high temperatures, low temperatures, humidity, dust, vibration, oil, gas and so forth.
Spray test

Oil immersion test

Vibration test
in a high temperature environment
Wire protection structure that supports aluminum wires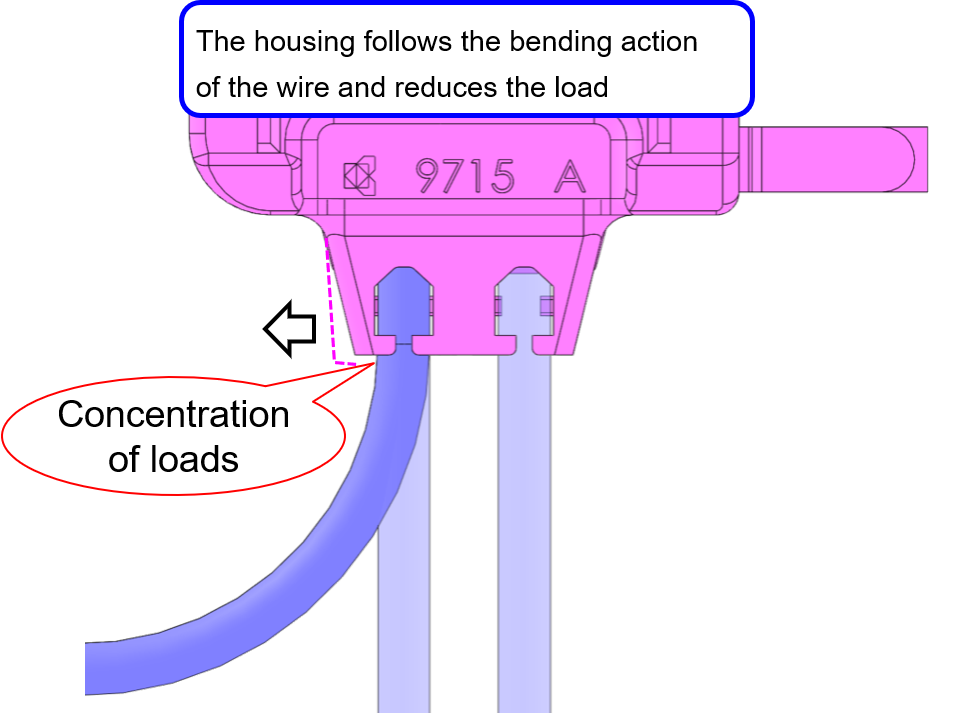 In recent years, the number of modules and sensors in automobiles has been rapidly growing, leading to the increasing use of electrical components. Although copper wires were conventionally used to connect various parts, copper wires are being replaced with aluminum wires, which can reduce the vehicle body weight because aluminum wires weigh approximately 60% of copper wires. This reduction in vehicle body weight is being pursued in order to improve fuel efficiency. Furthermore, the number of optional and aftermarket parts is on the rise, which is another source for increased demand for branch connectors. The 9715 series uses patented technology in order to form a slit in the wire holder of the housing, thereby allowing the part that comes in contact with the wire to flexibly change in shape. Thus, it becomes more difficult for the aluminum wire to be broken or disconnected, despite aluminum wire being lower in strength than copper wire.
Sheltap helps in various situations
Specialized knowledge and special tools are often required when branching wires with connectors, likely resulting in complicated work that calls for many man-hours. Sheltap provides excellent workability, which can be used to connect wires and assemble easily, allows even the customers who are attempting wiring work for the first time to do so successfully.
The 9715 series also delivers the waterproof and dustproof performance required in order to use the product under various situations and environments exposed to water and dust. In addition to aftermarket parts for automobiles, this product can also be utilized in a wide variety of settings, including outdoor lighting, motorcycles, ships, security cameras, base stations, outdoor measuring instruments, and FA devices
Origin of Kyocera's registered trademark 'Sheltap®'
Sheltap is the brand name of a series of wire branch connector produced by Kyocera. This group of products delivers the high reliability demanded in the automotive market.
Shell

Share

+

Electro

+

Tap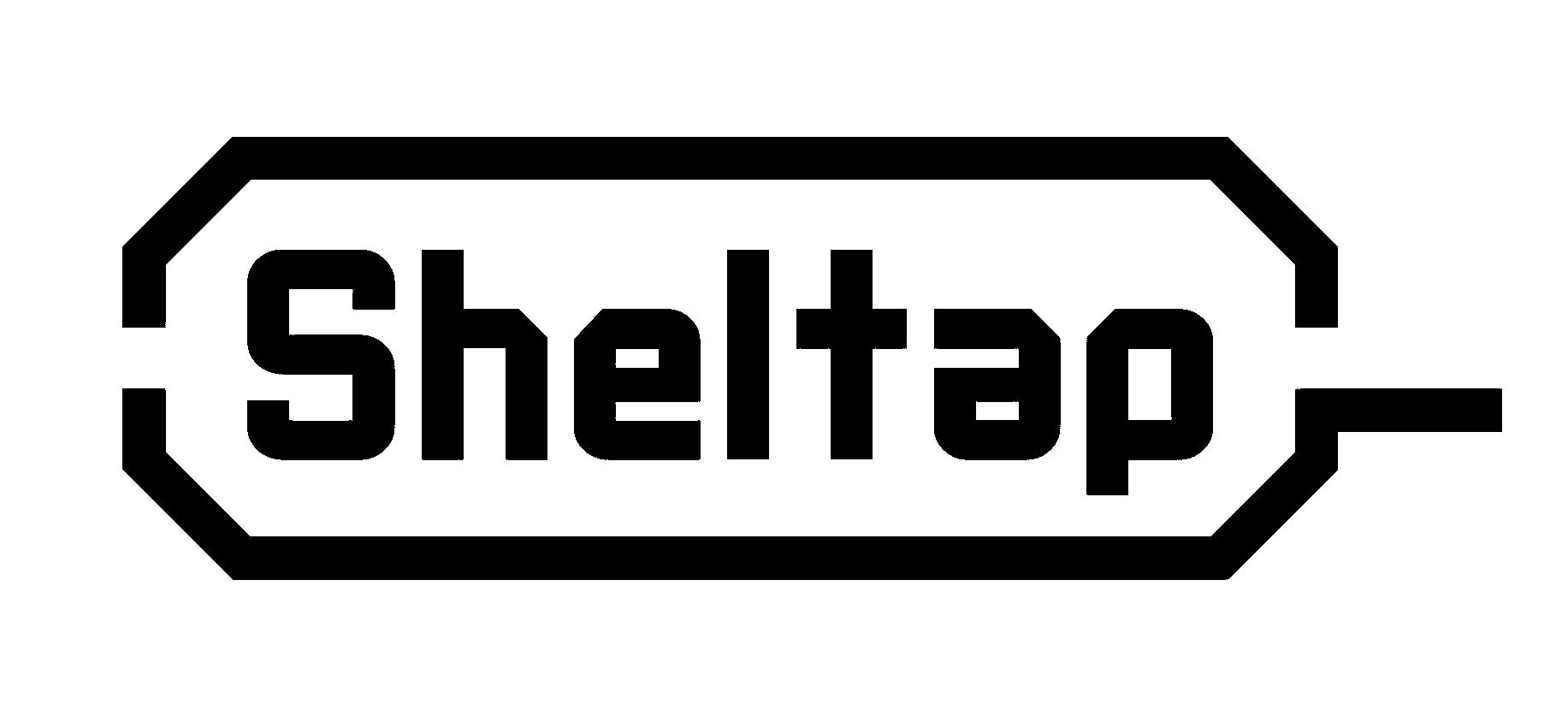 ---

Click here for detailed product information
---

Video on Sheltap
*This page has been prepared based on the information available as of the time of publication (Aug 18, 2020), and the status of patent rights and so forth may have changed since the last update.