Here we introduce easy-to-prepare and delicious recipes recommended by Kyocera employees.
Vegan Power Bowl with Risoni by Janosch, Kyocera, Germany
Vegetarian - Vegan - Gluten-free - Lactose-free
The powerful bowl recipe scores with colorful vegetables and a good portion of protein. The Risoni is a pasta alternative which is made from ground lentils and chickpeas. In terms of protein content, they are richer than pasta made from wheat (approx. 20-30 grams per 100 grams). They are also rich in fibre, iron and calcium. Thus, they ensure a successful integration of legumes into the diet.
Just pick some veggies you like, add the Risoni and the dressing and enjoy this healthy, vegan meal.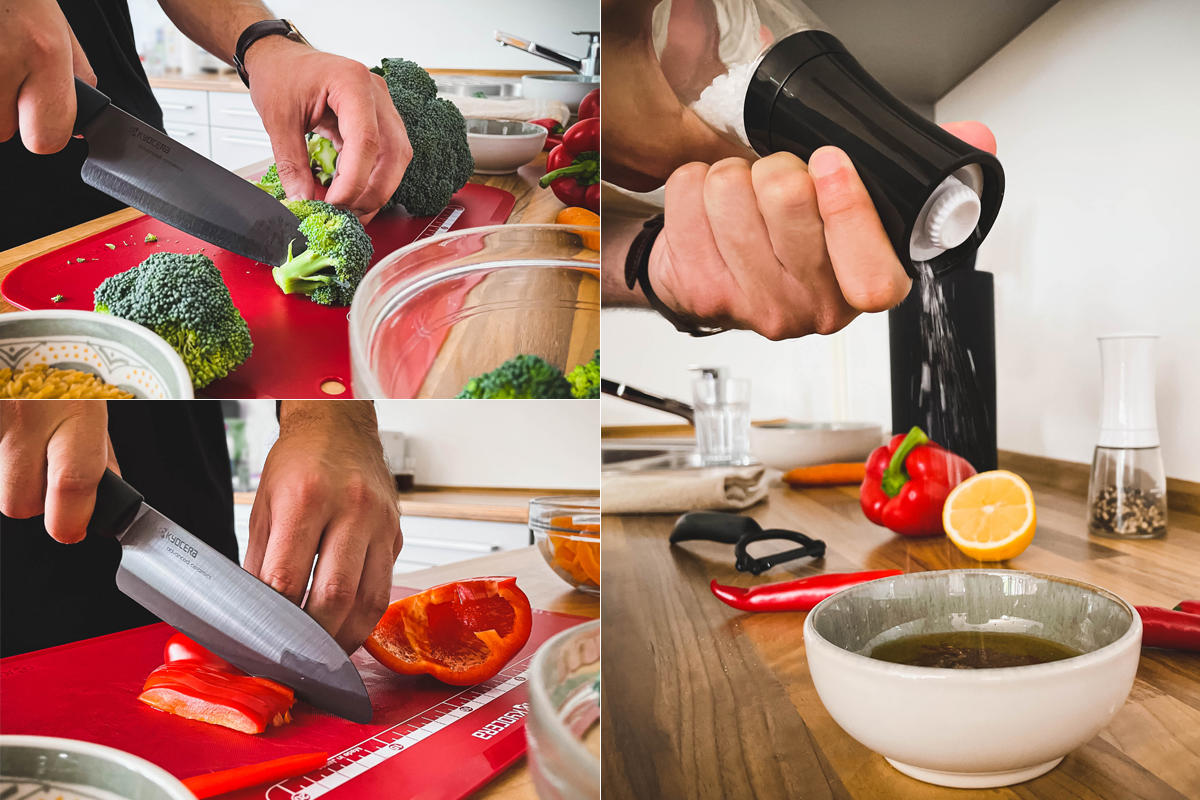 INGREDIENTS

:
300 g Risoni (made from lentils and chickpeas)
Salt
1 small broccoli
2 carrots
2 red peppers
1 clove garlic
60 g hazelnuts
7 tbsp olive oil
Pepper
2 pods of chilli
1 lemon
1 tbsp maple syrup

COOKING DIRECTIONS:
Cook the Risoni in salted water according to the instructions on the package.

Clean the broccoli and cut into small florets. Peel the carrots and cut into strips with the peeler. Wash and clean the peppers, remove the seeds and cut into thin strips. Peel the garlic.

Roast the hazelnuts in a pan without fat until they are fragrant.

Blanch the broccoli in a large pot in salted water for approx. 5 minutes and rinse in ice water. Heat 2 tbsp oil in a pan and fry the peppers in it for approx. 5 minutes. Squeeze in the garlic and fry for about 2 minutes. Season with salt and pepper.

Chop the chilli and squeeze the lemon. Mix 5 tbsp olive oil, chilli, lemon juice, maple syrup, salt and pepper to make a dressing.

Arrange the risoni, vegetables and nuts evenly in 4 bowls. Drizzle with the dressing and enjoy!
Learn more about Kyocera's kitchen products here:
https://global.kyocera.com/prdct/fc_consumer/index.html