Kyocera Corporation (President: Hideo Tanimoto) announced that its DuraForce PRO 3 Android smartphone has won the iF DESIGN AWARD 2023 in the Communications Devices category. Sponsored by the Industrial Design Association of Hanover, Germany, the iF DESIGN AWARD is recognized as one of the most prominent and prestigious international awards for industrial products worldwide.
Kyocera DuraForce PRO 3 joins the rugged smartphones DuraForce PRO, DuraForce PRO 2 and DuraForce Ultra 5G UW as the fourth Kyocera smartphone in a row to receive an iF DESIGN AWARD.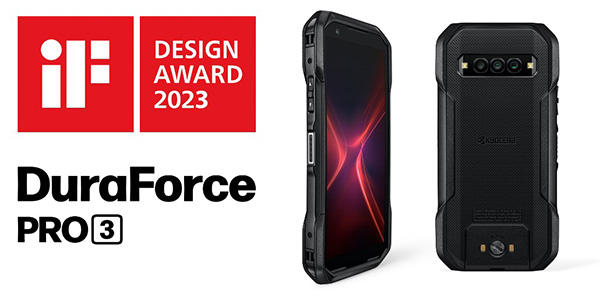 ■DuraForce PRO 3 Helps Improve Business Operations
The DuraForce PRO 3 is a ruggedized smartphone designed for frontline workers, first responders and corporate customers, now available with Verizon in North America. Kyocera's latest in the Dura series features a textured housing for improved "grippability," reinforced corner bumpers to handle drops better and three tactile programmable buttons to ensure a customizable experience for each user. High-speed communication features, such as Ultra Wideband 5G and Wi-Fi 6E for extended coverage enable high-capacity data transmission for seamless communication. The device's triple rear cameras (64MP main, 16MP wide angle and 2MP macro) help ensure projects are well- documented, and 5G speed transmits images and videos in real-time to keep schedules on track.
In addition to award-winning design and MIL-STD-810H, IP68 durability and HazLoc, Non-incendive, Class 1, Div. 2 protection, Kyocera's DuraForce PRO 3 smartphone is equipped with key features considered most important to industries such as construction, public safety, manufacturing, transportation, and agriculture. These key features include a scratch-and shatter-resistant display engineered for outdoor viewing; an ultra-rugged X-frame reinforced structure; dual SIM public and private network capability; loud, front-facing stereo speakers; and programmable buttons (including an SOS button). With an advanced chipset, DuraForce PRO 3 also supports industrial robotics and artificial intelligence (AI) functions including more streamlined data collection, which can help businesses improve operations.
■For product information on the DuraForce PRO 3, visit:
https://kyoceramobile.com/duraforce-pro-3/
■For more information on the iF DESIGN AWARD, visit:
https://ifworlddesignguide.com/
*DuraForce, DuraForce PRO, DuraForce PRO 2, DuraForce PRO 3 and DuraForce Ultra 5G UW are registered trademarks of Kyocera Corporation.