Kyocera Corporation (headquartered in Kyoto, Kyoto Prefecture, and led by President Hideo Tanimoto) and Kyudenko Corporation (headquartered in Fukuoka, Fukuoka Prefecture, and led by Executive Officer Representative President Kazuyuki Ishibashi) are proud to announce the launch of KYOCERA GREEN INNOVATION, LLC (Established Thursday, June 8, 2023). This new company will operate a renewable energy service business for PPA on-site solar carports.
The company's business model involves installing solar-power-generating carports at businesses (i.e., solar carports) and selling the power generated to contractees. The two companies will launch full-scale business activities under this business model in July of this year as they work to contribute to the adoption of renewable energy through the expansion of their business.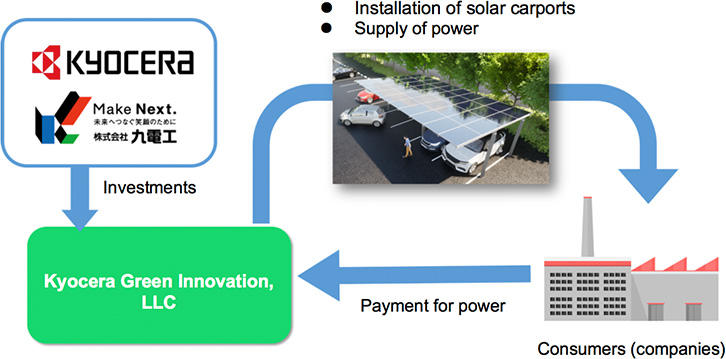 ■About KYOCERA GREEN INNOVATION, LLC
More and more companies in Japan are considering renewable energy in alignment with the Japanese government's goal of carbon neutrality by 2050 and rising conventional energy costs. However, the initial investment required to purchase and install a solar power system and the need to set aside space for installation poses significant adoption issues for many companies. KYOCERA GREEN INNOVATION will promote a carport on-site PPA model that allows customers to install solar power systems in parking lots at no initial investment while also proposing a new way to use existing space more effectively.
By taking advantage of their respective strengths, Kyocera, which has proprietary technology to manufacture solar systems with high levels of quality and long-term reliability, and Kyudenko, which has extensive experience operating carports as well as numerous mega-solar installations, the companies will expand their businesses in the renewable energy market, which is expected to grow significantly in the future.
■Overview of KYOCERA GREEN INNOVATION, LLC
Name
KYOCERA GREEN INNOVATION, LLC
Head Office
6 Takeda Tobadono-cho, Fushimi-ku, Kyoto-shi, Kyoto Prefecture (at Kyocera's Head Office)
Business
Renewable energy power generation
Established
June 8, 2023
Representatives
Kyocera Corporation
Kyudenko Corporation
Capital
¥50 million
Ownership Stakes
Kyocera: 51%
Kyudenko: 49%
Roles
Kyocera: Procurement of solar power equipment
Kyudenko: Design, construction, and maintenance of renewable energy facilities