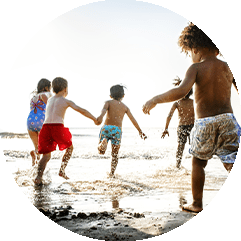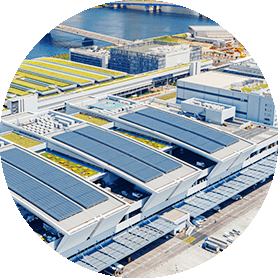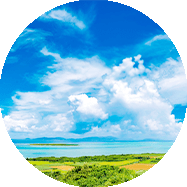 Increasing
awareness of SDGs
Taking a step forward
Sustainability Promotion Department
Corporate Management Promotion Group

Documentary inspired me to protect our precious oceans
― Please tell us about your current work?
I work in Kyocera' Sustainability Promotion Department, where we organize sustainability activities throughout the company. We promote sustainability activities and sharing information about SDGs and ESG activities with investors and other stakeholders.
I am in charge of updating Kyocera's sustainability website and responding to CSR questionnaires from customers.
Kyocera has set the long-term goal of reducing greenhouse gas emissions by 46% by 2030, compared to FY2020, and has been working across various divisions and departments to achieve this target. Because we are also planning to update the target, the Sustainability Promotion Department is currently collecting and analyzing information with support from other divisions and departments.
Because I only joined Kyocera this year and am new to the job, it often takes extra time to understand what people are talking about. But I am trying my best to learn, and I'm getting a lot of support from my supervisors and more experienced coworkers around me.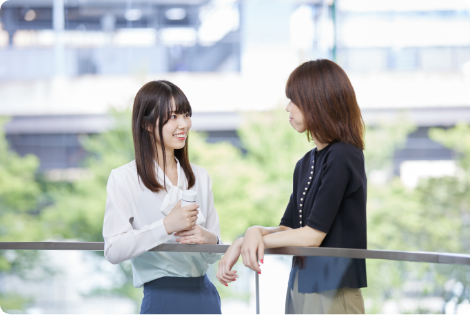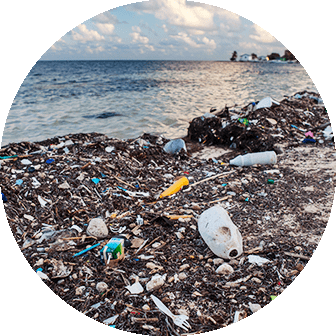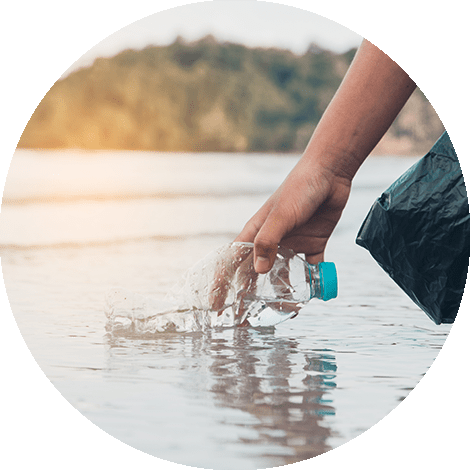 ― What got you interested in SDGs and the global environment?
A documentary called "A Plastic Ocean" helped me understand that environmental problems were not just affecting other countries, but right in front of us here in Japan too. A Plastic Ocean focuses on the influence of marine pollution, especially plastic waste, on life and the environment. I was shocked to see the huge number of plastic bottles that had accumulated on the ocean floor.
Emotion can serve as a great motivator. So I saw the pain and loss of life that animals were suffering because of pollution, I felt strongly that I had to do something to stop it.
― What exactly did you start doing from that time?
I love going to the aquarium. However, after learning that the oceans are so polluted, in contrast to the beautiful, clean tanks that I am used to seeing at the aquarium, I began bringing plastic bags to pick up garbage when I walk on the beach.
I'm not a good swimmer, so even when I go to the beach with my friends, I am usually just collecting garbage all by myself, lol.
I also use my own water bottle instead of buying bottled water, and I use a reusable shopping bag to reduce plastic consumption in my daily life, small steps, but they help protect the global environment.
― You graduated from university in 2021, which makes you part of Generation Z. Could you tell me how you and your Gen Z friends feel about sustainability?
As you know, we have seen the damage caused by typhoons and other natural disasters in Japan become increasingly worse in recent years, and I think more people feel that a global crisis caused by climate change is about to happen. Even though we learned more about the environment at school than previous generations, to be honest, the people around me aren't really all that interested or involved.
In my case, though, because my work involves SDGs, I am constantly collecting information from the news, the internet, and social media. The more information I collect, the more I worry about the global environment and feel that we need to find solutions to our problems to ensure that our planet will have a future.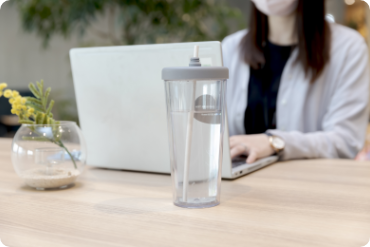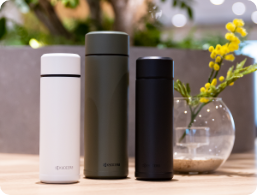 Kyocera's role in promoting sustainability trends
― Do you think companies have a responsibility to help create a sustainable society?
Because companies have a significant degree of influence, they should take the lead in moving toward sustainable growth. Therefore, although it is important to consider what we can do to help people feel that SDGs and sustainability are closely related to our lives, it is also necessary to provide information about what we are doing to achieve SDGs and sustainability.
Because I am in charge of sharing information about SDGs and ESG with our stakeholders, I want to encourage greater interest in SDG and ESG activities. In addition, I want to take greater advantage of TV and social media to publicize Kyocera's sustainability activities.
― Would you please tell us about Kyocera's activities to support SDGs?
Kyocera Group's Management Rationale, "to provide opportunities for the material and intellectual growth of all our employees, and through our joint efforts, contribute to the advancement of society and humankind," was established before the word "sustainability" became a common term among the general public. Based on this Management Rationale, Kyocera has pursued research, development, and the popularization of products that contribute to the environment and products that reduce environmental burden throughout their lifecycle.
For example, we started R&D of solar cells, a renewable energy source, in 1975, and in 1982, we started full-scale mass production of the world's first* solar cells. However, Kyocera has engaged not only in the mass production and sale of solar cells but also in implementing solar power generation systems in its own factories and offices to reduce greenhouse gas emissions.
*As of February 1982
Kyocera also established a joint venture that provides electricity using solar power generation systems with other companies and participated in developing the developing a system capable of producing electricity for local communities. Through these projects, Kyocera has helped develop and implement innovative new renewable energy technologies.
People tend to think companies simply compete with one another; however, Kyocera and many other companies are cooperating to make a better world.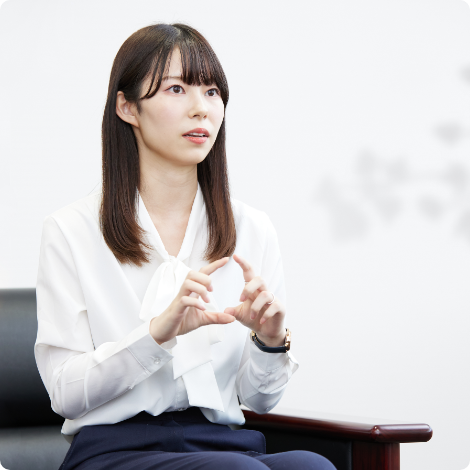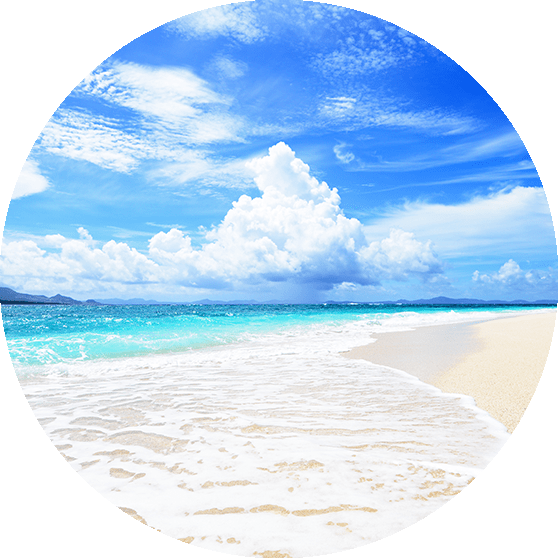 ― What issues do you think Kyocera is facing in increasing awareness of SDG activities among employees?
Unfortunately, I feel there are few chances for Kyocera employees to learn about our SDG activities. Because my work brings me into close contact with SDGs and ESG, I participate in seminars, etc., but many employees do not have such chances.
Information and campaigns about environmental issues are posted on digital signage at the company cafeteria and in other locations; however, we need to increase the opportunities for employees to learn about Kyocera's SDG activities through our in-house website and social media.
Kyocera has many successful businesses and and enables each employee to exercise their own capabilities. I want to do my best to contribute to this incredible environment.
― What are Kyocera's strengths?
People know the name Kyocera because of smartphones, jewelry, kitchen goods, and other daily-life products, as well as from naming rights on baseball stadiums and museums. As a result, name recognition is a major strength.
I think Kyocera's mission should be to increase people's awareness of collaborative efforts toward environmental issues using its brand name value among the general public. As a member of the Sustainability Promotion Department, I would also like to help develop products and services that contribute to the realization of a decarbonized society and distribute a wide range of information about our environmental protection and other sustainability activities.
― Do you have a message for Gen Z?
People may feel that approaches to SDGs and sustainability have to be large-scale or require deep involvement.
But I think we can start small. Anything is ok. For example, when you find an eco-friendly product, you can post about it on social media. Try to think about what you do in your daily life from the viewpoint of the earth and society, and do what you can to contribute to solving problems that the earth and society are encountering.
The other day, one of my lights burned out at home, and I went to buy a new bulb. There were regular incandescent light bulbs, but I chose one with the eco-label even though it was a little more expensive. It's a small step, but if more people choose eco-friendly products, that would add up to a significant change.
However, what individuals can do by themselves is limited. Therefore, I hope that individuals and companies become more aware of their responsibility to protect the global environment and work together in the future.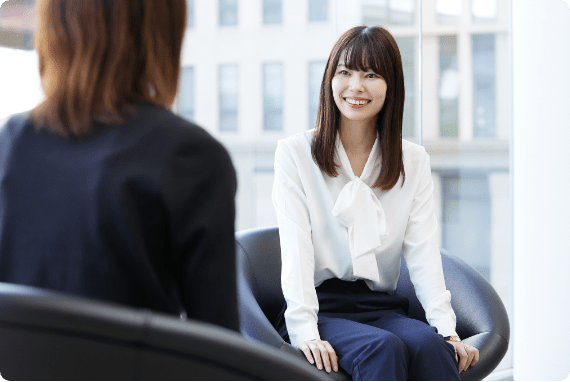 Kyocera's initiatives for the future
Regional Energy
Management Tests
We are carrying out joint research with Hioki Regional Energy Co., Ltd. and Hitachi Power Solutions Co., Ltd. on microgrid energy management using a microgrid belonging to the city of Hioki in Kagoshima Prefecture. The aim is to achieve regional decarbonation via the local production and consumption of renewable energy, to expand regional economic circulation via local power companies, and to implement electric power supply and demand technologies that will help to supply power when a disaster strikes.