KYOTO, JAPAN - Sept. 28, 2023 -Kyocera Corporation (President: Hideo Tanimoto) announced the launch of a new standard line of 230V silicon nitride (SN) igniters for industrial or residential gas furnaces, water heaters, boilers, and gas stoves. The product uses silicon nitride, which enables exceptional endurance and highly stable, reliable ignition performance.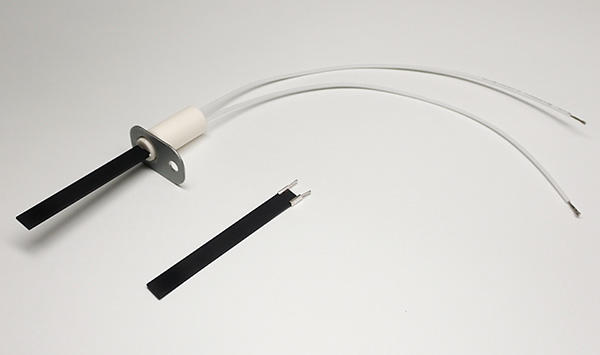 Above: Kyocera's standard line of 230V igniters for gas equipment and other devices can reach 1,000º C in about two seconds, using highly reliable silicon nitride ceramics with built-in elements that convert electricity into heat.
SN igniters employ ceramic materials with built-in heating elements that convert electricity into heat for use as igniters for gas equipment and other devices.
For many years, Kyocera has developed and mass-produced custom-designed glow plugs using silicon nitride as a preheating component for diesel engines. Our new standard line of SN heaters can support many other diverse applications "off the shelf" using highly reliable technologies we have cultivated in automotive components.
Features of Kyocera's SN heater technology
1. Superior robustness
The SN igniter is resistant to cracking and chipping and has excellent robustness, which can withstand temperatures as high as 1,350 degrees Celsius (2,462 degrees Fahrenheit). This robustness is due to the use of silicon nitride, which has more than twice the fracture toughness* of silicon carbide. Also, silicon nitride has excellent heat shock resistance, abrasion resistance, and high strength even at high temperatures.
*A measure of a material's resistance to surface or internal fracture (cracking)
2. Rapid ignition
Starting at room temperature, Kyocera's SN heater can reach 1,000 degrees Celsius (1,832 degrees Fahrenheit) in about 2 seconds, igniting gas quickly and reliably. It also contributes to product reliability with excellent durability even after repeated rapid ignition cycles.