※1 As a case, Kyoto Opal is used as a face powder. (As of 15th July, 2022, Kyocera's research)
KYOCERA Corporation (President: Hideo Tanimoto) and SHISEIDO Company announced development of the "Precious Opal Powder" for use in "The Luminizing Face Enhancer" to be released by Shiseido Co., Ltd.'s global luxury brand Clé de Peau Beauté in July 2022. Precious Opal Powder uses Kyocera's "Kyoto Opal," and this is the first time the artificial gemstones will be used in a cosmetic solution.
"The Luminizing Face Enhancer" has 360-degree radiance due to the unique play of color of Kyocera's Kyoto Opal technology
※2
, giving wearers a lustrous shine as if wearing jewels on their face. It is the result of over 10 years of joint research between Kyocera and Clé de Peau Beauté to develop a new fine powder Kyoto Opal suitable for cosmetics called "Precious Opal Powder.
※2 An optical effect characteristic of opals in which the color of a patch changes depending on the viewing angle.
The Clé de Peau Beauté brand will introduce a new face color, "The Luminizing Face Enhancer", which will be updated with Precious Opal Powder, starting in July.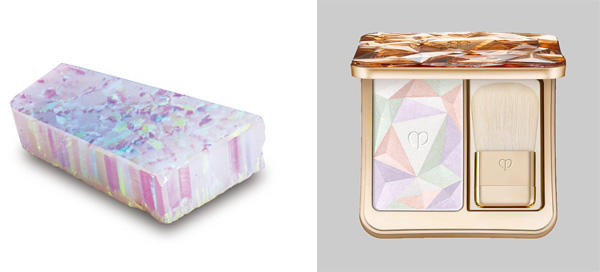 Kyoto Opal Rough Stone (left) and the "The Luminizing Face Enhancer " (right)
released by Clé de Peau Beauté
Development of Kyoto Opal for Cosmetic Use
Developed in 1990, Kyoto Opal is a synthetic opal material created by Kyocera using the company's unique gemstone synthesis technology on silica particles identical to natural opal. The internal structure is the same as that of natural opal, but it enables processing into various shapes by overcoming natural gems' inherent fragility and brittleness, which tend to split and crack. As a result, Kyoto Opal gems can be cut into diverse shapes.
This time, SHISEIDO recognized the brilliance of the Kyoto Opal without precedent in its global luxury brand Clé de Peau Beauté which is constantly evolving by incorporating the latest research results, and has been conducting R & D with the company for 10 years with the aim of adopting it in the product. In the process, Kyoto Opal, which is the most suitable for cosmetics, was newly developed. By pulverizing the powder and using it as fine particles, we succeeded in developing Precious Opal Powder, which has a variety of sparkle brought about by opal's unique structural color effect.
Kyocera will continue to develop and manufacture "jewels that enrich the heart of humanity," based on the vision of Kyocera's founder, Kazuo Inamori, and add color to people's lives through its unique, eco-friendly gemstone synthesis technology.
■Click here for information on sales area of Clé de Peau Beauté.
https://www.cledepeau-beaute.com/