Kyocera has been manufacturing ceramic knives since 1984. In Japan, at that time, steel and stainless steel were the mainstream material in kitchen knives. For this reason, Kyocera's ceramic knives received attention for their unique white blades made from advanced ceramics. However, the price was much higher than now, so Professional Chefs were the early adopters of our knives who valued their long-lasting sharpness and were willing to pay the higher price.
Today, our ceramic knives are widely adopted among cooking enthusiasts worldwide, and Kyocera has shipped over 20 million ceramic knives globally. We have continued to find innovative ways to improve the material of the blade and succeeded in developing the patented INNOVATION Z212 blade, our new knife series with a much more durable performance than ever before.
We will continue to develop and manufacture ceramic kitchen tools that meet customers' needs so that their daily cooking preparation will be enjoyable and fulfilling.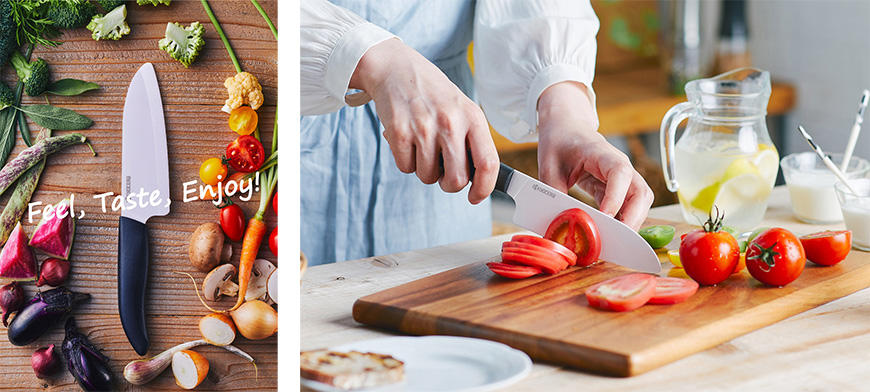 Why are Kyocera's ceramic knives popular not only in Japan, but also around the world? The secret is the unique sharpness.

■What is the secret behind the sharpness of Kyocera ceramic knives?
1.Is it true that skilled workers attach the blades one by one by hand?
Ceramics are most known as a material used in dishware and pottery. However, Kyocera has developed advanced ceramics with increased hardness and toughness suitable for cutting tools. These ceramic knives are hardened with a force of about 1 ton per centimeter square to increase their hardness. The blade is made from material so hard it can only be sharpened using diamond, so wear resistance increases, and sharpness lasts longer. Since the angle of the knife blade is slightly different,it is necessary to adjust the blade angle with skilled workers' eyes and senses according to the condition of the blade.
This skilled, manual work produces a high-quality ceramic knife that is light, sharp, and cuts with beautiful precision.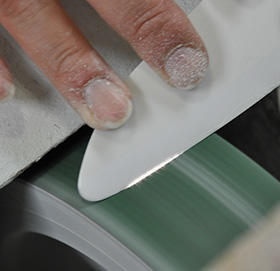 Image of blade sharpening work
2.The shape of the cutting edge is key
The knife's edge has a round "clam-shaped" blade, called so because it is round like a clamshell. As such, the edge of Kyocera's ceramic knife is processed with a clam-shaped blade before the final cutting.
In general, doesn't a sharp angle cut better? Intuition may tell us that, yes, this would cut better. However, the round shape is more resistant to chipping. The sharpness lasts longer and has less resistance when cutting food. You can feel the smooth cutting action in the blade, which provides a different experience than using a metal knife.

3. Commitment to quality assurance
Kyocera tests every knife for issues with the blade by cutting a paper one by one before shipment. If, by chance, there is a problem with the blade, for instance, if the blade skips or stops as it cuts through paper, causing it not to cut cleanly, the knife will not be packaged and shipped out. This quality check is an essential aspect of ensuring that all quality standards are met when it comes to sharpness. Furthermore, our 35-year attention to quality assurance provides customers with the highest-quality knives in the market globally.
◆Video of Kyocera paper cutting test:https://youtu.be/mBd5HOxjpT0

■Proper Use and Care of a Kyocera Ceramic Knife
1. How should I clean and maintain the blade?
Kyocera's ceramic knives are dishwasher safe. However, we recommend handwashing or soaking in a mild bleach when removing any yellowing of the blade.
Important: Please keep ALL knives away from children

Image of bleach cleaning
2. What should I do if my knife gets dull?
Kyocera recommends a professional sharpening service*.
An experienced knife sharpener will regrind each knife by hand at the optimal angle, which requires a precise sense of feeling/visual observation, before sharpening it again to regain the clam-shaped blade.
For daily maintenance, we recommend our Kyocera manual or electric diamond sharpener. If the blade has microchips of 0.5 mm, you can sharpen it by yourself.

Image of a knife regrind

※Regrinding service site
・U.S.A:https://cutlery.kyocera.com/sharpening-service
・Europe:https://europe.kyocera.com/products/kitchen_products/
・China:https://www.kyocera.com.cn/prdct/fc_consumer/
・Korea:https://kyoceraknife.co.kr
・Asia:https://asia.kyocera.com/products/kitchen/support/grinding/

※Only ceramic knives made by Kyocera are eligible.

◆About Kyocera ceramic knives.
https://global.kyocera.com/prdct/fc_consumer/index.html