Introduction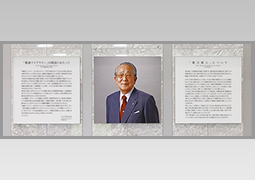 On the opening of the Inamori Library
To promote the Kyocera Group's growth and prosperity in the 21st century, Kyocera created The Inamori Library as a venue for educating its employees about the Kyocera Philosophy — Founder Kazuo Inamori's views on life and management. The library's purpose is to ensure that the Philosophy is passed on to future generations.
Inamori founded Kyocera Corporation (then Kyoto Ceramic Company) in 1959 with virtually no resources. The driving force behind Kyocera's continued development is its superior technological capabilities; but having the Philosophy far outweighs having technological know-how. Today's Kyocera Group is the result of the earnest efforts of all employees who share the value of the Kyocera Philosophy — and who use it to guide their decisions and actions.
Kyocera will continue to manage its businesses by the Kyocera Philosophy, and will continue to grow and meet the expectations of society through the practice of the Philosophy by all employees.
The Inamori Library focuses on Inamori's philosophy of life and management, and showcases his path as an engineer and business leader, as well as many philanthropic activities. This library is a place for everyone to learn the essence of the Kyocera Philosophy through the words and thoughts he has consistently shared throughout his life.
Although The Inamori Library was created to provide all Kyocera employees a place to study the Kyocera Philosophy, we opened it to the public as a place for study by visitors from outside the Kyocera Group as well.
About "Respect the Divine and Love People"
"Respect the Divine and Love People" are the words of Nanshuu Saigo (Takamori Saigo). Coming from Kagoshima, as did Saigo, Inamori was familiar with these words from a very young age. As he grew up, they became his personal motto. In time, he chose them as the corporate motto for Kyocera Corporation. Inamori made the following comments about how "Respect the Divine and Love People" became the corporate motto.
I became a business owner at the youthful age of 27. I had no training or experience in business management and suffered through many sleepless nights while I tried to determine how I could make the right business decisions. Ultimately, I decided to base all of my decisions on the criteria taught to me by my parents and teachers during my childhood — by asking, "What is the right thing to do as a human being?"
Sometime after I had made this decision, I happened to look up at Nanshuu Saigo's saying, "Respect the Divine and Love People," which was framed in the reception room. I saw it with fresh, new eyes and realized that Nanshuu Saigo had been talking about the same principle, in his own words. Thereafter, I affirmed that this was indeed the right principle to uphold, and I established "Respect the Divine and Love People" as Kyocera's corporate motto.
"Respect the Divine" means to abide by and make decisions based on moral principles. It also means to value humility and honesty, through our respect of a power greater than ourselves.
"Love People," of course, means to love others through a power which emanates from the human soul. The soul is filled with love, sincerity and harmony. Christ called this love; Buddha called it compassion. To "Love People" means to truly love others, with our hearts full of tender consideration for them.
Therefore, "Respect the Divine and Love People" entreats us to follow the righteous path, as taught by the Divine, and to live according to the true nature of our souls, which brings happiness and contentment to our lives.
Personal History
My personal history
1932 Age 0
Born as the second son among seven children (4 boys and 3 girls), to Kesaichi and Kimi Inamori in the Yakushicho district of Kagoshima City. His parents worked in the printing industry.
1938 Age 6
Enrolled at Kagoshima Municipal Nishida Elementary School and received an education unique to Kagoshima known as goju, which was intended to foster a sturdy martial spirit.
1944 Age 12
Failed admission exam for the renowned First Kagoshima Junior High School and enrolled initially in a national post-elementary school.
1945 Age 13
Bedridden by a pulmonary infiltration that was an early symptom of tuberculosis. Passed the exam for admission to Kagoshima Junior High School.
His home was burned down in an air raid just three days before the war ended.
1948 Age 16
Attended the Third District Kagoshima Senior High School (now Kagoshima Gyokuryu Senior High School). While studying diligently, Inamori began a "paper bag peddling business." He would walk throughout the city with a bicycle laden with paper bags made as a side job by his father.
1951 Age 19
At the strong urging of his homeroom teacher, Inamori decided to move on to university. He took the admission exam for the Osaka University Faculty of Medicine, Department of Pharmacy, but failed. He was then admitted to the Kagoshima University, Faculty of Engineering, Department of Applied Chemistry. He majored in organic chemistry.
1954 Age 22
Received a tentative job offer from Shofu Industries, an insulator manufacturer in Kyoto.
Age 0〜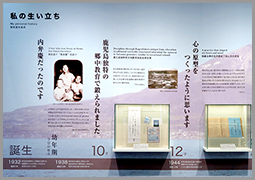 A boy who was bossy at home, but timid elsewhere
Before I went to elementary school, I was a real crybaby who would bawl for three hours once the tears started to flow. I didn't grow out of my crybaby phase for some time, making it difficult at first for me to go to elementary school alone. Though I acted like I ruled the roost at home, that act fell apart completely the moment I stepped outside, where I was quiet as a mouse. Kimi no omoi wa kanarazu jitsugen suru [What You Think Becomes Reality]
Discipline through Kagoshima's unique goju education (traditional vertically-structured education for samurai in Satsuma province)
As I ran about with other rambunctious children, I eventually parted from my tears, but in the process, I also parted from my studies. What tempered the weakling and put him straight was the goju education, unique to Kagoshima. Gaki no Jijoden [Autobiography of Kazuo Inamori]
A practice that shaped my heart and mind
The "hidden Buddha" is a pilgrimage site that had been preserved secretly by faithful adherents of a Buddhist sect that had been suppressed for centuries. The pilgrimage was still customary for followers of this sect when I was a child.
My encounter in that spiritual dwelling made a deep impression on me. It was my first religious experience, and from it, I learned the importance of gratitude, which has shaped my heart and mind. Ikikata (A Compass to Fulfillment)
Age 13〜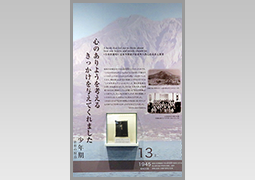 A book that led me to think about how our hearts and minds should be
I was diagnosed with pulmonary infiltration, the early stage of TB. In my feverish state, I was afraid that I might suffer the same fate as my uncle, spitting up blood and losing weight. But then the woman next door called to me from the other side of the hedge that divided our properties. "Read this," she said, handing me a thick book bound in black leather with the title printed in gold. Called Seimei no jisso (The Truth of Life), it was written by Masaharu Taniguchi, the founder of the New Thought group Seicho-No-Ie (Truth of Life Movement). Being intensely aware of death at the time, I read the book eagerly even though it was intended for adults. Taniguchi's book The Truth of Life prodded me to ponder the condition of the human heart. Kimi no omoi wa kanarazu jitsugen suru [What You Think Becomes Reality]
Age 16〜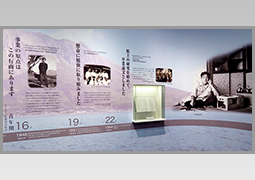 The basics of business management learned from peddling paper
I began peddling paper bags. I piled the paper bags my father was making as a side job onto a bicycle and walked about the city selling them. At first, I had no idea of how best to go about it and would stride at random into shops and make my sales pitch. That, though, was inefficient. There are seven days in a week, and I divided Kagoshima City into seven sections, visiting the same section on the same day of each week. Having passed through the same areas repeatedly, the shopkeepers began to recognize me and started calling me into their shops. Peddling paper bags was my starting point in business management. Gaki no Jijoden [Autobiography of Kazuo Inamori]
Pushing myself to study hard
Though my goal was to attend university, going to the university of my first choice was not meant to be. I therefore enrolled in university courses near my home, with the Kagoshima University Faculty of Engineering, Department of Applied Chemistry. During my four years at university, I studied earnestly, to the extent where I was that student who always had his "nose in a book."
From a lecture during the Seiwajyuku Chubu/Hokuriku Districts Jyukucho Meeting, November 4, 2009
Beginning my research on clay; writing my thesis
At university, I majored in chemistry. I was particularly interested in organic chemistry and undertook research in that field. Naturally, I prepared to write my thesis on the topic of organic chemistry. However, I had obtained prospective employment at a company that made ceramic insulators. Therefore, under the guidance of a teacher in inorganic chemistry, I hastily began research on the unique clay found in the Iriki district of Kagoshima. This became the subject of my thesis.
From a lecture given on the 60th Anniversary Ceremony for Kagoshima Gyokuryu Senior High School, May 20, 2000
Technology and Management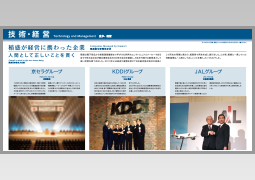 Companies Managed by Inamori ― Commit to what is right as a human being ―
Inamori is highly acclaimed as one of Japan's foremost business managers. He founded both Kyocera Corporation, a global manufacturer of electronic products ranging from electronics components to information and communications equipment, and KDDI Corporation, the integrated communications carrier. In 2010, at the request of the Government of Japan, he led the turnaround of Japan Airlines as its chairman. He achieved the revitalization of the company in a very short time. Throughout his career, Inamori adhered consistently to one decision-making criterion ― Doing what is right as a human being.
Kyocera Group (Kyocera Corporation)
Obtaining the support of like-minded people around him, Inamori established Kyoto Ceramic Company (now Kyocera) in April 1959. The purpose of the company was to manufacture and sell ceramic components (fine ceramics) for the electronics industry.
Later, while growing the company into a world-class maker of fine ceramics, he expanded the business scope to include communications equipment, document solutions such as copiers and printers, solar energy, fine chemicals and hotels. Inamori thus developed Kyocera into one of Japan's leading corporate groups.
KDDI Group (KDDI Corporation)
In response to the deregulation of Japan's communications market in 1984, Inamori established Daini-Denden Planning Company, the forerunner of today's KDDI. (Later, Daini-Denden Planning became Daini-Denden Company, or DDI, and then KDDI.)
As chairman during the Daini-Denden era, he developed the company into a major domestic communications enterprise. In 2000, he initiated the merger of DDI with KDD (Kokusai Denshin Denwa Company ― international communications) and IDO (Nippon Ido Tsushin Corp.), resulting in the founding of KDDI.
JAL Group (Japan Airlines Co., Ltd.)
Having fallen into business difficulties, in January 2010, Japan Airlines applied for corporate bankruptcy reorganization. With this path of legal liquidation chosen, Inamori accepted a request from the Japanese government to become chairman of JAL. Inamori led an unprecedented turnaround by reforming the mindset of all company employees and introducing the practice of Amoeba Management. In September 2012, just two years and seven months after being delisted, JAL achieved relisting on the stock exchange.
Philosophy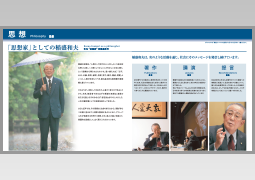 Kazuo Inamori as a "philosopher"
Inamori's philosophy emerged from asking the fundamental question, "What is right as a human being?" It reflects his perspective of the correct application of the concept, "Do what is right as a human being." In other words, his philosophy is built on the most basic ethical and moral standards that human beings should fundamentally possess: fairness, impartiality, justice, courage, good faith, tolerance, effort, kindness, modesty and benevolence.
Because it is based on the universal idea of our "state of human existence," the philosophy, conceived initially as a business management tool, has expanded beyond the scope of business management. For many people, young and old, male and female, it has come to serve as a compass for living life. Additionally, in recent years, the relevance of this philosophy has broadened widely into areas ranging from the state of society to paths that should be taken by humankind. In today's globalizing world, the philosophy has gained widespread acceptance as a universally logical way of thinking, rising above differences in language, culture and nationality.
Publications
Since his first publication, Elevate Your Mind and Expand Your Business in 1989, Inamori has written many books in response to strong demand. Almost all have been best-sellers and long-sellers, avidly read by many people in Japan and overseas.
Lectures
Through lectures, public speaking and other avenues, Inamori has continued to share his way of thinking with the public, addressing topics ranging from management to life in general. In particular, since the start of Civic Forums in 2002, he has addressed countless numbers of people of all ages and genders, broadening the vortex of inspiration not only in areas across Japan but also in other countries.
Recommendations
Anticipating changes in society, Inamori has offered diverse recommendations for the ideal state of society through articles contributed to newspapers, opinion-leading magazines and other media. His desire to inspire even small steps toward the betterment of society and the greater happiness of people spurred him into such activities.
Social Activities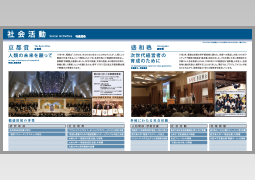 The Kyoto Prize In hope of the future of humankind
In 1984, Inamori used personal assets to establish The Inamori Foundation and the international award, The Kyoto Prize. His motive was the belief that "People have no higher calling than to strive for the greater good of humankind and society." The Kyoto Prize Presentation Ceremony is held each year on November 10 at the Kyoto International Conference Center. Its purpose is to recognize people who have made significant contributions to the progress of science, the advancement of civilization, and the enrichment and elevation of the human spirit.
Inamori Foundation Activities
Supporting Research
Established a research grant system
Launched the Seiwa Scholars Society
Social Enlightenment
Established the Abshire-Inamori Leadership Academy (US)
Established the Inamori International Center for Ethics and Excellence (US)
Endowment of the Inamori Center to Kyoto University
Endowment of the Inamori Center to Kyushu University
Established the Inamori Foundation Endowed Course at Osaka University
Seiwajyuku To develop business managers for future generations
In 1983, beseeched by young managers and a desire to show gratitude to Kyoto, Inamori launched a non-profit management workshop called Seiyujyuku. When they heard about the workshop, young managers in great numbers expressed their eagerness to join the group. Therefore, in 1989, with the workshop renamed Seiwajyuku, the concept expanded and branches were set up in districts all over the country. Today, Seiwajyuku is cultivating countless managers, having also spread overseas to Brazil, the US, China and other countries.
A wide range of social contribution activities
Human Resources
Established the Inamori-Kyocera Western Development Scholarship Fund (China)
Established the Inamori Academy at Kagoshima University
Established the Kyoto three-university, Institute of Liberal Arts and Science (Inamori Memorial Hall)
Social Contribution Activities
Involved in the Provisional Council for Promotion of Administrative Reform (the Third Special Administrative Reform Promotion Council)
Sponsored the Japan-US 21st Century Committee
Holding Civic Forums
Established the Kyoto Daiwa Children's Home
Contributions to Local Communities
Donated a monument and other attractions to Culture Park (Bunka Koen) in Kagoshima City
Endowed the Inamori Academy to Kagoshima University
Endowed the Inamori Hall in Kyoto University Shirankaikan
Rebuilt the Empukuji Temple main hall and priests' quarters
Gratitude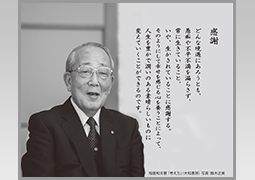 Whatever circumstances you may find yourself in, neither complain nor allow any sense of unfairness or dissatisfaction to raise its head.
Always feel gratitude for the life you are living today ― indeed, for the opportunity you have been given to live life today.
In this way, by nurturing a mind that can sense personal growth, you can turn your life into something wonderful, rich and fulfilling.
Personal History of Kazuo Inamori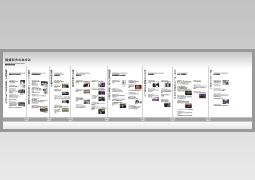 Kazuo Inamori is born in Kagoshima City
1932(Age 0)
Born in Yakushicho district, Kagoshima City (second son among seven siblings)
1938(Age 6)
Attended Kagoshima Municipal Nishida Elementary School
1944(Age 12)
Graduated from Nishida Elementary School
Failed admission exam for First Kagoshima Junior High School
1945(Age 13)
Suffered pulmonary infiltration, but encouraged by his homeroom teacher, applied for and gained admission to the private Kagoshima Junior High School
His home burned down in an air raid
1948(Age 16)
Advanced to the Third District Kagoshima Senior High School (now Kagoshima Gyokuryu Senior High School)
Began peddling paper bags to help the household budget
Establishes Kyoto Ceramic Co., Ltd
1951(Age 19)
Failed admission exam for the Osaka University Faculty of Medicine, Department of Pharmacy
Accepted by the Kagoshima University, Faculty of Engineering, Department of Applied Chemistry
1955(Age 23)
After graduating from Kagoshima University, began working at Shofu Industries, an insulator manufacturer in Kyoto
Became involved in research of specialized ceramics
1956(Age 24)
Became the first person in Japan to succeed in developing forsterite ceramics
1958(Age 26)
Left Shofu Industries
Decided to start a new company, supported by Masaji Aoyama, a former supervisor from Shofu Industries, and Aoyama's associates, Ichie Nishieda and Tamotsu Majikawa, among others
1959(Age 27)
Established Kyoto Ceramic Company in Nakagyo Ward, Kyoto City. Appointed to Board of Directors and General Manager for Engineering
Creates Kyocera's management rationale
Creates Kyocera's Management Rationale
1961(Age 29)
Established a management rationale as a result of collective bargaining with high school graduate employees
1962(Age 30)
First overseas business trip (US)
1963(Age 31)
Built the Shiga Gamo Plant
1966(Age 34)
Received large order from IBM for IC substrates
Appointed president of Kyoto Ceramic Company
1969(Age 37)
Built the Kagoshima Sendai Plant and began producing multilayer ceramic packages for integrated circuits (ICs)
Established Kyocera International, Inc. in the US
Achieves public listing of Kyocera on the stock exchange
Achieves public listing of Kyocera on the stock exchange
1971(Age 39)
Kyocera was listed on the second section of the Osaka Stock Exchange and on the Kyoto Securities Exchange
1972(Age 40)
Built the Kagoshima Kokubu Plant
1973(Age 41)
All employees were given a trip to Hong Kong to commemorate achieving monthly sales of 900 million yen
1974(Age 42)
Due to recession resulting from the oil shock, all employees were diverted toward sales activities; thorough cost-cutting was implemented
1975(Age 43)
Began selling recrystallized gemstone emeralds
Established Japan Solar Energy Corp. (JSEC) and began developing solar cells
1976(Age 44)
Issued American Depository Receipts (ADRs)
1978(Age 46)
Began selling ceramic dental implants (BIOCERAM)
1979(Age 47)
Acquired electronic equipment maker Trident Corp. and communication equipment maker Cybernet Electronics Corp.
Establishes Inamori Foundation and DDI Corporation
1982(Age 50)
Changed company name to Kyocera Corporation
1983(Age 51)
Began a workshop, Seiyujyuku (later, Seiwajyuku) for young business owners
1984(Age 52)
Used personal assets to establish The Inamori Foundation and was appointed president
Received the Medal with Purple Ribbon, awarded by the Cabinet Office, for developing ceramic layer-based technology for use in large-scale ICs
Established Daini-Denden Planning Company (later DDI) and assumed the post of chairman
1985(Age 53)
Established Daini-Denden Corp. (DDI) and assumed the post of chairman
The Inamori Foundation held the first Kyoto Prize presentation ceremony
1986(Age 54)
Became full-time chairman of Kyocera
1987(Age 55)
Established Kansai Cellular Telephone Company (a mobile communications company)
1989(Age 57)
Acquired the Elco group, a US maker of connectors for electronic equipment (now Kyocera Corp.)
Strives to live in harmony with society
1990(Age 58)
Acquired AVX, the US electronic components maker
1991(Age 59)
Appointed chairman of the committee on "Japan's Position in the International Community" for the Third Special Administrative Reform Promotion Council
1994(Age 62)
Supported establishment of Kyoto Purple Sanga
1995(Age 63)
Appointed chairman of Kyoto Chamber of Commerce and Industry
1997(Age 65)
Resigned as positions of both chairman of Kyocera and DDI; appointed chairman emeritus
Entered the Buddhist priesthood at Empukuji Temple, in the Myoshinji school of the Rinzai sect
1999(Age 67)
Served in a mediatory role to settle a dispute between Kyoto City and the Kyoto Buddhist Organization
For Japan and the world
2000(Age 68)
Aided the ailing copier maker Mita Industrial Company and established Kyocera Mita Corp. (now Kyocera Document Solutions Inc.)
KDDI Corp. was established upon the merger of three companies: DDI (Daini-Denden), KDD (Kokusai Denshin Denwa) and IDO (Nippon Idou Tsushin)
Appointed chairman emeritus of KDDI
2001(Age 69)
Resigned as chairman of Kyoto Chamber of Commerce and Industry; appointed chairman emeritus
Appointed Honorary Advisor to KDDI
2003(Age 71)
Established Seiwa Social Welfare Association and Inamori Social Welfare Foundation; appointed as director
Received the Andrew Carnegie Medal of Philanthropy in the US
2004(Age 72)
Received title "Envoy of Sino-Japanese Friendship" from China-Japan Friendship Association
Established Kyoto Daiwa Children's Home, a community home that cares for infants and children
2005(Age 73)
Retired from Kyocera Corporation Board of Directors
2007(Age 75)
Established the Inamori International Center for Ethics and Excellence at Case Western Reserve University (US)
2009(Age 77)
Received the "Entrepreneur for the World" Award at the second World Entrepreneurship Forum (France)
Working toward an infinate future
2010(Age 78)
Accepted post as chairman of Japan Airlines at the request of the Government of Japan
Appointed Special Advisor to the Cabinet
2011(Age 79)
Awarded the Othmer Gold Medal by the Chemical Heritage Foundation in the US (now Science History Institute)
2012(Age 80)
Resigned as chairman of Japan Airlines; appointed chairman emeritus
Japan Airlines was relisted on the Tokyo Stock Exchange, first section
2013(Age 81)
Retired from Japan Airlines Board of Directors (JAL chairman emeritus)
2014(Age 82)
Completion of the Kyoto three-university Institute of Liberal Arts and Science (Inamori Memorial Hall)
2015(Age 83)
Established the Inamori Philosophy Research Center at Ritsumeikan University