System Features
Environmentally-friendly solar power generating system designed for high-rise buildings in urban areas to allow for harmonious coexistence with nature and the environment.
Solar modules designed for high-rise buildings to withstand wind pressure of 500 kg/m².
Improved system efficiency through the distribution of 22 transformer-free three-phase, three-wire, 10kW inverters within the entire building.
New measurement system (local operating network) uses built-in signal lines to allow centralized monitoring of large volumes of data from the 22 distributed inverters and various sensors.
System Overview
Total System Capacity
214kW
(roof: 57 kW, southern wall: 157 kW)
Number of Solar Modules
1,896
Output per Solar Module
113W
Total Inverter Capacity
220kW
(10 kW per inverter unit)
Number of Inverters
22
Linked electrical systems: General high-voltage wiring (three-phase, three-wire, 6,600 V)
Reverse power flow: Supported (Electrical power can be sold to the power company.)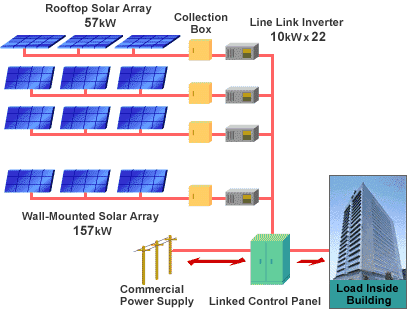 Questions Regarding the Solar Power Generating System
Questions Regarding the Solar Power Generating System